Clay masks and I go way back. This DIY face mask for acne is my best version of an old standby. Get clear skin and tighter pores with this French green clay mask recipe.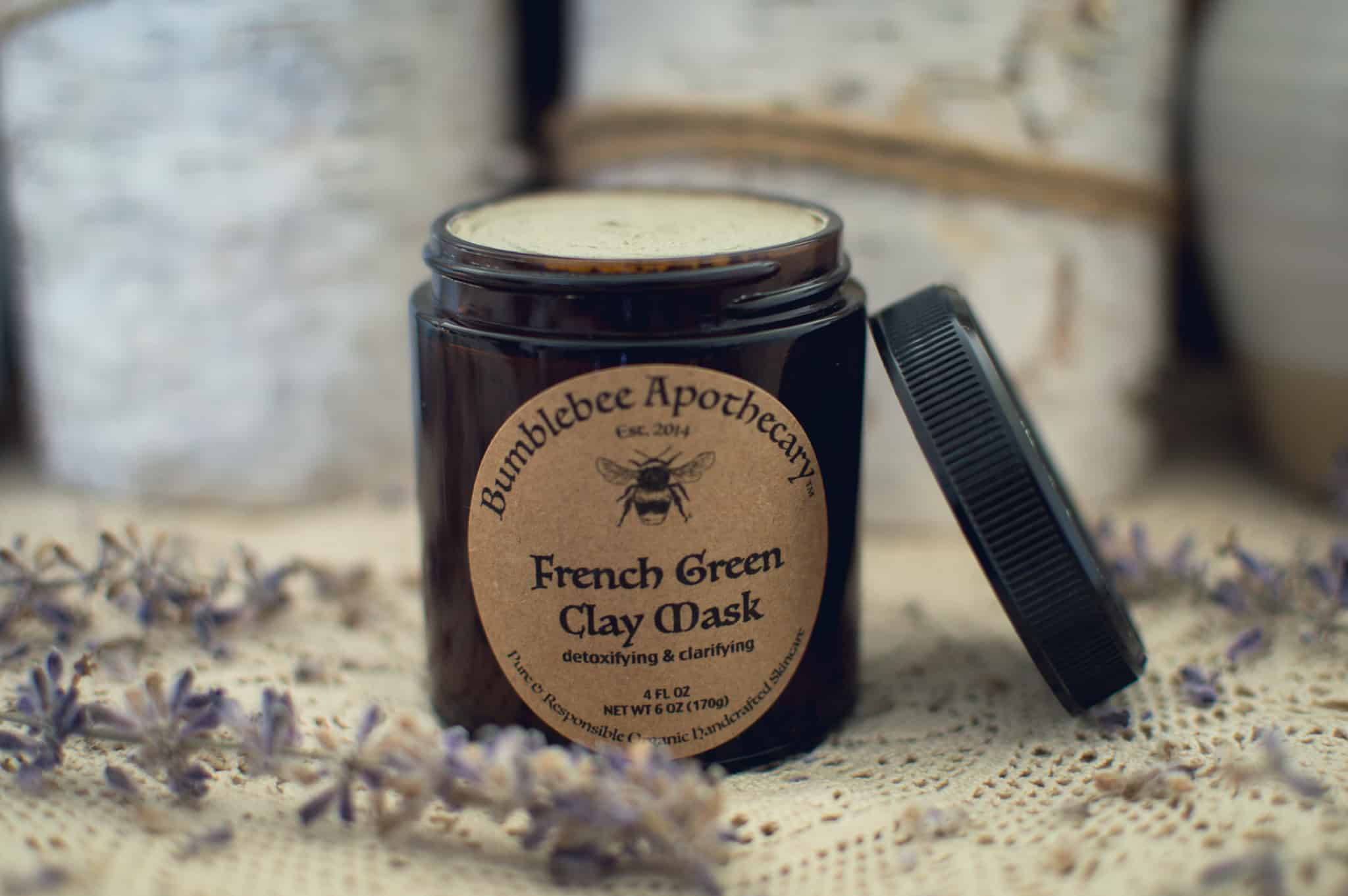 French green clay mask recipe
My skin and I haven't always had an easy time. After healing with the GAPS diet, my struggles with acne are a thing of the past. But for years before that I had awful, cystic acne.
For anyone out there who has ever had skin troubles, I feel for you! The struggle is real. And a clay mask recipe for acne can be so helpful.
Trying to combat clogged pores and blackheads led me to try quite a few different face masks, both store bought and homemade. In my opinion, this is the best green clay mask for acne.
How do you make a French green clay mask? Some effective ingredients include bentonite clay and charcoal. But the clear winner for me has been French green clay, and that's one of the main ingredients in this French green clay mask recipe.
Pin it for later
This post contains affiliate links, which means I make a small commission at no extra cost to you. Get my full disclosure here.
Is French green clay good for skin?
What is the best clay for face masks? French green clay is a champion when it comes to detoxifying skin (source).
French green clay mask benefits:
Absorbs and gets rid of acne causing toxins
Revitalizes skin
Promotes healing
Provides gentle exfoliating
All of that is exactly what oily, acne prone skin needs.
What I really love about French green clay is how well it works at cleaning pores. Dirt, oil, and everything nasty get pulled right out. It also helps to shrink pores, which is even better yet.
What is the difference between bentonite clay and French green clay?
I have used bentonite clay for facial masks. Bentonite clay does work well for detoxifying, but it does tend to be a bit more harsh on delicate facial skin. I like how the French green clay is more gentle, while still being very cleansing and purifying.
Green clay mask recipe for acne: all about the ingredients
I also use white kaolin clay in this mask recipe, because it is extremely absorbent and is rich in skin loving minerals.
Just like in my Rose Clay Mask recipe, I love to use aloe vera gel as the liquid base. Aloe vera is so very hydrating and soothing, and feels amazing in a face mask.
The herbs I chose for this mask are St. John's Wort and lavender flowers. St. John's Wort is one of those herbs that is a skin superhero. It speeds healing damaged skin, reduces inflammation, and soothes and hydrates skin. All of those things are a must have for anyone dealing with acne. The lavender flowers have the same benefits as lavender essential oil, which I'll talk about in a second. I decided to go with whole flowers since they act as a gentle exfoliator while washing the mask off.
Lavender essential oil is another ingredient of this mask, and it is amazing for treating acne. It reduces redness, helps to heal and prevent acne scars, is anti-inflammatory, and is antibacterial.
Lately I've really been liking to use a natural preservative in my face masks. I love having my face masks made and ready to go in a glass container, so that when a relaxing evening comes up and the desire for a face mask strikes, I have it ready to go with no extra effort. The preservative is totally optional and you could leave it out if you're going to use the mask within a couple of days, or want to store it in the refrigerator. I personally like keeping my masks in the bathroom where they're easy to grab and use, so that's why I'm going with the preservative.
French green clay mask recipe directions
Ingredients:
Instructions:
Measure clays and aloe vera and mix together thoroughly.
Add powdered herbs, essential oil, and preservative, if using. Mix well.
Use immediately, or store in glass jar with lid for later use.
How do you use French green clay on your face?
Once the mask is mixed thoroughly, spread a medium thick layer onto your face. You don't want the layer to be too thin, because the mask will dry too quickly.
I like to leave clay masks on my face for around 10-20 minutes. The most important thing is to not let the mask dry on your face, but to wash it off before it gets to that point.
After the mask has done its work, just wipe it off with a warm, damp cloth. Follow with a moisturizer, if you like.
How often can I use French green clay?
Since French green clay is more gentle than something like bentonite clay, it's okay to use it pretty frequently. Everyone is different, so just watch for any dryness or irritation, which would mean you need to use it less often.
I like to try and do a face mask once a week. I share my organic skincare routine here.
Let's talk
Let's have a quick chat about acne and the struggles it can present. Or, we can pretend we're doing masks together, and talking about this while our masks are on. Either way, I feel like this is an uncomfortable topic that needs to be talked about. We'll all feel better afterwards. I promise.
When I struggled with horrible problem skin for several years, I remember well the different feelings that came up. I hated how my skin looked. It made me terribly self conscious. I just wanted it to go away. But, looking back, I realize that I learned some important life lessons during that time.
What the struggle with acne taught me
Probably the biggest thing I learned was that beauty comes from within. A kind, caring, generous heart will show through, no matter what physical struggles a person is dealing with.
To people who really know and who really matter, a person's character is worth far more than the condition of their skin. I learned to stop worrying about what others thought of my face, and think about how I could better help and serve them.
Another thing I learned is to never stop looking for answers. I took my Mom's advice and avoided medications with awful, life long side effects like the plague. Instead, I searched for answers from alternative, holistic sources.
The answers didn't come overnight, however. I tried quite a few different things that didn't help at all before starting the GAPS diet and healing my acne for good, from the inside out.
Hopefully, wherever you are in your health journey, these things can encourage you to remember what really matters, and to never give up until you find what your body needs.
How to make a French green clay mask video
More recipes for facial care
DIY Face Mask for Dry Skin | Rose Clay Face Mask Recipe
How to Make Tallow Balm | Ultimate Skin Healing Moisturizer
Honey Face Wash | Honey on Face Benefits
Honey Mask Benefits | Honey Mask DIY
Have you had any skin struggles?
Are there any face masks that helped? Share in the comments!
Join our traditional wisdom community, and grab a free DIY organic skincare recipes eBook when you subscribe!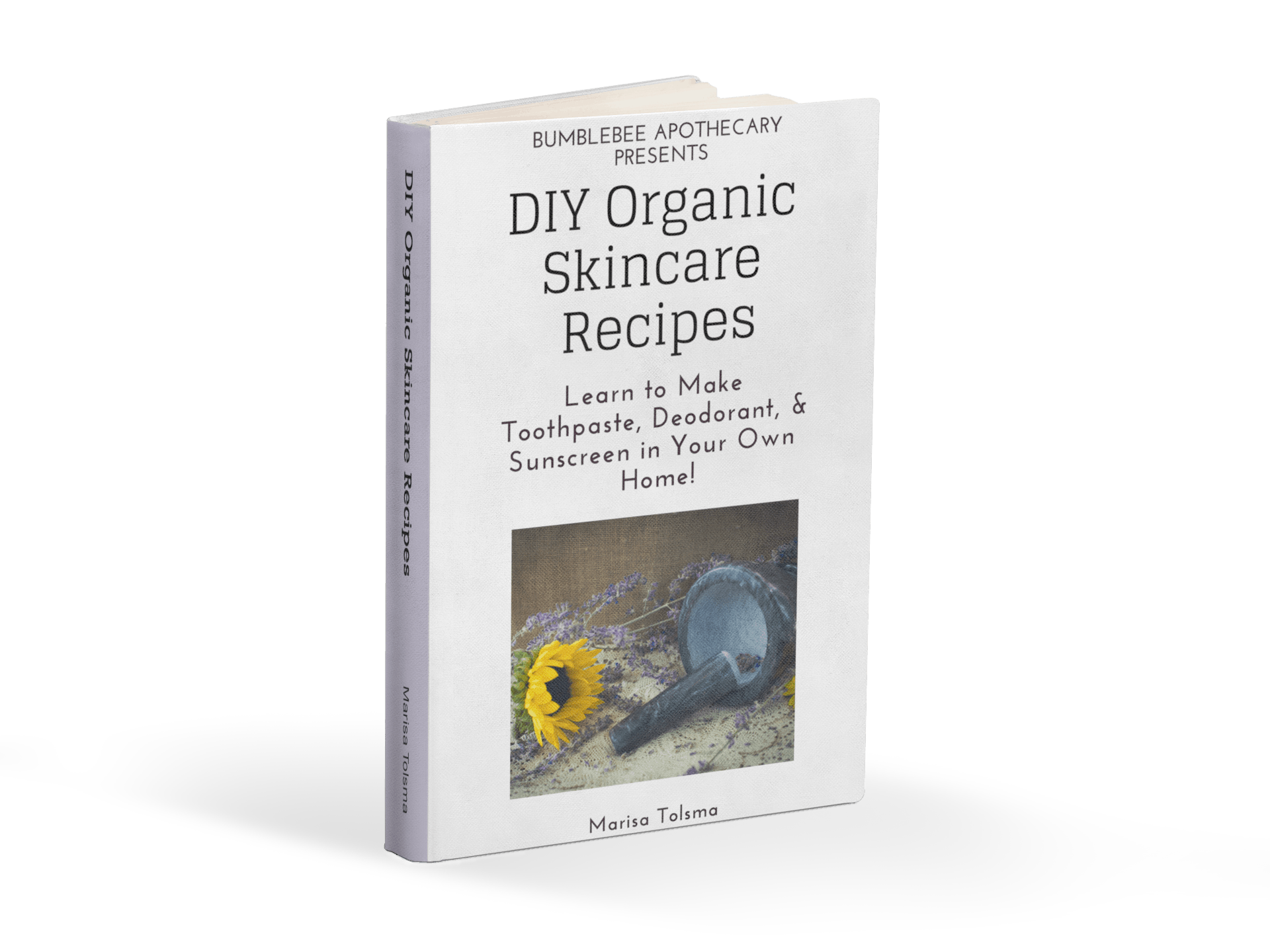 Shop this post
Want to shop for organic handmade skincare products?
Check out the Bumblebee Apothecary Shop here.
Want to grab some labels for your homemade magnesium lotion and other DIY skincare products?
I've done all the hard work for you with this set of 30 printable skincare product labels. All the recipes are included on the back labels, too! Get your set of printable skincare product labels here.
Follow along with Bumblebee Apothecary
Thanks for stopping by! Be well! ?
If you make this recipe and love it, please give it 5 stars! Also, tag me on Instagram @bumblebeeapothecary
Yield: 4 fl. oz.
French Green Clay Face Mask
Clay masks and I go way back. This DIY face mask for acne is my best version of an old standby. Get clear skin and tighter pores with this French green clay mask recipe.
Ingredients
6 tbsp Aloe vera gel
6 tbsp French green clay
6 tbsp White kaolin clay
1 tsp Lavender flowers
1 tsp Powdered St. John's Wort
12 drops Lavender essential oil
12 drops Natural preservative , optional
Instructions
Measure clays and aloe vera and mix together thoroughly.
Add powdered herbs, essential oil, and preservative, if using. Mix well.
Use immediately, or store in glass jar with lid for later use.