This rose clay face mask recipe is my current new favorite thing. It's soothing, hydrating, and gently purifying. And it smells so good!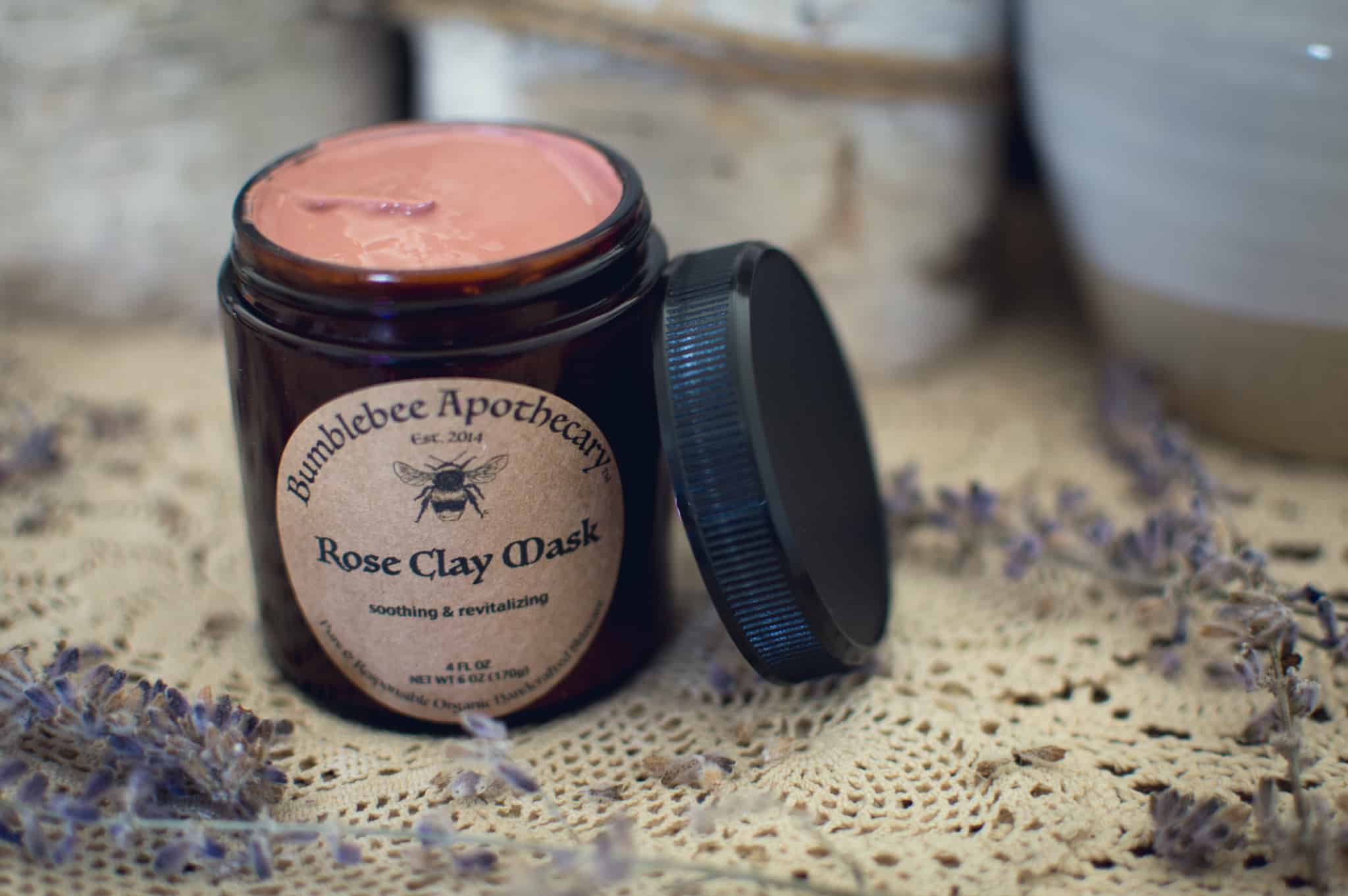 Rose clay face mask DIY
When it comes to face masks, I've always thought I only needed ingredients targeted at oily, problem skin, like this French green clay mask. Little did I know that there is definitely a place for soothing and hydrating masks in my routine.
I find myself reaching for this rose clay face mask more than any other mask right now, because I simply love the results it gives.
The idea for using clay as facial masks has been around for a very long time (source). Wealthy ancient Egyptians used to use clay for different face masks in their beauty routines. It is said that Cleopatra used a Dead Sea mask twice a week. If that's not reason to start incorporating clay masks into your routine, I don't know what is! 🙂
Pin it for later
This post contains affiliate links, which means I make a small commission at no extra cost to you. Get my full disclosure here.
DIY clay mask for dry skin
I experimented and tested this recipe a lot of times before getting it just right. I wanted something that I could put together and keep in a container at room temperature. Something I could pick up and use whenever I wanted, without getting out extra containers and utensils and mixing something up each time I wanted to do a mask.
Let's face it: The only time of day I typically do facial masks is in the evening. And I sure don't want any extra effort than necessary for my evening time of relaxation! Are there any other moms out there who can relate?
Because it is so gentle, this mask is really good for any skin type, including dry, sensitive, and mature skin. For the most amazing skin moisturizer ever, check out my tallow balm recipe.
How do you make a rose clay face mask?
For this mask, I use a combination of pink or rose clay and white kaolin clay. Both of these clays are very absorbent and soothing to the skin.
I combined the clays with aloe vera gel for intense hydration and soothing. Next, I blended in some calming herbs and rose essential oil.
Since I wanted to be able to keep this rose clay face mask recipe in my bathroom, ready to use anytime, I used a natural preservative. You can also leave the preservative out if you prefer.
How to Make a rose clay face mask recipe Instructions
Ingredients:
Directions:
Measure clays and aloe vera and mix together thoroughly.
Add powdered herbs, essential oil, and preservatives, if using. Mix well.
Use immediately, or store in a glass jar with a lid for later use.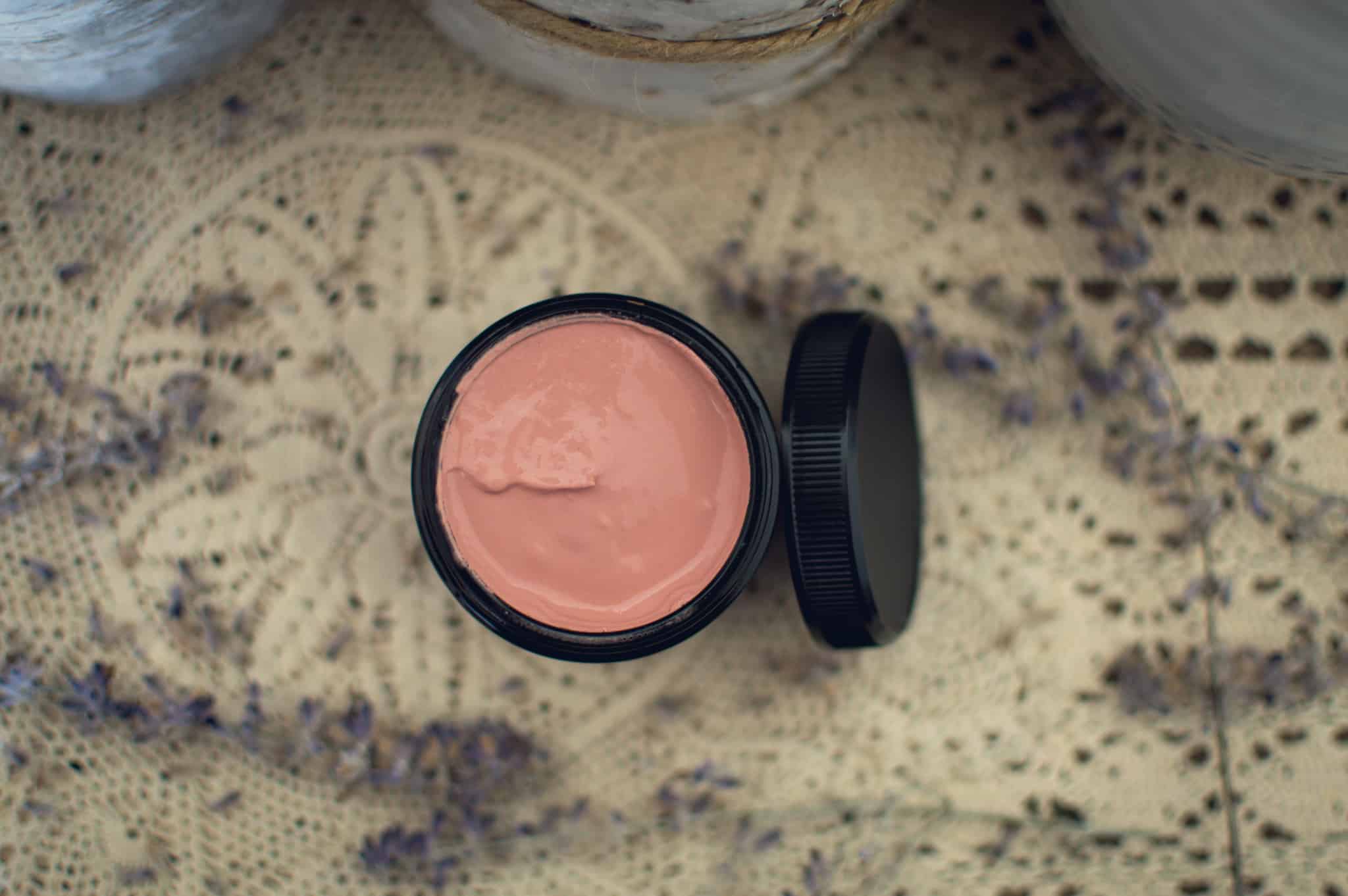 About the ingredients for making this rose clay face mask recipe
There are a huge variety of liquid components for facial masks. This part of the recipe designing process is what took me the longest to pin down. I settled on aloe vera gel as the liquid base. And I must say, I absolutely love it. It is by far my favorite of anything else I tried. Aloe vera gel is cooling, hydrating, and soothing to the skin, and pairs perfectly with the pink and white clays.
I also experimented with adding some powdered herbs. Since I wanted this mask to be primarily soothing, I chose chamomile and rose hips. Chamomile is a very calming herb and works beautifully to combat inflammation.
What does a rose clay mask do?
A rose clay mask has wonderful benefits. The pink kaolin or rose clay is a wonderfully gentle way to purify and detoxify skin and tighten pores.
Pink clay is great for normal to dry skin and helps to gently cleanse and exfoliate. White kaolin clay is rich in beneficial minerals.
Rose hips are high in vitamin C, which is a wonderful antioxidant for facial skin. Rose hips are also brightening to the skin, as you might remember from my honey face wash recipe.
In keeping with the pink rose theme, I added rose absolute essential oil as well. This is great for calming and soothing skin, and also makes the mask smell quite lovely.
Since I wanted to be able to mix up a bigger batch of this mask and have it ready whenever I wanted to use it, I also added a very small amount of natural preservatives.
Any skincare item that has water in it (like the aloe vera gel does) needs to have a preservative to keep it fresh if you want to store it at room temperature for more than a day or two. This is completely optional, and you could leave the preservative out if you wanted to use the mask more quickly and not store it. Or, you could also store it in the fridge.
Just relax
I've talked about it before on my blog, but I won't pass up an opportunity to bring this up. In our fast-paced, busy lives, it's more important than ever to cut out time to just relax.
So often, especially during the busy holiday seasons, we can get so caught up in our ever-growing to-do lists, that we forget to make enough time to just sit.
Let this rose clay face mask recipe for dry skin be a little reminder to take a little time for yourself. After all, we have to take care of ourselves if we're going to be there for those who need us.
So the next evening that you have some time, put away the lists and technology, whip up a clay mask, pull out a good book, and relax.
While you're at it, check out my entire homemade anti-aging skincare routine here.
More facial pampering recipes
How to Make Tallow Balm | Ultimate Skin Healing Moisturizer
Honey Face Wash | Honey on Face Benefits
Honey Mask Benefits | Honey Mask DIY
Tallow Lip Balm Recipe with Honey
Do you have any favorite face masks?
Have you made any DIY face masks? What do you like to do to relax?
Join our traditional wisdom community, and grab a free DIY home remedy recipes eBook when you subscribe!

Shop this post
Want to shop for organic handmade skincare products?
Check out the Bumblebee Apothecary Shop here.
Want to grab some labels for your homemade rose clay mask and other DIY skincare products?
I've done all the hard work for you with this set of 30 printable skincare product labels. All the recipes are included on the back labels, too! Get your set of printable skincare product labels here.
Follow along with Bumblebee Apothecary
Thanks for stopping by! Be well! ?
If you make this recipe and love it, please give it 5 stars! Also, tag me on Instagram @bumblebeeapothecary
Yield: 4 fl. oz.
Rose Clay Face Mask
This rose clay face mask recipe is my current new favorite thing. It's soothing, hydrating, and gently purifying. And it smells so good!
Ingredients
6 tbsp Aloe vera gel
4 tbsp Pink clay
12 tbsp White kaolin clay
1 tsp Powdered chamomile
1 tsp Powdered rose hips
6 drops Rose absolute essential oil
12 drops Natural preservative, (optional)
Instructions
Measure clays and aloe vera and mix together thoroughly.
Add powdered herbs, essential oil, and preservative, if using. Mix well.
Use immediately, or store in glass jar with lid for later use.