Weird ingredients often lurk in store bought sausage. This even goes for options labelled as natural. Skip all that sketchiness and make this homemade sausage seasoning. It's fast and easy!
Homemade sausage seasoning
Making your own homemade sausage seasoning is an excellent idea. Not only is it cost effective, but the mix that you create can be completely custom for your family's taste buds. I love that I can make a meal that every one of my children will eat – don't you?
Another bonus is the fact that this seasoning removes any scary, unnecessary bad ingredients that a traditional store bought sausage may contain.
Make some sausages for breakfast and serve them alongside sourdough pancakes and nutrient dense smoothies!
I love this homemade sausage seasoning recipe and I am convinced that you will too. Ready to learn how to make your own? Keep reading…
Pin it for later
This post contains affiliate links, which means I make a small commission at no extra cost to you. Get my full disclosure here.
What is the main ingredient a sausage?
The main ingredient in any sausage recipe is ground pork, which you can get from the local butcher or the grocery store. Mixed with the homemade sausage seasoning mix mentioned below and you will have a delicious meal without any unnecessary ingredients.
There are so many unhealthy ingredients in conventional, store bought sausage. Even if you're looking for a natural sausage option, it can be really hard to find one that doesn't contain sugar.
It's good to get in the habit of not eating sugar in all sorts of foods that don't really need it. And you do really need a sausage without sugar at certain times, like when you're following the GAPS diet.
For a homemade sausage, you will be able to skip the unhealthy things and feed your family something hearty and delicious.
Trust me, you and your family will never go back to store bought sausage after trying this homemade sausage seasoning…
Homemade sausage recipe
When you make your own seasoning, I love the freedom that it provides! Whether you are cooking something for your inlaws that love spicy foods or your neighbor down the street, this recipe is completely customizable to meet the needs of whoever you are feeding.
Keep reading to learn some simple ways to customize this homemade sausage seasoning recipe…
Breakfast sausage seasoning mix
For breakfast sausage, I use just salt, pepper, and some dried sage. This is always delicious, and my kids love it.
Throw it on a breakfast sandwich and they will be full until lunch!
Italian sausage seasoning
I have an Italian spice blend from Azure Standard that I like to use when I make this homemade pork sausage recipe for dinner recipes.
With this mix, get ready for a lot more requests for meatballs!
How to make homemade sausage seasoning
Sausage seasoning can feel overwhelming to make. Luckily, the good news is that it is one of the simplest seasoning blends that you can make- and its with common flavors that you probably already have in your pantry!
So what are you waiting for? Keep reading to learn more about my favorite homemade sausage seasoning recipe…
Ingredients:
Instructions:
Combine all ingredients and mix until well combined.
For breakfast sausage, form patties that are several inches wide and very flat.
Fry patties on a skillet or griddle, flipping halfway through, until cooked completely. (Can also brown sausage in a pan for adding to eggs or other recipes.)
Tips in making a homemade sausage seasoning
Homemade sausage seasoning is one of my favorite things to whip out when I am cooking. The taste is amazing and the blend is so diverse that anyone would be able to use it.
Work smarter not harder- double or triple yout homemade sausage seasoning and store it in your pantry for next time.

Get creative! Use this sausage seasoning recipe in meals like soup, meatballs, and breakfast sausage patties.

I love to use this recipe to sneak in other vegetables. Simply mince them and add to your sausage before cooking. What I found works best is bell peppers.
During the holidays, make a big batch and give them in these adorable jars! Your fellow chefs will love them.
What type of meat is used in sausage?
When you make your own homemade pork sausage recipe, you're in complete control of all of the ingredients.
Another benefit to making sausage yourself is that you get to decide which pork to use. You can go with some high quality, organic, pasture raised pork, and enjoy all the benefits of eating healthier meat.
For me and my family, we like to get to know the farmer before we harvest the meat. That way, we are able to fully trust what the animal is being served and know that we are buying the best quality meat on the market.
We source free range, pasture raised pork that has been raised with no hormones or antibiotics from a friend who raises pigs this way.
It really does save money on groceries when you buy bulk ingredients and make things yourself, rather than buying pre made foods. Another bonus!
Is there a difference between pork and breakfast sausage?
The main difference between pork and breakfast sausages is one thing – the seasonings.
Both meats are the same: ground pork.
Another difference is the shape of the sausage. Pork sausage typically comes in a tube shaped casing and can be pulled out and cooked. For breakfast sausage, it is commonly cooked as a small patty and served either on the side of eggs or in a breakfast sandwich.
How much seasoning is needed to be able to make a pound of sausage?
For most seasoned sausage, one pound of ground pork will require 2 tablespoons of seasonings.
For this recipe, I like to double or even triple the homemade sausage seasoning recipe so I can use it later on in the week.
What is a homemade sausage seasoning made of?
Homemade sausage seasoning is made from seasonings that you can find in your kitchen pantry. I love how there are hundreds of versions to make sausage that your family will love and is full of nutrients.
Of course, I will always make the recipe mentioned above when I have everything I need – it's just the best homemade sausage seasoning that I have been able to find!
How to properly store sausage
For homemade sausage, you want to make sure that it gets eaten relatively quickly. Whenever we make our own sausage, it can't be in the fridge for more than a day or two.
If you do make a big batch, make sure you freeze it and cook within four months.
Homemade pork sausage recipe video
More healthy recipes
Have you ever made your own sausage?
What are your favorite ingredients? Let me know in the comments!
Join our traditional wisdom community, and grab a free DIY Organic Skincare Recipes eBook when you subscribe!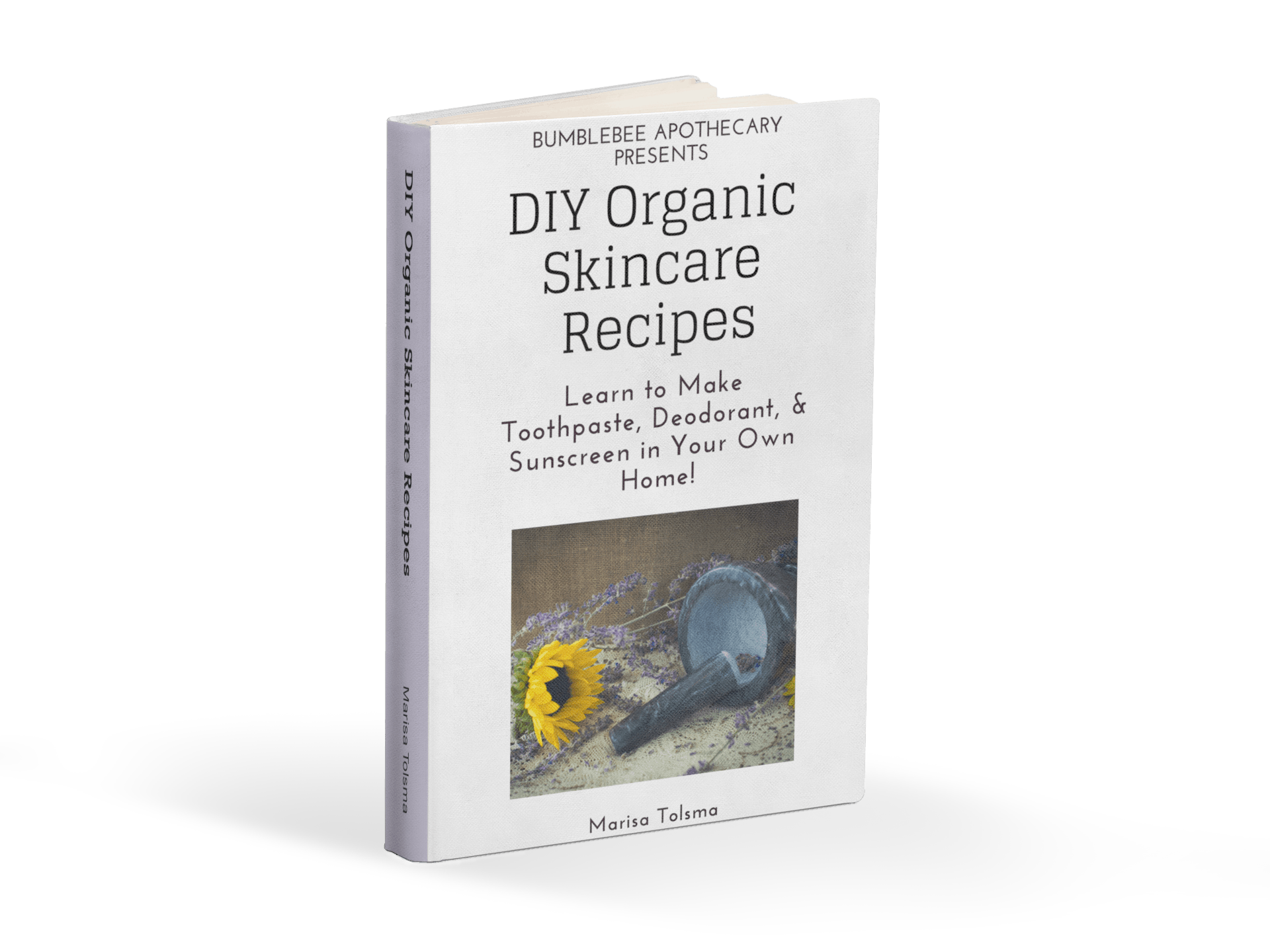 Shop this post
Naturally raised (pasture raised is ideal) ground pork
Want to shop for organic handmade skincare products?
Check out the Bumblebee Apothecary Shop here.
Follow along with Bumblebee Apothecary
Thanks for stopping by! Be well!
If you make this recipe and love it, please give it 5 stars! Also, tag me on Instagram @bumblebeeapothecary
Yield: 1 lb.
Homemade Sausage Seasoning
Weird ingredients often lurk in store bought sausage. Skip all that sketchiness and make this homemade sausage seasoning recipe.
Ingredients
1 lb. ground pork
1 tsp Italian spice blend, for breakfast sausage, use 1 tsp dried sage
1/2 tsp salt
1/4 tsp ground black pepper
1/4 tsp red pepper flakes, leave these out for a more mild, kid friendly sausage
Instructions
Combine all ingredients and mix until well combined.
For breakfast sausage, form patties that are several inches wide and very flat.
Fry patties on a skillet or griddle, flipping halfway through, until cooked completely. (Can also brown sausage in a pan for adding to eggs or other recipes.)
Nutrition Information:
Yield:
3
Serving Size:
1 Servings
Amount Per Serving:
Calories:

571
Total Fat:

42g
Saturated Fat:

15g
Trans Fat:

0g
Unsaturated Fat:

23g
Cholesterol:

169mg
Sodium:

810mg
Carbohydrates:

1g
Fiber:

0g
Sugar:

0g
Protein:

44g