It turns out the honey is for more than just breakfast. Honey face wash is full of amazing skin benefits!
How to make honey face wash
When it comes to washing my face, I certainly love the oil cleansing method with grass fed tallow balm. But sometimes I just want something a bit more simple. Something quicker, and that's easy to do over a sink.
I started using honey face wash some time ago, and I have really been loving it. I've noticed my skin seems softer and smoother, as well as brighter and more even in skin tone. It helps heal blemishes really quickly, and soothes inflammation. My skin feels moisturized after washing with honey.
Pin it for later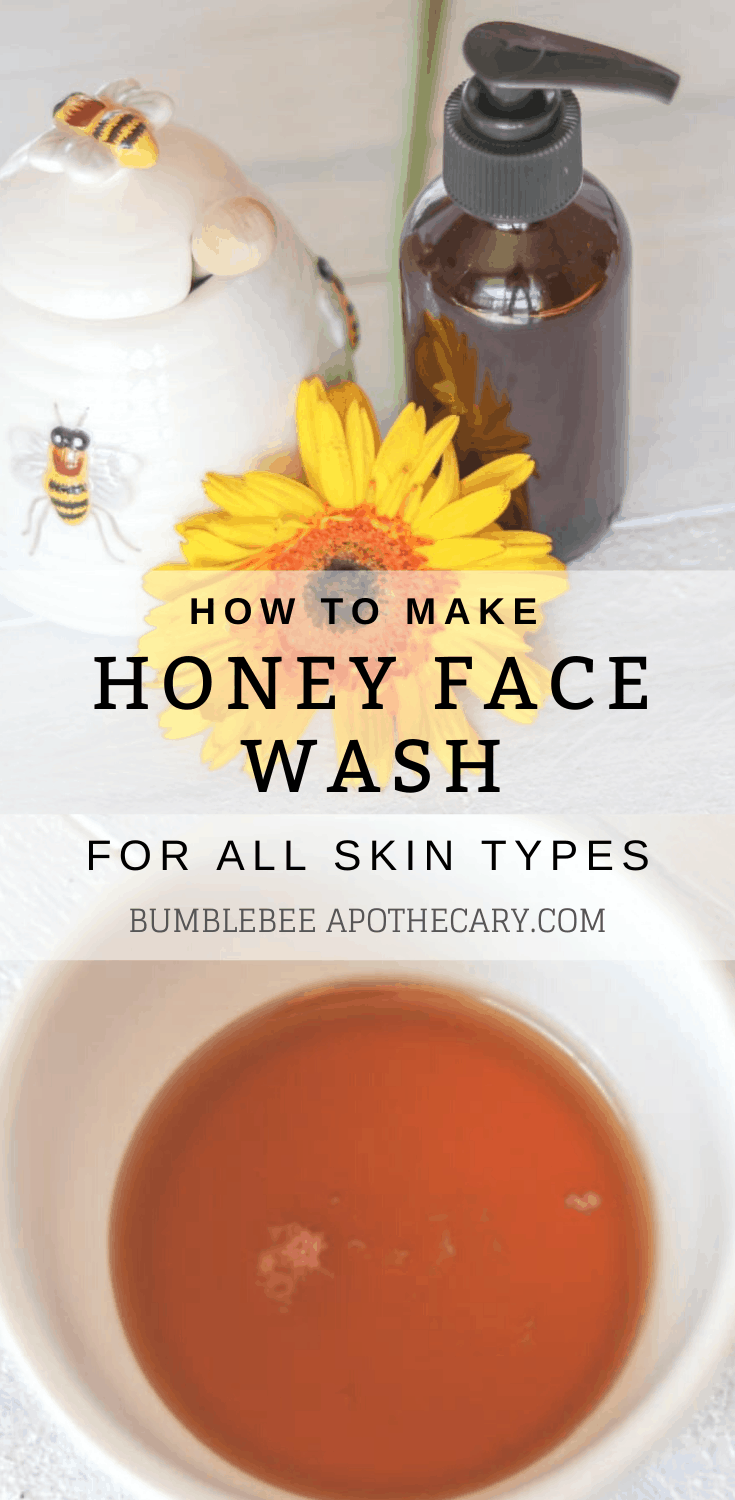 This post contains affiliate links, which means I make a small commission at no extra cost to you. Get my full disclosure here.
Honey on the face benefits
When it comes to facial skin, honey does pretty amazing things. Honey:
Has natural preservative and anti-aging properties
Is naturally antibacterial
Preserves the skin's acid mantle
Regulates our skin's PH
Is slightly astringent
Is slightly humectant
Helps to regulate our skin's own production of oil
Have you heard of people using honey to heal burns very quickly? That's just one example of how honey contains important nutrients for healing skin.
The ingredients
In keeping with my minimalist tendencies, I like keeping honey as face wash very simple. As a general rule, my skincare routine involves only the purest and most natural products. I try to stick with ingredients that are so pure that in most cases, you could safely eat. After all, our skin is our body's largest organ, and anything that goes onto our skin is absorbed straight into the bloodstream. Honey fits this criteria perfectly.
To be honest, you can wash with pure honey, without adding anything else, and have amazing results. That's exactly what I've done in the past, and it's a great way to get started.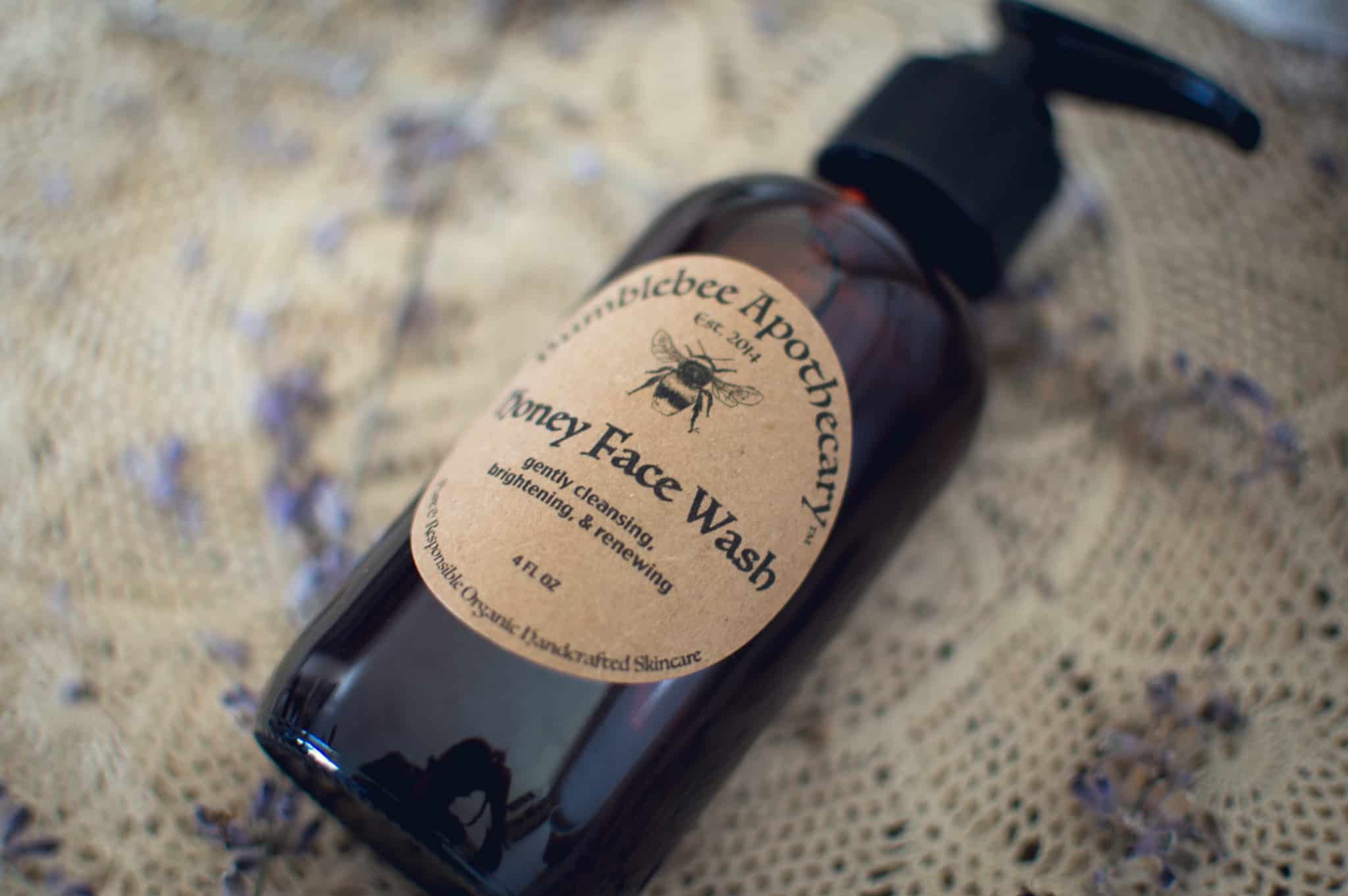 Make it even better
I've had fun experimenting with adding some things to the honey when using it as a face wash. These can be completely customized, based on your skin's particular needs. The great thing about honey is that its own amazing properties work equally well for all different skin types. Based on what your skin is currently like, you can add in certain extra ingredients to give it a boost in the direction it needs.
Have dry skin? Rose absolute essential oil is perfect for calming and moisturizing dry skin. Oily, acne prone skin? There is a whole host of add-ins to help with this.
Although I've come a long way in healing my skin with diet, if it does have a tendency, it would be towards being oily and prone to breakouts. I added a blemish essential oil blend at one point, and that worked very nicely. This particular blend has a minty feel to it, which made the face wash very refreshing and invigorating.
Lavender essential oil is also a really nice addition. Lavender is another skin superhero, and it has to be one of the most gorgeous scents there is. It is equally useful for dry, mature skin, as well as oily, acne prone skin.
Another thing I've tried is adding rose hip powder to the honey. This gives it a little bit of a gritty feel, which is gently exfoliating. I noticed that the vitamin C from the rose hips also made my skin brighter and quickly calmed any red areas, evening out my skin tone.
What I don't include
If you've look up honey face wash recipes at all, you've probably seen quite a few that include Castile soap. I chose to not include any kind of soap in my honey face wash, because I don't want to strip my skin of oils and dry it out. Honey has beautiful, gentle cleansing properties of its own. I find that if it's left to work alone, without any soaps, my skin is happiest.
What kind of honey to use
When choosing honey to use for a face wash, you want to be sure to choose a raw, unfiltered honey. This will ensure that the beneficial properties are intact and present. If possible, I like to choose local honey, since I like to support local farms and consume things that have been produced close to where I live. Honey that is raised organically is also important, since you don't want things like herbicides and insecticides contaminating your honey.
Other things you can do with it
This honey face wash also makes a beautiful face mask. I plan to write more on this in a later post, so stay tuned! As I mentioned before, honey is amazing for wound and burn healing. Your honey face wash can double as a handy burn treatment, should that mishap arise.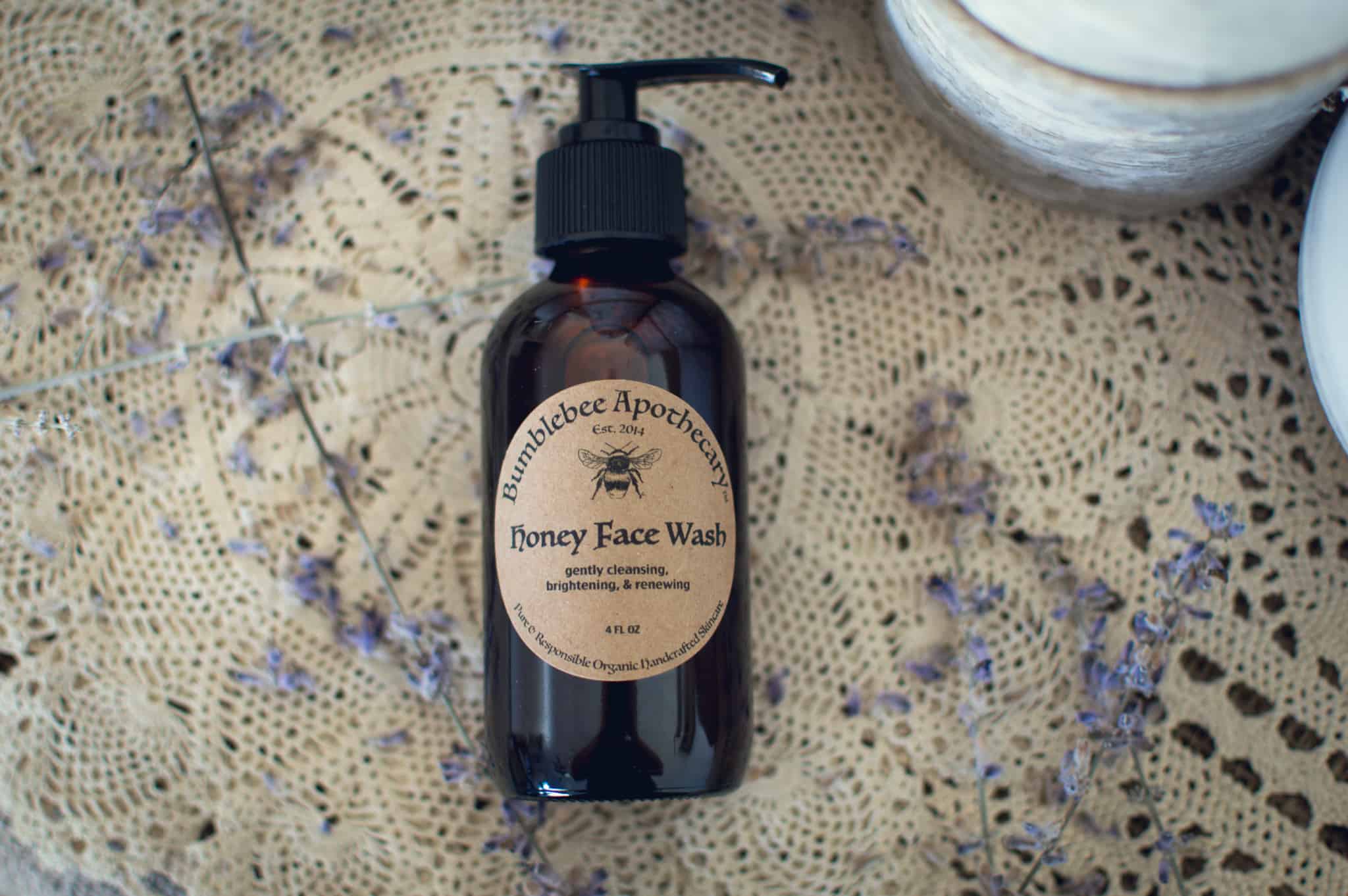 How to Make Honey Face Wash Instructions
Ingredients:
1/2 cup raw, unfiltered honey
Optional ingredients:
1/4 tsp rose hips powder
24 drops of essential oils of choice (lavender, rose, frankincense, anti-blemish, or anti-aging blends are great choices)
Directions:
If adding any optional ingredients, measure honey into a glass pitcher.
Mix in desired optional ingredients, if using.
Pour honey into a 4 oz. glass bottle with pump, or store in a shallow glass jar with lid.
Store in a cool, dark place.
More DIY skincare recipes
Have you ever made a face wash?
What kind did you make? Did you use any crazy ingredients? Let me know in the comments!
Join our traditional wisdom community, and grab a free DIY organic skincare recipes eBook when you subscribe!