We love smoothies around here! They're so fast and easy. Nutrient dense smoothies are perfect for getting in superfood ingredients, too!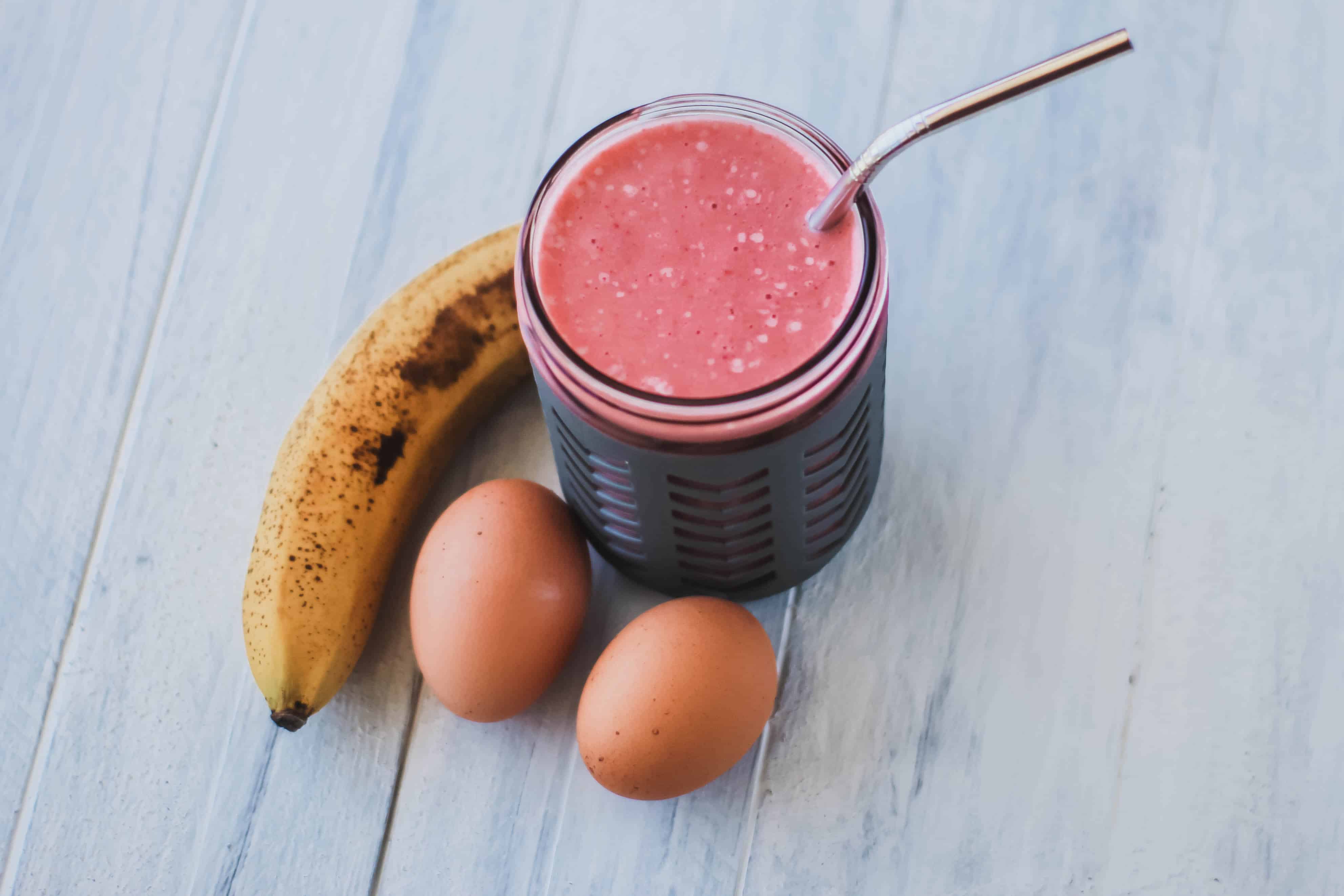 Nutrient dense smoothies
Smoothies make the perfect breakfast. Have them on their own, or alongside some bacon and sourdough toast. Need a quick snack? Smoothies fit the bill. They can even make a fast and easy lunch!
My favorite thing about smoothies is how flexible they are. You literally include whatever you want, and they always turn out delicious.
Smoothies also have a hidden superpower. They are the perfect vehicle for helping you to consume certain superfoods that would otherwise be more difficult to eat on their own.
Pin it for later
This post contains affiliate links, which means I make a small commission at no extra cost to you. Get my full disclosure here.
Nutrient dense smoothies recipe
Now we're getting to the exciting part! Like I mentioned before, smoothies are the perfect way to sneak some really wild, nutrient dense superfoods into your diet. These foods can be hard to enjoy on their own. Here are some ideas for some really beneficial, nourishing superfoods that you can toss into nutrient dense smoothies:
Raw egg yolks
Raw liver pieces
Collagen
Coconut oil
MCT oil
Fresh pressed juices
Raw cultured cream
Hide those guys into a smoothie along with some banana and frozen fruit, and you won't even know you're eating them! And your body will thank you for consuming them, believe me.
Ready to learn my 3 favorite, GAPS diet approved smoothie recipes? Keep reading…
Multivitamin smoothie recipe
We recently tried some new smoothie add ins from HVMN. They sent us some Keto Collagen+ and some MCT Oil Powder to try. I was really impressed that they contain only very clean, natural ingredients, and nothing artificial.
If you've been on my blog before, you'll know I'm really picky when it comes to ingredients! And these passed the test. The Keto Collagen+ is made with grass fed beef collagen from cattle raised in Brazil.
Both of these products were delicious, and we are all really enjoyed them, including the kids. They have been asking me to make smoothies with the Keto Collagen+ and the MCT Oil Powder, because they like them so much! My husband was especially happy to lean that they are both keto friendly and made with such clean, natural ingredients, so he can enjoy them, too.
My husband said that the MCT Oil Powder was really tasty in his smoothie. The other, liquid MCT oil he had previously been using tended to get thick when combined with cold ingredients, which made it harder to drink. He really liked how the MCT Oil Powder let the smoothie stay creamy, smooth, and drinkable, even right out of the fridge. Yay!
Micronutrient smoothie
We like to include coconut oil and grass fed beef collagen peptides into just about every smoothie we make. We have been using organic virgin coconut oil, and grass fed beef collagen peptides from Vital Proteins.
Egg yolks are more seasonal. I try to be very careful about what egg yolks I consume raw, especially while I'm pregnant. Pasture fed, organically raised eggs are best. Right now we're waiting for our new flock of laying hens to start laying. When they do, we'll start adding raw egg yolks into our smoothies again. See how we keep backyard chickens for fresh, nutrient dense eggs here.
My husband likes to add MCT oil, as well as grass fed beef collagen powder and sometimes monk fruit into his nutrient dense smoothies.
Tips for making nutrient dense smoothies
Our favorite main ingredients for smoothies are raw milk yogurt and kefir. I show how to make 24 hour raw milk yogurt without heating here, and how to make raw milk kefir here. Yogurt and kefir in a smoothie is a delicious way to enjoy these rich, probiotic foods. Yay for good gut health!
My husband follows the ketogenic diet. He likes a keto smoothie every morning before work (along with plenty of eggs, sausage, and cheese). To keep the carb count low, he uses coconut milk as his smoothie base.
Some other yummy things to add are cacao powder and peanut butter, either separately or together.
How to make nutrient dense smoothies
When it comes to making a nutrient dense smoothie, there are so many ways for you to get creative. I love how you can make essentially a dessert that's filled with delicious ingredients and is secretly nutrient dense.
Here are my top 3 nutrient dense smoothie recipes that are simple and delicious.
GAPS Diet Smoothie (perfect for stage 4)
Ingredients:
Freshly pressed juices

1 Ripe Avocado

2 raw Egg Yolks
Refreshing Berry Smoothie
Ingredients:
Homemade raw milk kefir or homemade raw milk yogurt

Handful of fresh or frozen berries

2 raw egg yolks
Key Lime Pie Smoothie
Ingredients:
1 cup of cultured cream or homemade yogurt

2-4 raw egg yolks

½ cup of lime juice

2 tbsp or raw honey
Instructions for all of the smoothies:
Place all of the ingredients in the blender

Blend until smooth

Enjoy right away or freeze into

popsicle molds
What are the best fruits to include in making nutrient dense smoothies?
When it comes to adding fruit to a smoothie in order to increase the nutrient content, you can add just about anything. The possibilities are really endless. Some things that we often include are frozen fruit of different kinds. Frozen berries, peaches, or pineapple are delicious.
Fresh bananas will make a thinner, creamy smoothie, while frozen bananas will make a thicker, ice cream consistency. My kids love it when I make them "ice cream" this way!
Some fruit options that I try to avoid in a smoothie are:
Orange slices

Orange juice is fine to add, just keep in mind that the skin of orange slices are difficult to blend up, creating a lot of strings in your smoothie. Yuck!

Whole Dates

While whole dates are jam packed with fiber and can be a sweet treat, they are difficult to blend. More often than not, adding whole dates to your smoothie will leave chunks of the date.

No one wants that. A better option is date syrup.
What are the best liquid bases for smoothies?
Whenever you are making a smoothie, the liquid base is essential to helping keep this snack nutritious and not just a tasty milkshake.
For my family, that means adding in homemade raw milk with live culture – preferably kefir or yogurt – to help our digestive systems run on full capacity.
What are the health benefits of nutrient dense smoothies?
There are so many health benefits to making nutrient dense smoothies. Depending on what you place into your smoothie, you could create a yummy snack filled with as many vitamins and minerals as your traditional healthy meal.
For GAPS approved smoothies, it is important to include a healthy fat along with your sugar in order to maintain your blood sugar level. Aside from that rule, you can include just about anything that you want to help fuel your body with a delicious, nutrient dense smoothie.
How long do nutrient dense smoothies last?
When it comes to creating delicious smoothies for you and your family, it's important to remember that their shelf life isn't that long. This is due to the fact that the blending process begins breaking down the nutritional benefits almost immediately – especially the probiotic benefits.
If you find that you have leftover smoothie, my best advice is to freeze it into popsicle molds as soon as you can after you blend the ingredients together. This is an excellent summer treat or a fun way to keep your kids' body supported when they have a sore throat.
More Nourishing Recipes
Raw milk kefir
24 hour raw milk yogurt without heating
What are your favorite nutrient dense smoothies?
What's the craziest thing you've added to a smoothie? Tell me about it in the comments!
Join our traditional wisdom community, and grab a free DIY home remedy recipes eBook when you subscribe!
Shop this post
Vital Proteins grass fed beef collagen peptides
Want to shop for organic handmade skincare products?
Check out the Bumblebee Apothecary Shop here.
Follow along with Bumblebee Apothecary
Thanks for stopping by! Be well!