Do you want to know how to print product labels at home that look professional? The MUNBYN Bluetooth thermal printer is a must have.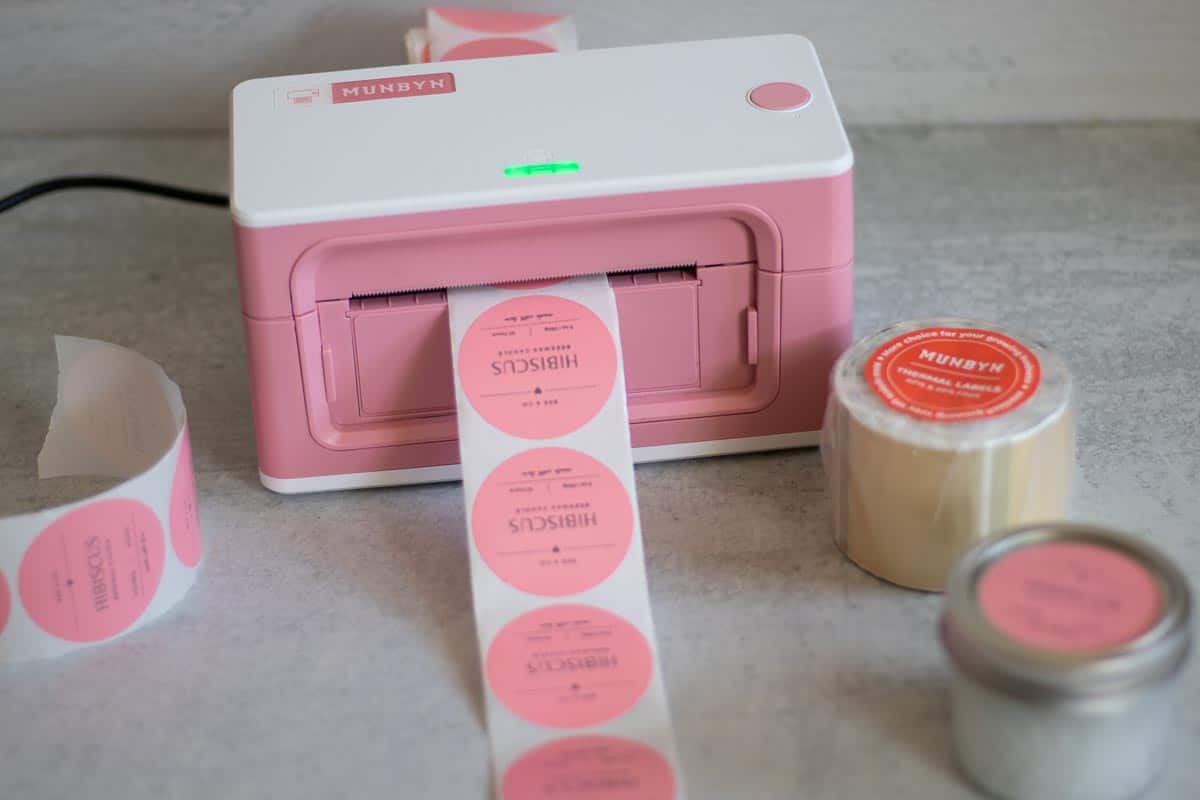 How to print product labels at home
As you might know, I have a lot of recipes for handmade skincare products, from soaps to salves to lotions. These make great gifts, and are wonderful to take and sell at a farmer's market!
Labeling your things at home is one of my favorite life hacks. Not only does it help organize almost anything, but it makes almost anything in your home easier. With a simple label, a loaf of bread becomes a luxurious gift for your neighbor or the sock drawer is easier for your toddler to locate.
If you create and sell products like I do, you know that attractive and professional product labels are crucial. High-quality labels let potential customers know why they need the product in their lives!
Today I'm going to show you how to print product labels at home with the MUNBYN Bluetooth thermal label printer.
Pin it for later
Big thank you to MUNBYN for sponsoring today's blog post!
Ways to use MUNBYN thermal labels
I use Canva to design so many things. Whether it's graphics for my blog or labels for my latest batch of sourdough bread before it goes into the freezer, it's my go-to. Since I use it so much, I decided to get a thermal label printer that works via Bluetooth – which is exactly why I love my MUNBYN Bluetooth thermal printer.
In fact, making labels is as simple as connecting my phone to the MUNBYN print app to establish a connection with my phone, or using a USB cable to connect to my computer.
Fair warning: Your life will suddenly become ten times more organized with this printer.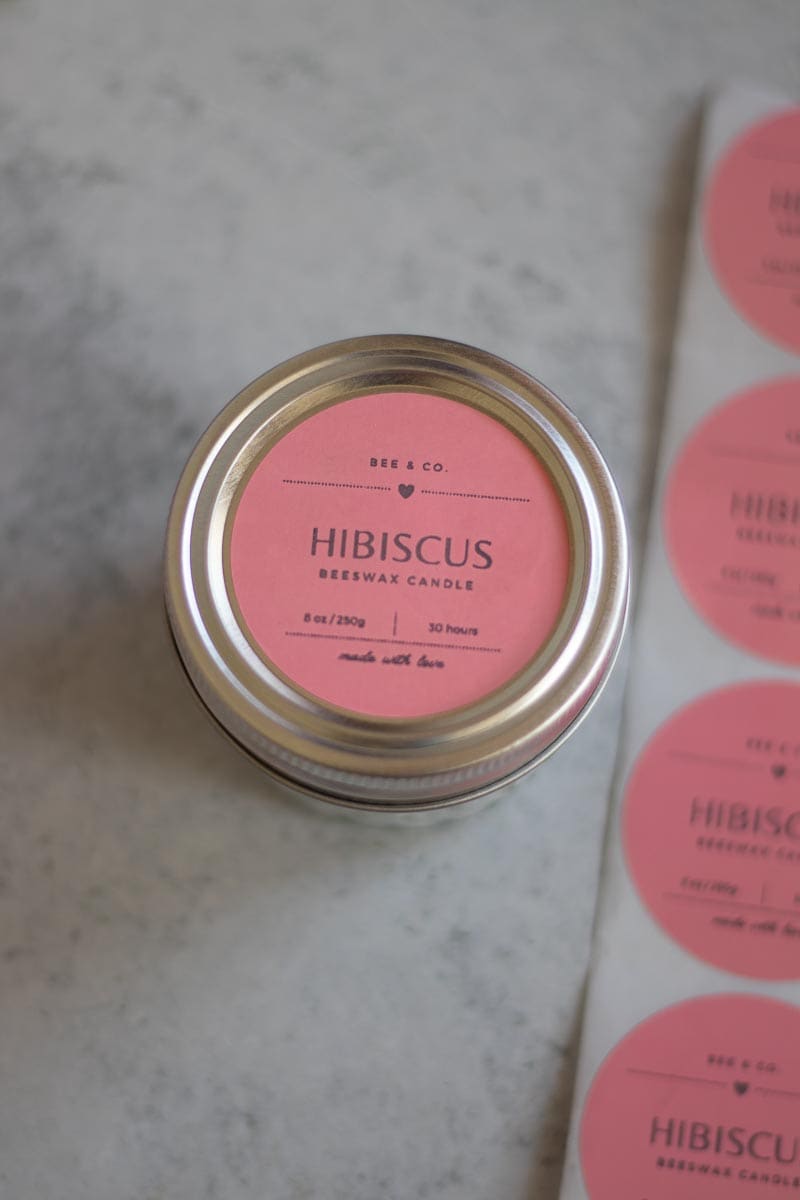 Why is this Lable Maker so great?
Mostly because it is SO simple to use! Within a matter of minutes, you can have so many beautiful labels printed and ready. This is such a time saver, my old method used to take me forever and was quite expensive in printer ink refills.
I also need high quality, professional labels for the handmade skincare products that I make for gifts and to sell, and thermal labels for the MUNBYN Bluetooth printer work perfectly for this.
Check out the MUNBYN Bluetooth thermal label printer here.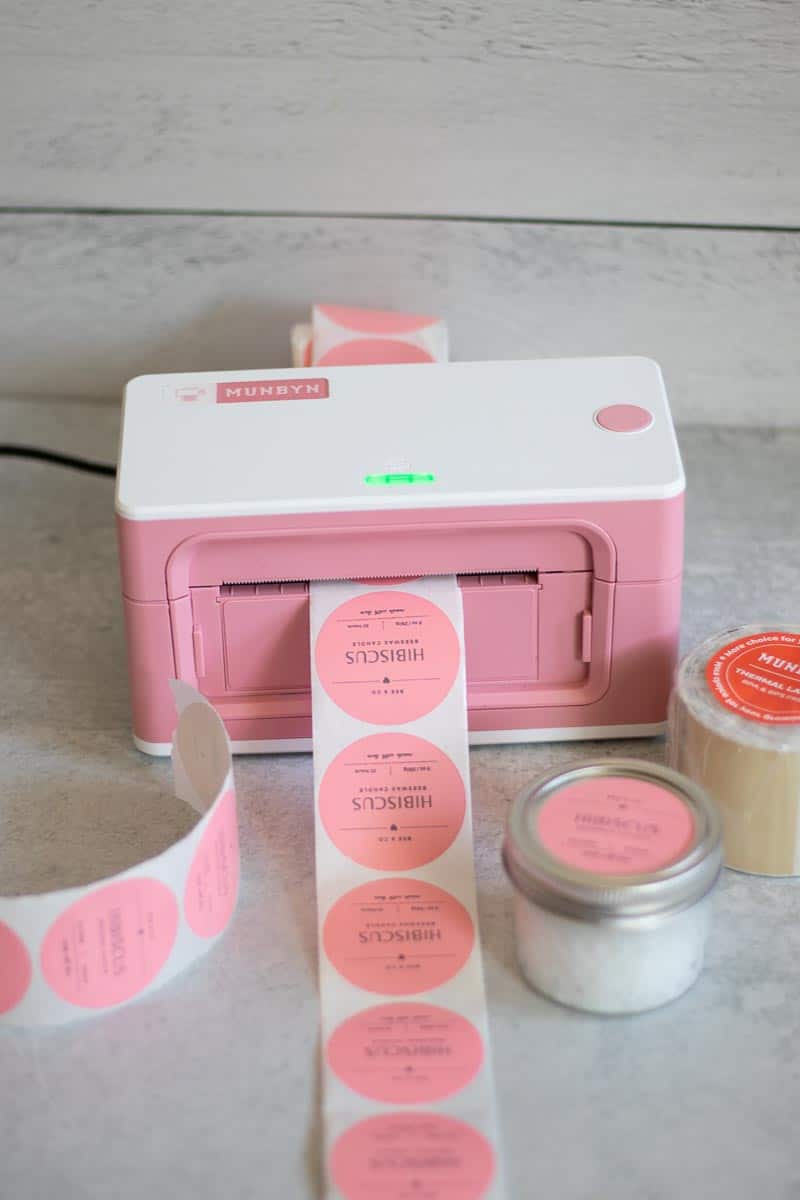 How to print product labels using the MUNBYN Bluetooth Thermal Printer
One thing that I love about the MUNBYN Bluetooth thermal label printer is how easy it is to set up. Once you open the box, it is as simple as connecting it to your computer using Bluetooth.
Once the printer is connected, it is as easy as a few steps to print from the computer:
Design the label that is 2×2" so that it can fit on the label (I recommend using Canva or Photoshop – directions below).
Hit the command button and the letter P button (or go to file -> print).
Select the MUNBYN printer and adjust the size to 2×2.
Select how many labels you want to print.
Hit the print button and you are good to go!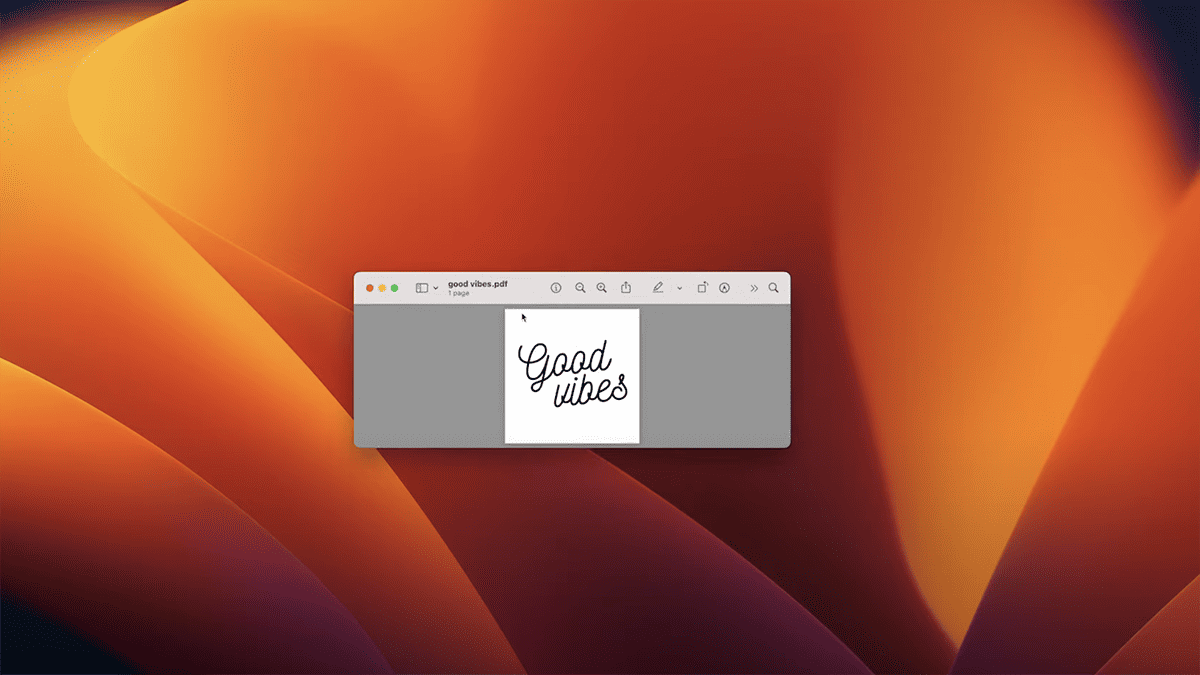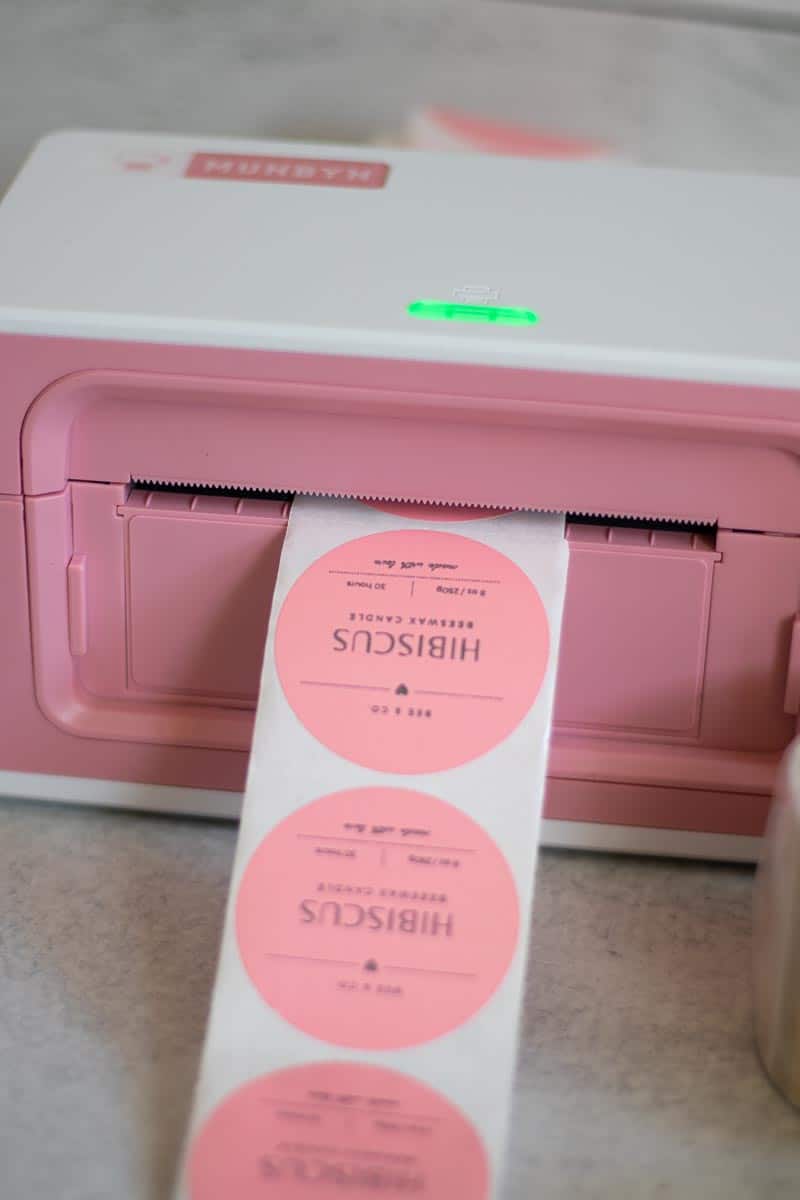 How to design a label using Canva
Canva is my favorite label designer because they come with their own custom label templates.
If you don't want to use a template, go into Canva and select the size of the label. For the labels in the MUNBYN printer, select 2 inches by 2 inches.
For a circle label, go into the 'elements' tab on the left side and spread it so that the edge of the circle is on the sides of the label.
Next, select the text and design what you would like on your label. I love how Canva has so many ideas to help spark your creativity!
When you save your design, don't forget to name your design so you can go back to it time and time again. I also recommend exporting it under 'PDF Print' so that it looks the best when using your MUNBYN Thermal Label.
If Canva is overwhelming, the MUNBYN print app has some wonderful templates for labeling around your home that I am obsessed with!
If you'd like to design and print labels with Microsoft Word, here are directions for how to do that.
I also have an in depth tutorial for how to design product labels in Photoshop here.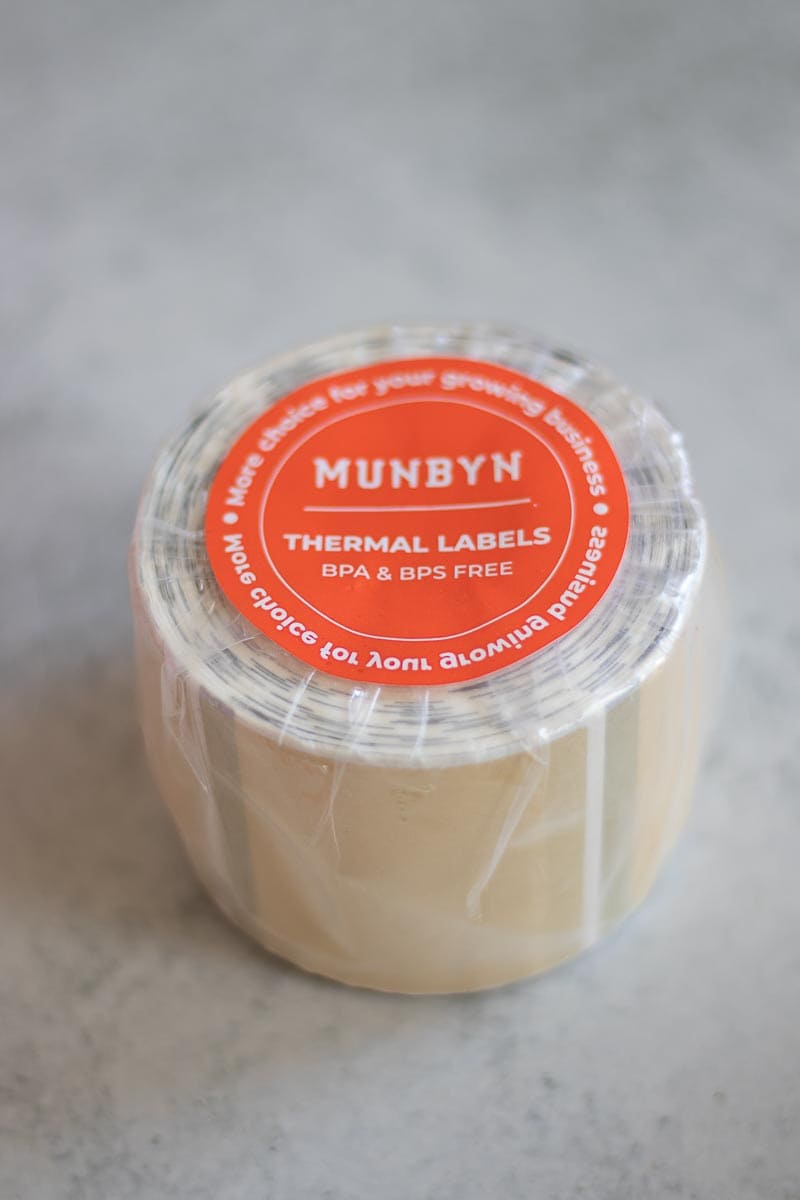 Different uses for MUNBYN thermal labels
As a business owner and a mother, I find myself pulling this portable thermal printer out all the time. I love it and I believe that you will, too.
Benefits for me as a business owner:
Shipping labels (it can print 72 labels a minute so you save time!)
Branding labels
Product labels (it can print in 300 dpi so it meets the higher printing requirements such as Amazon's barcodes)
Logo stickers
Thank you stickers
QR code labels
Care instruction labels (it has a strong adhesive but it is easy to peel off without residue)
MUNBYN 4×6 label printer can Analyze and learn your label, bringing more convenience to your business
MUNBYN thermal label printer is compatible with all major shipping and sales platforms such as Etsy, Shopify, eBay, Amazon, Poshmark, FedEx, ShipStation, ShippingEasy, Shippo, Ordoro, Endicia Dazzle, Shipwire, Shipworks, Stockx, Xps ship, etc.
Used by Japanese ROHM printer head, Green Friendly Mailing Label Printer, so there is no need for any Cartridges or ink. MUNBYN Provides free lifetime customer support and product protection for any product issues via live chat, phone calls, and emails, even remote-desktop operations support as you need.
Easy operation: Close the lid and insert the paper from the back of the printer, MUNBYN Postage label printer will automatically catch the label and feed it into the printer. This address label maker supports print labels from 1.57″ to 4.3″ wide, suitable for shipping labels and warehouse labels.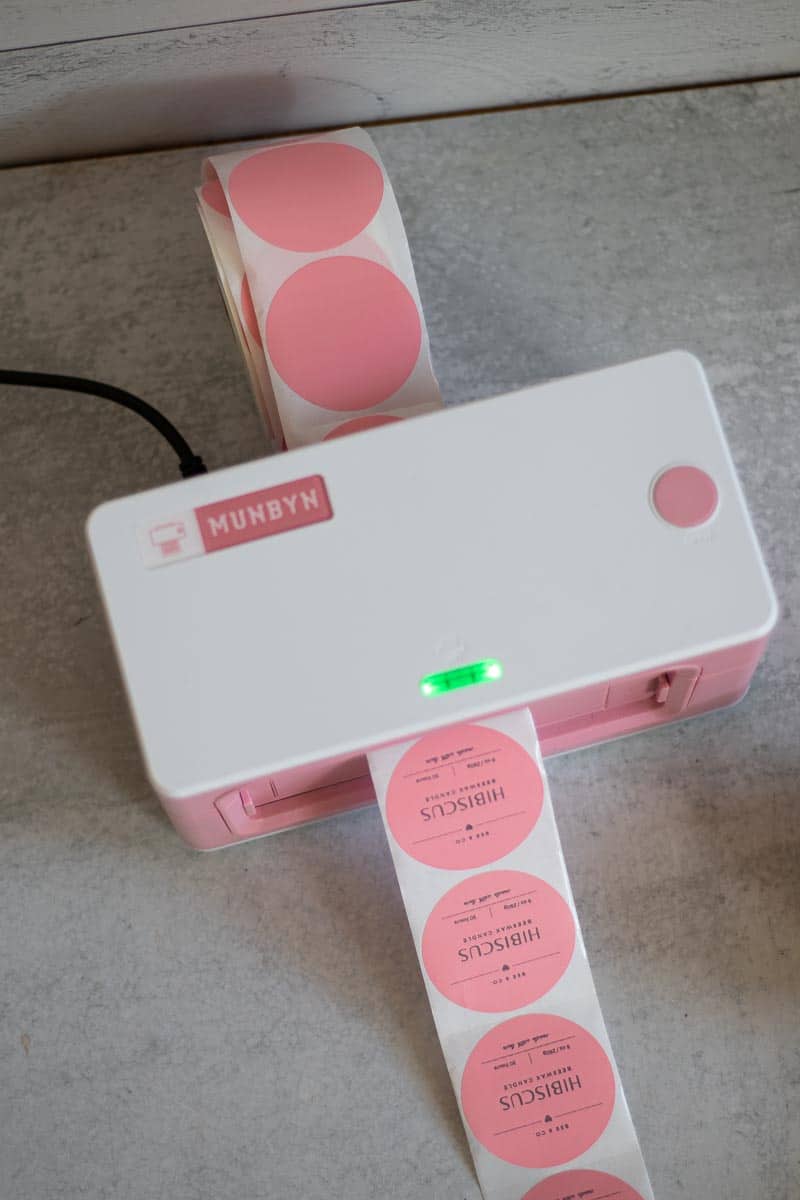 As a mom:
Labeling my kid's clothing (there are different colors and creative shapes to use)
Marking different food containers (BPA-Free, Waterproof, and Oil-proof so it's sustainable and safe)
Holiday Gift Tags
School gifts or needing to label other things such as a lunch box or supplies with my child's name
Benefits and features of the MUNBYN Bluetooth thermal label printer
No need for ink or cartridges! Thermal printers are inkless. They use heat to print images, so without replenishing ink supplies, you will save big on operational costs. MUNBYN also uses a one-click installation to print process, eliminating complex installation issues.
About the MUNBYN Bluetooth thermal label printer
One minute to set up, Money and Time Saver
Automatic Label Identification
Environmentally friendly MUNBYN Printer
Easy Learning To Create and Print Labels
Pick up a MUNBYN Bluetooth thermal label printer for your home business here.
What do you like to label?
Do you create products, and are you looking for an excellent label solution? Share in the comments!
Join our traditional wisdom community, and grab a free DIY natural beauty recipes eBook when you subscribe!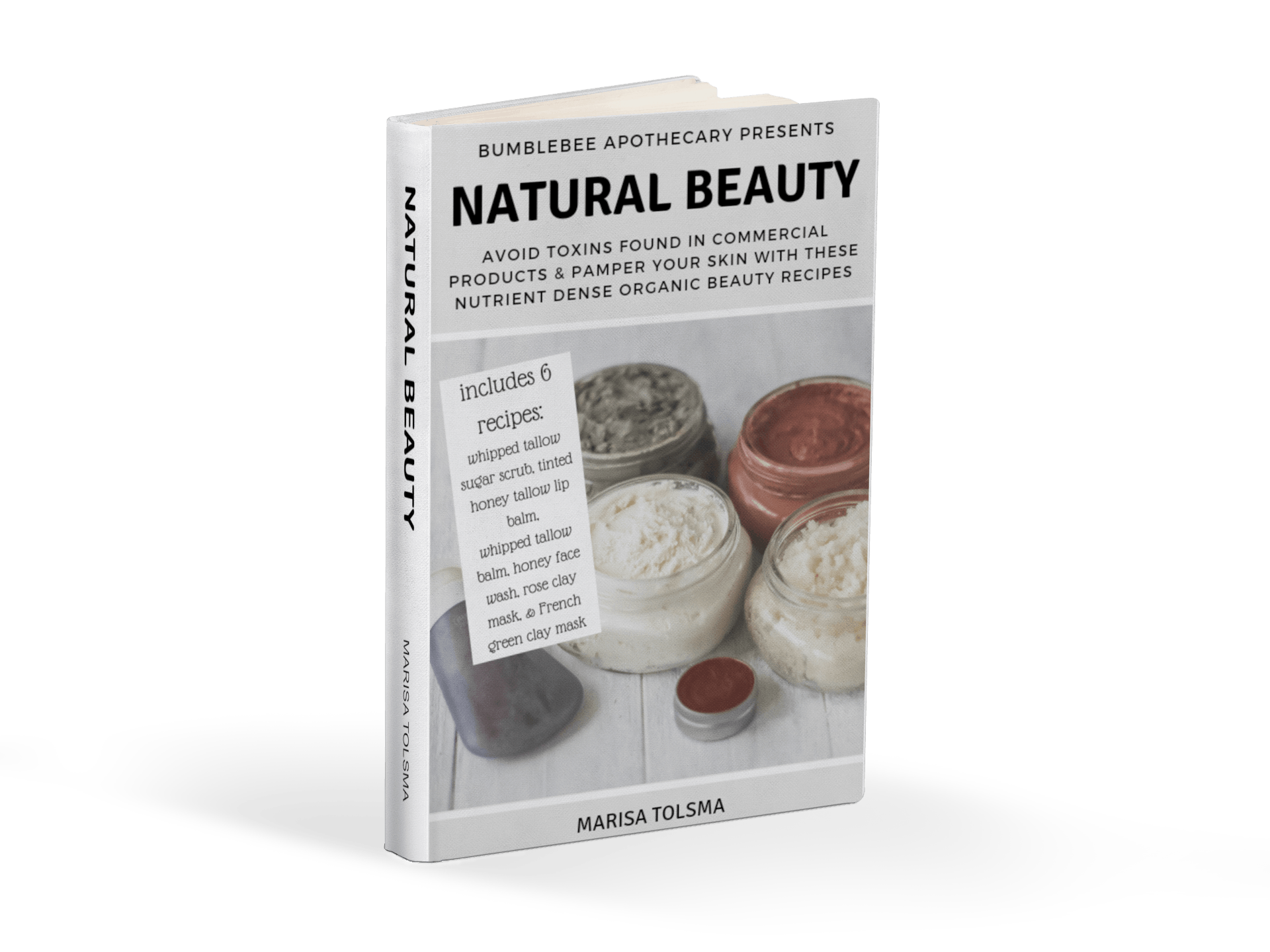 Shop this post
Buy the MUNBYN Bluetooth thermal label printer here
Want to shop for more grocery and natural living essentials?
Check out the Bumblebee Apothecary Shop here.
Want to shop for organic handmade skincare products?
Check out the Bumblebee Apothecary Body Care Shop here.
Follow along with Bumblebee Apothecary
Thanks for stopping by! Be well!