When you're new to GAPS, figuring out what to eat for breakfast can be a challenge. This list of GAPS diet breakfast ideas will save the day.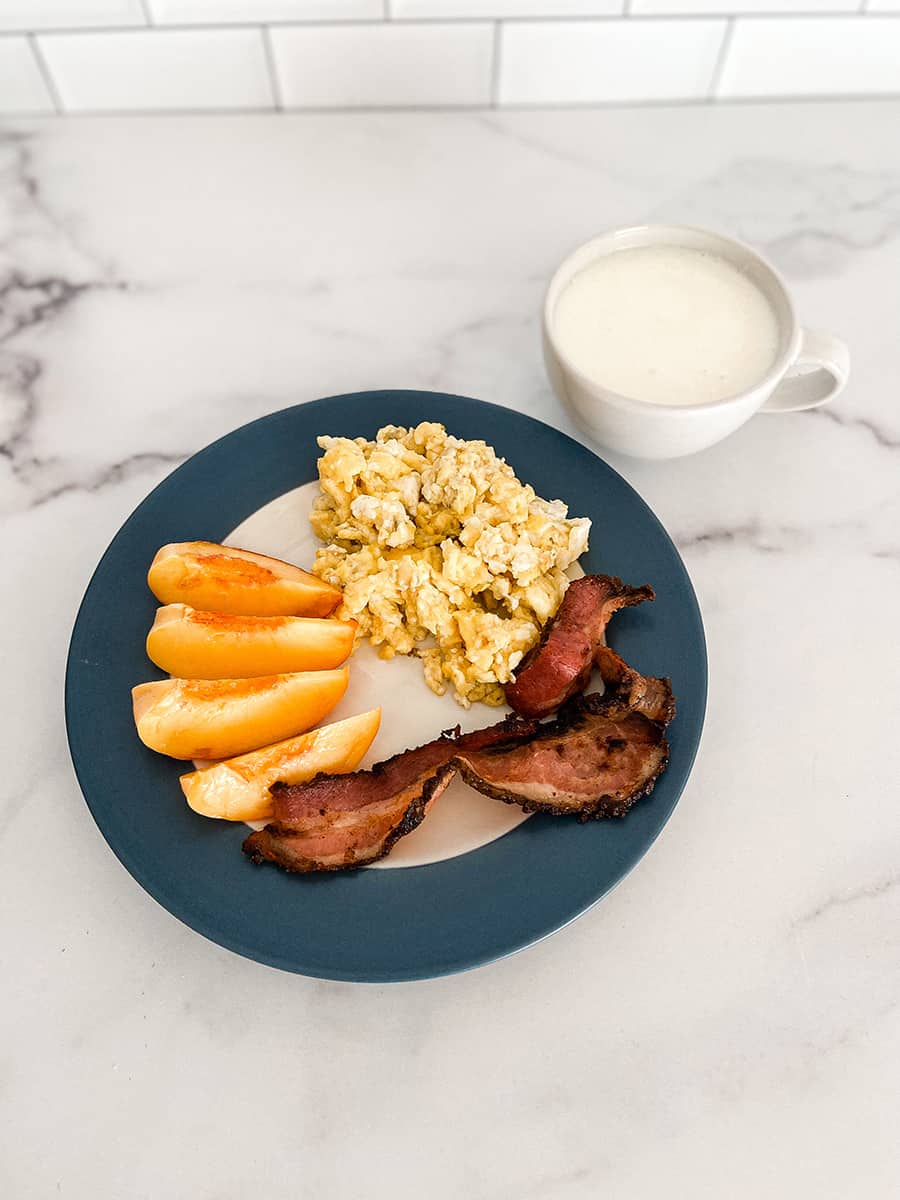 GAPS diet breakfast ideas
Coming up with great GAPS diet breakfast ideas can feel overwhelming, but it doesn't have to be! In fact, there are a number of meals that you can serve for breakfast that are delicious, nutritious, and the entire family will love.
If you're new to the GAPS diet, you'll want to check out these posts where I explain the GAPS diet in a nutshell, and talk about how to start the GAPS diet.
Here are our favorite go-to breakfast ideas that are GAPs approved and your family will enjoy.
Pin it for later
This post contains affiliate links, which means I make a small commission at no extra cost to you. Get my full disclosure here.
GAPS Breakfast Ideas
Finding ideas for different meals can feel daunting, especially for breakfast. Truth be told, deciding what to eat for breakfast was one of the most surprising parts of starting the GAPs diet.
Without the traditional hash browns, pancakes, and hot cereals, it can be an adjustment! Luckily, it doesn't have to be hard – there are plenty of meals that can fuel your and your family's bodies that taste amazing.
Having breakfast on the GAPs diet can be as simple as enjoying eggs with a side of avocado or a smoothie on your drive to work. If you want to get creative, there are endless ways to start your day with a delicious meal.
GAPS Diet breakfast ideas and my top tips on how to make the adjustment to GAPS easily
Here are my best tips for making the transition to the GAPS diet as easy as possible:
Gradually transition: Ease into the GAPS Diet by slowly eliminating non-compliant foods and introducing GAPS-approved alternatives. This gradual approach can make the adjustment more manageable and help prevent overwhelming cravings or withdrawal symptoms.
Meal planning and preparation: Plan your meals in advance to ensure you have GAPS-friendly options readily available. Batch cooking and prepping ingredients can save time and make sticking to the diet easier. Stock up on GAPS-compliant pantry staples to have on hand for quick and convenient meal options.
Remember, adjusting to the GAPS Diet takes time and patience. Listen to your body and make modifications that work best for you. Stay motivated by focusing on the positive changes you're making for your health and celebrate each step forward on your GAPS journey.
Tips for a successful mindset on GAPS
Here are a few tips that I picked up along the way that I believe can help you be successful when you are starting the GAPs diet:
No matter what stage you're in GAPS, know that it gets easier! Give yourself some grace.
In those first few phases of the GAPs diet meals aren't always the most exciting. I know, it's hard but phases 1 and 2 were designed specifically to allow your body time to heal with simple meals that are nutritious and healing.
Think outside the box! Meals that are not traditionally served for breakfast can be eaten during the morning. Have you ever had breakfast for dinner? Why not try dinner for breakfast?
Listen to your body. If you feel like you need a break from eggs, try another meal option, such as something you'd normally make for lunch or dinner, on the list for a morning or two.
For breakfast, I especially like to plan ahead what my family and I will be eating. Since it's so early, knowing what I am serving makes the mornings run a little smoother.
Find a community of other people trying the GAPs diet in my Facebook group.
GAPS Diet Breakfast Ideas
GAPS Diet staple ingredients I always have on hand in my pantry or refrigerator
When you are beginning the GAPs diet, I always try to make sure I have a few basic ingredients on hand wither in my pantry or my refrigerator to help keep hunger away. These are a few things I try to keep around so that I don't accidentally break my diet and harm my healing body.
Fresh eggs
Homemade meat stock (either on its own in a mug or added into a savory soup)
Ready to slice veggies like cucumber and carrots
Soup that can be reheated on the stove
Avocado
Frozen pumpkin pancakes that you can reheat in the oven
Grass-fed butter (to add to your pumpkin pancakes!)
Fruit for fresh pressed juices
Another tip I try to keep in mind is to make more than I need with other meals that I can freeze. That way, I always have something that I can reheat quickly.
GAPS diet breakfast ideas video
Some of my popular GAPS diet recipes to check out next
New to the GAPS Diet?
I would love to connect in the comments below! Tell me if you are new to the GAPS diet, or have you been on GAPS for a while now?
Join our traditional wisdom community, and grab a free GAPS diet getting started guide eBook when you subscribe!
Shop this post
Want to shop for grocery and natural living essentials?
Check out the Bumblebee Apothecary Shop here.
Looking for a GAPS Intro meal plan?
GAPS to Go is a 30-day meal plan for the GAPS introduction diet that tells you what to eat each day, with complete cooking instructions, and guidance on when to move to each intro diet stage.
Check out GAPS to Go here.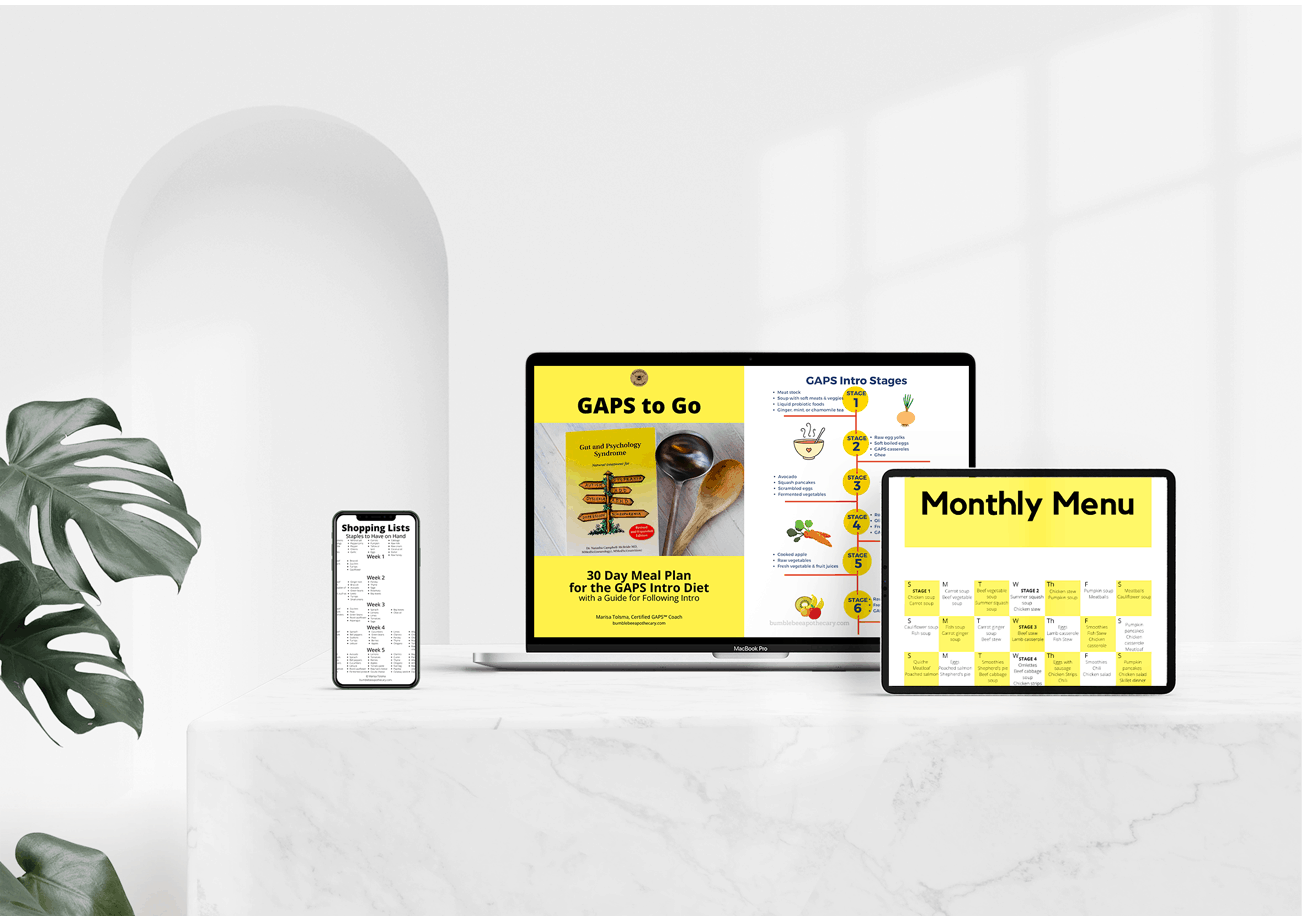 Follow along with Bumblebee Apothecary
Thanks for stopping by! Be well!
GAPS™ and Gut and Psychology Syndrome™ are the trademark and copyright of Dr. Natasha Campbell-McBride.
The information in this blog post is my personal experience and opinion. It is for general information purposes only, may not apply to you as an individual, and is not a substitute for your own physician's medical care or advice. Always seek advice from your physician or another qualified health provider with any questions you may have regarding nutrition, medical conditions, and advice. Never disregard medical advice or delay seeking medical care because of something you have read on this blog.