With coconut milk and essential oils, this leave-in conditioner spray DIY is just the thing for lightweight moisturizing. It also smooths and eliminates frizz!
Leave in conditioner spray DIY
Dry hair is not fun. And, anyone with a young daughter knows: tangled hair is bad news. Thankfully, there's a quick, easy, and completely natural solution for both.
As I mentioned in my all-natural hair care routine, which you can read about here, I love tallow balm for some occasional, deep nourishing for the ends of my hair. For daily use though, something lighter is nice.
This leave-in conditioner spray DIY uses coconut milk. I find it has just the right amount of moisture, without being too heavy, like coconut oil can be.
I also like to use bergamot essential oil. Bergamot has a lot of benefits for hair. It helps to control frizz, and it smells beautiful and fresh.
Pin it for later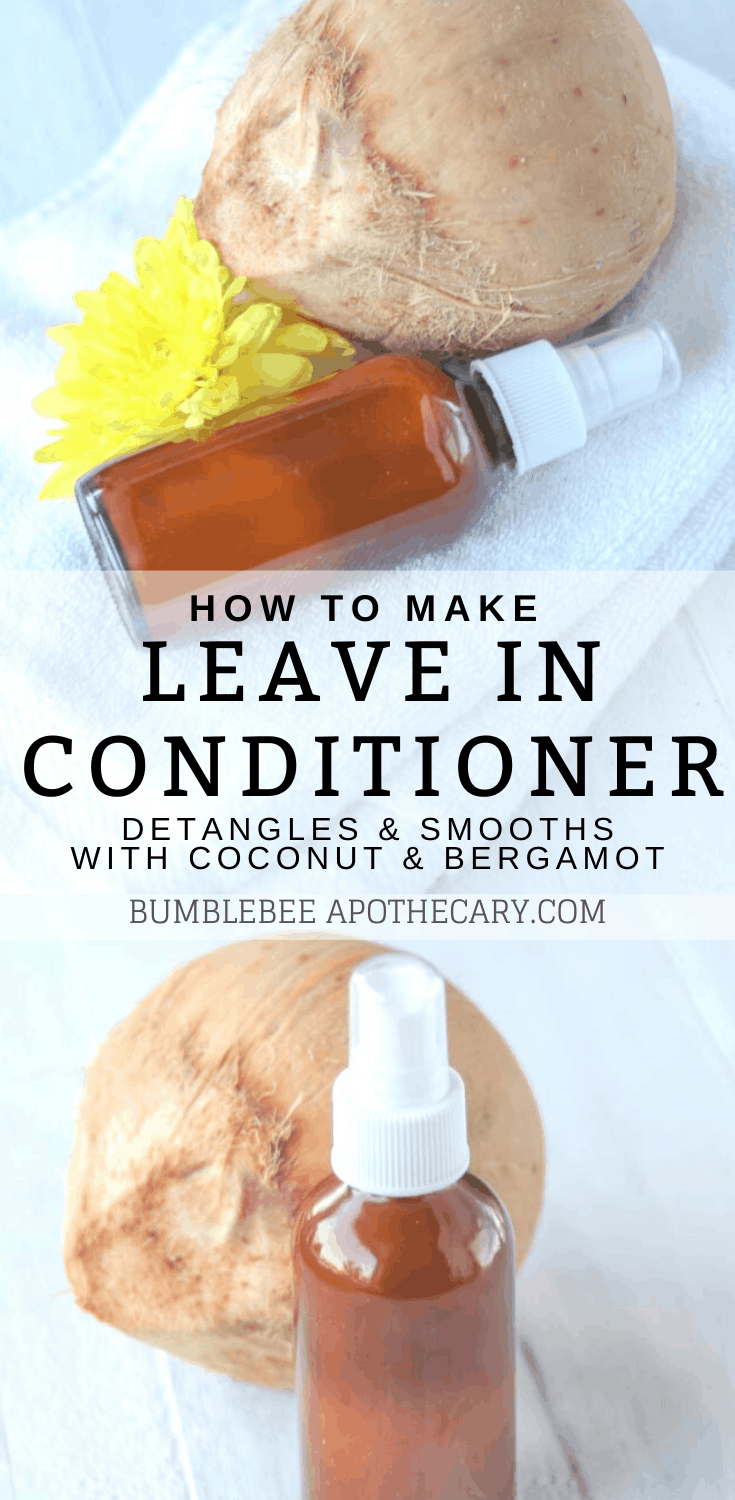 Skip the toxins
Of course, there are so many options for hair conditioning and detangling at the drugstore. But these often contain lots of questionable ingredients. I don't feel comfortable using them on myself or my family, so I opt to make the products we use.
How to use it
This leave-in conditioner spray DIY recipe can be used on wet or dry hair. I normally like to use it on my hair when it is wet, and let it air dry. If I have trouble with frizz, I will use a little dry hair to calm and smooth it.
Personalize it
There are other essential oils that are great for hair, too. Peppermint and rosemary are other great options. Feel free to experiment and find out what you and your hair like best!
Which coconut milk?
I find that canned coconut milk works best. One without thickeners or other additives is a good idea, like this one. Trader Joe's also has a really nice organic canned coconut milk for a great price.
This post contains affiliate links, which means I make a small commission at no extra cost to you. Get my full disclosure here.
Preserve it
Like any product made with water, this leave-in conditioner spray DIY recipe will need a preservative to stay fresh at room temperature. This is the one I like to use in my products. I like it because it is very natural, while still being effective.
Of course, if you don't want to buy or use a preservative, you can just keep your leave-in conditioner spray in the refrigerator. You will need to let it warm up a bit before it will spray. The coconut milk will tend to solidify a little when it gets cold. When I've used this without a preservative, I just leave the bottle on the bathroom counter while I take a shower. Then, by the time I get out of the shower, it has warmed up enough to spray easily.
Leave in conditioner spray DIY directions
Ingredients:
2 TBSP coconut milk
3 fl. oz. filtered water
24 drops of bergamot essential oil
12 drops preservative (optional)
Instructions:
Put coconut milk, essential oil, and preservative (if using) into a 4 fl. oz. spray bottle.
Fill the bottle to the top with filtered water.
Shake well before each use.
Leave in conditioner spray DIY video
More DIY hair care recipes
My all-natural hair care routine
Do you make any of the hair care products that you use?
What do you like to make? Tell me about it in the comments!
Join our traditional wisdom community, and grab a free DIY organic skincare recipes eBook when you subscribe!