I'm starting a new series: The GAPS diet for dummies.
The GAPS Diet for Dummies, Part 1: What is Happening?
This series was an idea from one of my YouTube channel subscribers. I've had a lot of requests for GAPS diet information, and I thought this was a great concept!
Following the GAPS diet can definitely seem a bit overwhelming at first. My goal with this series is to cover the most important information in a simple, easy to understand way.
I'm also going to be sharing my personal experience and tips. The GAPS diet has definitely changed my life for the better. It has also been extremely helpful for my husband and son.
This post contains affiliate links, which means I make a small commission at no extra cost to you. Get my full disclosure here.
All of the technical information I'm going to cover in this series comes from the book Gut and Psychology Syndrome by Dr. Natasha Campbell-McBride. I highly recommend getting a copy of this book for yourself! Grab it here.
Need help overcoming picky eating? Get my Picky Eating Blueprint: Empowering parents of picky eaters with confidence to transform their child's relationship with food in three weeks or less. Check out Picky Eating Blueprint here.
Pin it for later
I've been there
I'm going to be sharing Dr. Campbell-McBride's information, along with tips from my own experience. I personally did the GAPS diet for two years, and it really did change my life.
Before that, I had several stubborn health issues: fatigue, frequent headaches, horrible cystic acne, and I was underweight. I had previously tried everything else I could think of, and nothing truly helped.
My husband and son also benefitted from the GAPS diet. My husband did it for two years, and saw a lot of improvement in his health.
I did the baby GAPS diet to introduce solids for my son. That has made a huge difference in his health and happiness and cleared his skin from a rash.
It is my desire to help as many other people as I can easily and successfully follow the GAPS diet. I want others to experience the life changing benefits it can give! I'm here to help you on your GAPS diet journey.
Who are GAPS diet people?
The acronym GAPS stands for "Gut and Psychology Syndrome." Dr. Natasha Campbell McBride also talks about how people with various, overlapping mental and physical issues don't fit neatly into one, sterile diagnosis box. Usually, GAPS people have a variety of health issues, both physical and mental (source).
Dr. Natasha says that all GAPS people have one thing in common, though: digestive issues. Here's the interesting thing: whether a person struggles with mental illness, learning disabilities, or physical problems like allergies or eczema, they all have an unhealthy digestive system.
This diagram below from Dr. Campbell McBride's book, with overlapping shapes, shows what we're talking about. People might have only mental difficulties, only physical issues, like allergies and eczema, or a combination of both. But whatever else GAPS people struggle with, digestive issues are always there.
How does somebody become a GAPS person?
Believe it or not, according to Dr. Natasha, there is actually a somewhat predictable chain of events that unfolds as a baby or young child develops GAPS symptoms.
Everybody is different, and there are so many factors that come into play. But, as GAPS people become more common, there is definitely a series of stages that almost always unfold.
The health of the child's parents before conception and factors during pregnancy birth are certainly important. We'll touch on these things more in the future. For now, let's quickly look at what usually happens as a baby becomes a GAPS person. If you know of a GAPS person, or are one yourself, see if you recognize any of these things.
Baby stages
Usually, says Dr. Natasha, a GAPS baby will have eczema. It's common for them to have severe eczema. The eczema grows worse when solid foods are introduced.
At this same time, food sensitivities and intolerances are often noticed. Digestive symptoms become pronounced. Bloating and constipation are common.
Around the age of two years, GAPS kids usually become picky eaters. They'll limit their diet to things like starchy and/or sweet foods.
Crackers, chips, cereal, and bananas seem to be favorites. We'll find out why later. Usually, GAPS kids don't want to have anything to do with foods like meat, vegetables, and eggs.
Around or just before the age of starting school, more tendencies surface. Depending on the person and what direction their bodies take, these could be social issues or learning disabilities. Being noticeably slow at learning to talk is a big one.
Sometimes odd behaviors start to show up, either as ways to cope with stress, or in response to different stimuli in the environment. Some kids can't stand certain fabrics in their clothing. Others are bothered by bright lights. Sometimes they're just not where they should be for their age socially, for a normally developing child.
Growing up
As GAPS kids progress through school, certain things will show up. Sometimes they get a formal diagnosis for full autism or being on the autism spectrum. Sometimes they get other types of diagnosises.
Other kids seem to do fine socially, but have other difficulties like dyslexia or ADD. Or, the physical symptoms of allergies, eczema or asthma can really take hold, grow worse, or just never go away.
For all of these types of GAPS kids, the digestive issues continue or worsen. Some people tend toward constipation, and that will be their struggle. Others have ongoing issues with diarrhea.
Stay tuned to see how all of this can be made better
Next time we'll look into what exactly is going on in the gut. We'll cover what needs to happen so that the digestive system and all of the other symptoms can work properly again. It's really amazing.
The GAPS Diet for dummies, part 1 video
More about the GAPS diet
The GAPS Diet Explained in a Nutshell
Getting Started with the GAPS Diet: What You Need to Know Before You Begin
Did you recognize any of those symptoms?
If you or a loved one are a GAPS person, what are the things you or they struggle with? I'd love to hear your experience in the comments.
Join our traditional wisdom community, and grab a free gaps diet kitchen checklist when you subscribe!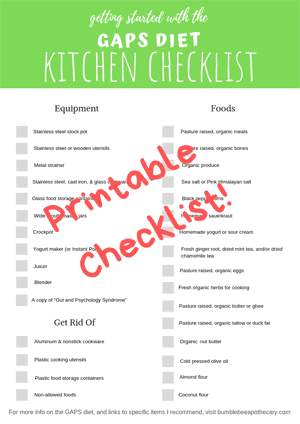 Shop this post
The GAPS Diet Book: Gut and Psychology Syndrome by Dr. Natasha Campbell-McBride
Looking for a GAPS intro meal plan?
GAPS to Go is a 30 day meal plan for the GAPS introduction diet that tells you what to eat each day, with complete cooking instructions, and guidance on when to move to each intro diet stage. Check out GAPS to Go here.
Follow along with Bumblebee Apothecary
Thanks for stopping by! Be well! ?
GAPS™ and Gut and Psychology Syndrome™ are the trademark and copyright of Dr. Natasha Campbell-McBride.
The information in this blog post is my personal experience and opinion. It is for general information purposes only, that may not apply to you as an individual, and is not a substitute for your own physician's medical care or advice. Always seek advice from your physician or another qualified health provider with any questions you may have regarding nutrition, medical conditions, and advice. Never disregard medical advice or delay seeking medical care because of something you have read on this blog.