This beef heart stew recipe is the perfect way to start enjoying nutrient dense organ meats in a delicious, easy dinner.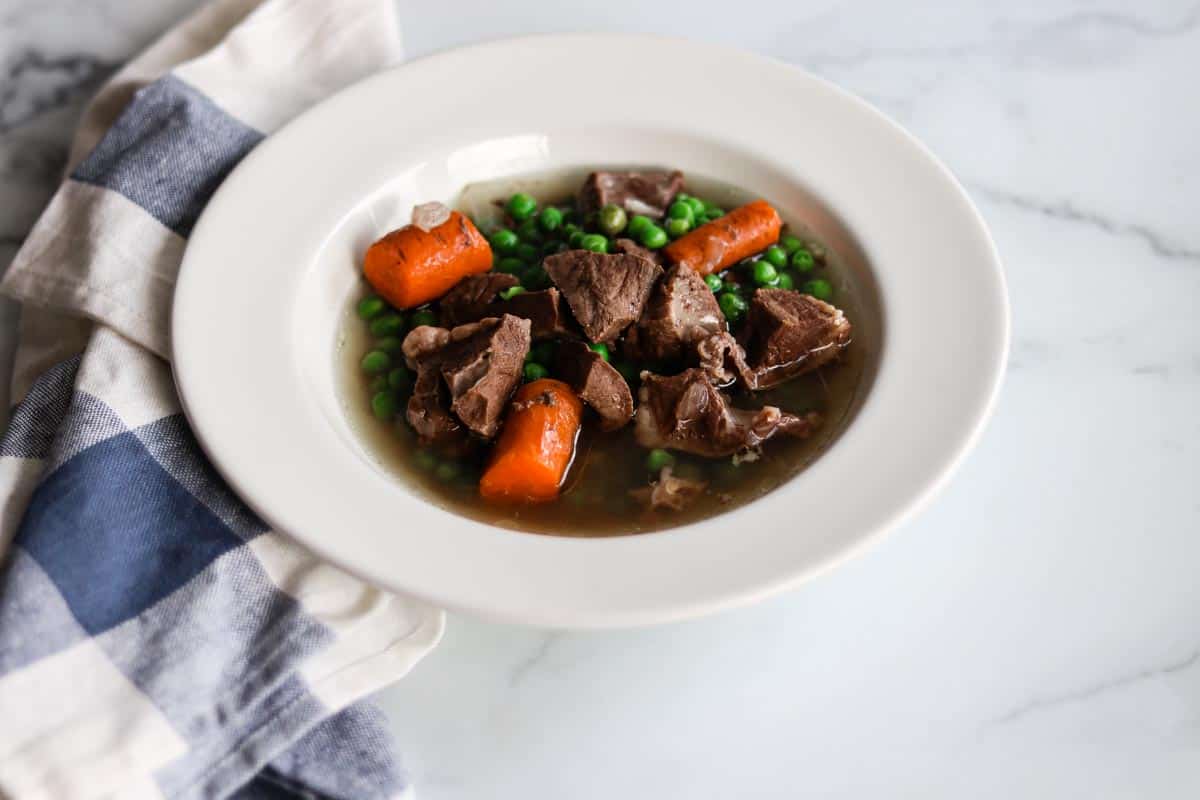 Beef heart stew
Beef heart stew is an excellent meal to add to your family's meal plan for so many reasons. Not only is it delicious and extremely healthy, but this cut of organ meat won't hurt your budget.
If your family isn't used to eating organ meats, it can be a tricky transition to make. Beef heart is one of my favorite introductory organ meats, because it tastes just like stew meat or steak, no organ taste at all!
If you're looking for more nutrient dense recipes, check out my healthy liver pate` and chicken bone broth. You'll also love my beef roast and beef soup for the GAPS diet.
There are many ways to cook beef heart, but this beef heart stew recipe is the one that I cook the most – especially during the cooler winter months.
This meal is a nutrient dense take on a classic stew that your family will love to eat.
Keep reading to learn more about this delicious beef heart stew recipe…
Pin it for later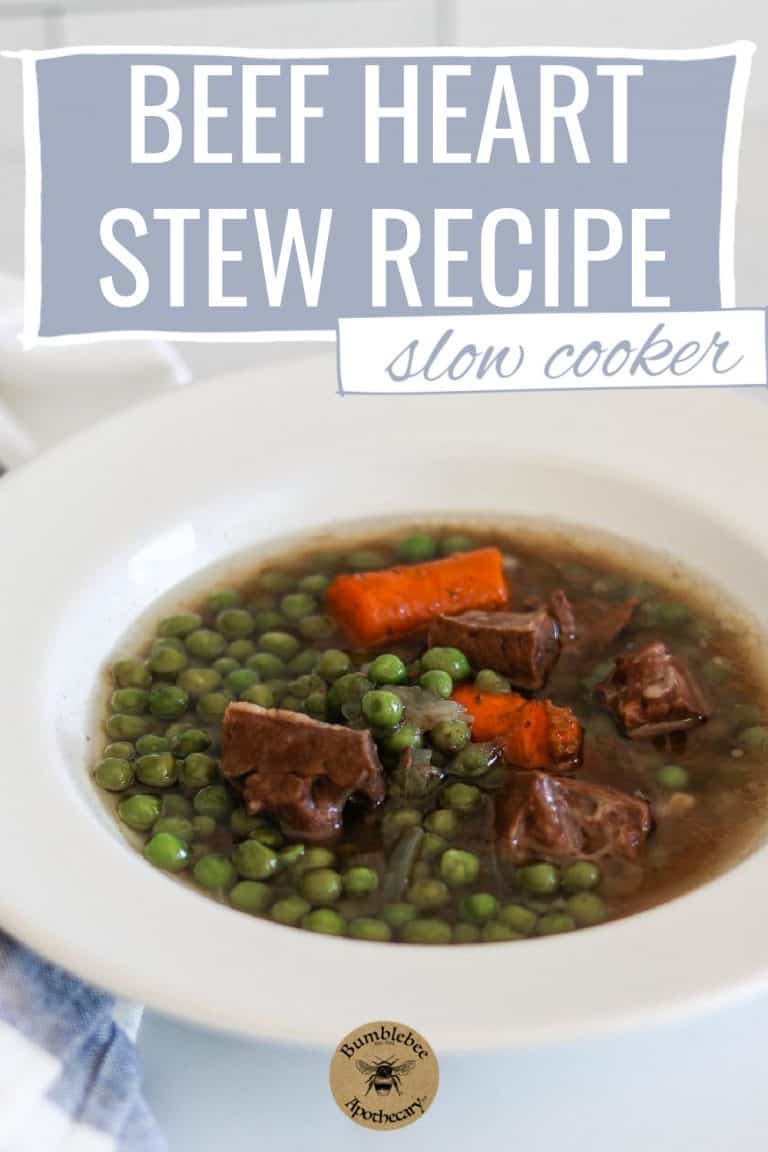 This post contains affiliate links, which means I make a small commission at no extra cost to you. Get my full disclosure here.
Easy dinner recipe
For any chilly winter evening, this beef heart stew recipe is the perfect one to add to your list. Not only is it delicious, hearty, and packed full of essential nutrients, but it is so easy to prepare.
Similar to my beef tongue recipe, you will essentially place all of your ingredients in a pot and make meat stock at the same time. Who doesn't need a recipe like that from time to time?
Pro tips in making beef heart stew
Whenever I buy a half or whole beef, I always make sure to ask for the heart, other organs meats, and bones!
Cooking an amazing beef heart stew is one of the easiest ways to help you and your family get a lot of nutrients. To make it the best soup that your kids beg for again and again, check out these pro tips that I have picked up on from years of making this stew:
Often, the butcher will have already cleaned the heart for you and removed the aorta. If not, just use a sharp knife to carefully cut these connective tissues away.
You can add the connective tissues to the pot and after cooking, blend them in a blender and at them back to the broth before serving. This way, no one will know they are there, and Dr. Natasha says that these connective tissues are very important for health.

To make meat stock at the same time, throw in some knuckle and marrow bones

Depending on what stage you are in for the GAPS diet will determine what vegetables that you can use. For us, we typically use carrots, peas, and onions

My favorite pot to make stews in is my

cast iron dutch oven

When slow cooking meat, its best to add plenty of seasoning so that the entire meal has a rich flavor

Put some of the stew aside in a glass jar or tupperware to freeze so that you have some emergency soup on hand when someone gets sick
Ready to learn how to make a delicious beef heart stew? Keep reading…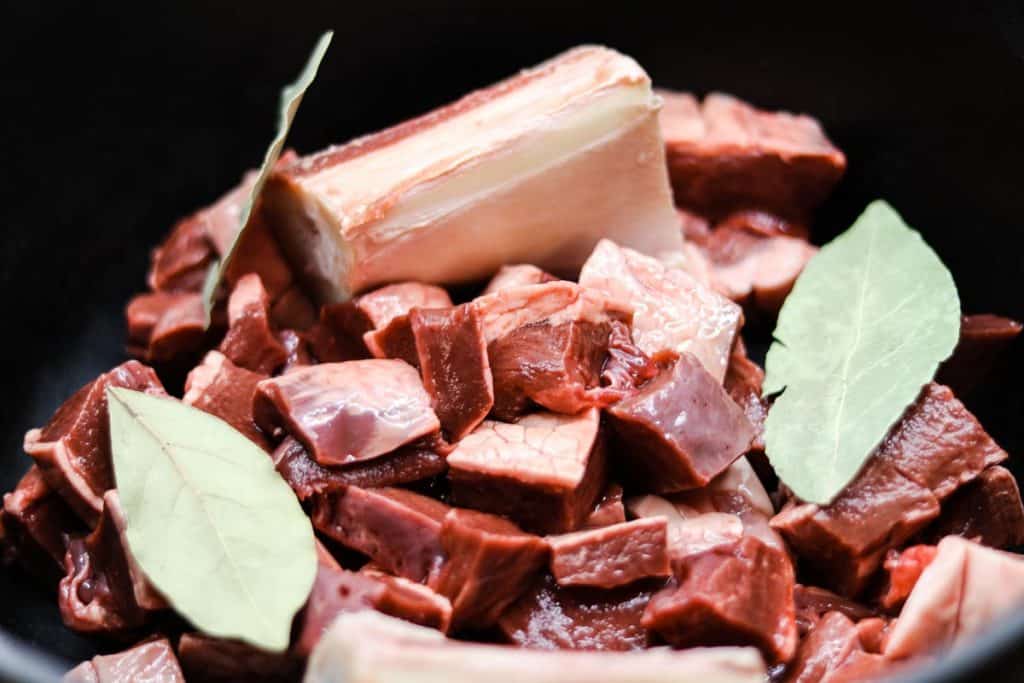 How to make beef heart stew
Beef heart stew is one of my favorite nutrient dense organ meat meals to cook for my family especially on a cold winter day. Not only is it full of hearty, healthy foods, but it tastes so good.
With a little planning ahead and a few ingredients, you can have dinner roasting all afternoon while you focus on other things.
Ingredients:
Vegetables (my kids love carrots, peas, and onions)

Filtered water
Instructions:
If frozen, thaw beef heart in the fridge

Once thawed, preheat oven to 300 degrees

Cut beef heart into one inch chunks, removing the aorta if not done already by the butcher

Place beef heart in your cast iron dutch oven with marrow bones

Coarsely chop onion and carrot and add to pot

Sprinkle mineral salt, pepper, and bay leaves to taste

Add lid and cook in oven for 4-6 hours (If adding peas, add those about an hour before stew is done)

For the marrow bones, remove and bang or scoop the marrow out. I prefer to eat it straight from the bone, but it is also common to add it back into the stew

Serve in a bowl as you would traditional stew
Beef heart stew variations
Spice up this basic beef heart stew recipe with these flavor ideas from around the world!
Mediterranean beef heart stew
This variation of beef heart stew is deliciously served with creamy tzatziki sauce from Bare Root Girl.
For a yummy mediterranean beef heart stew, simply add a few kalamata olives, mint leaves, oregano and the juice from one lemon when adding the seasoning to the cast iron dutch oven.
Moroccan beef heart stew
Looking for a sweeter version of beef heart stew? Try a Moroccan style recipe from The Nourished Caveman!
This Moroccan beef heart stew recipe is seasoned with ingredients like apricots, cinnamon and cardamom.
Braised beef heart stew
Beef heart has a mild taste and taking the time to braise it beforehand will help that flavor be even richer.
Before you place the beef heart into the cast iron dutch oven, heat some tallow in the dutch oven and cook the sides of the meat for 1-2 minutes, until all sides are brown.
This technique will help tenderize the meat, enhance the flavor, and only takes a few minutes.
How long does it take to cook beef heart stew?
For this recipe, it can take anywhere between 4-6 hours to roast a beef heart in the oven.
I love that I can plan ahead and create a meal that is slowly roasting at home while I am having a fun day with my family. Whether we are running errands, playing outside, or snuggling under a blanket watching a movie, knowing that dinner is taken care of helps me be in the moment.
How to cook beef heart in a slow cooker
If you prefer to cook in the slow cooker, it is as simple as cooking in your oven!
Simply add all of the ingredients to your slow cooker and cook on high for 6-8 hours. I like to wait and add the peas towards the end, but it isn't necessary. They can be added at the beginning with everything else if you won't be home to add them later.
What does a beef heart stew taste like?
Beef heart has a delicious, mild beef flavor, very similar to stew meat or steak. It has no organ taste at all, which makes it the perfect introductory organ dish!
Keep reading to learn all about the nutrient benefits of beef heart stew…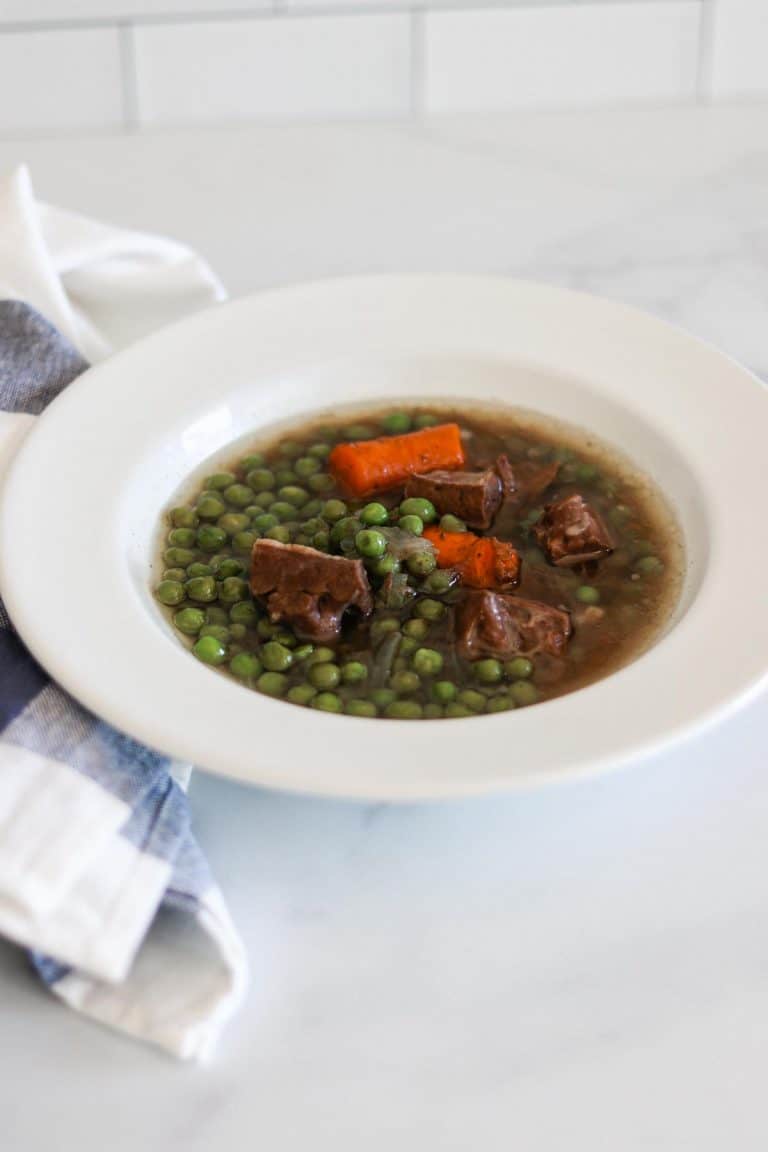 How often should you eat a beef heart?
During the colder months, I like to make this beef heart at least 1-2 times a month. Dr. Natasha says that there really isn't a limit to how much heart a person can have. Listen to your body and enjoy organs as often as possible!
If I make enough, I will even take some and freeze it for up to 6 months so I always have some comfort food. That way, whether my kids or a close friend is sick, I am able to serve them a healthy, hearty stew.
Is beef heart healthy?
Beef heart stew is one of the comfort foods that is hearty and healthy. In fact, this cut of beef is one of the healthiest foods for your heart out there!
The top 3 nutrients in beef heart are (source):
Iron

B vitamins

Folate
Pair this with some bone marrow, meat stock, and some vegetables and you will make one of the healthiest meals for your family this winter.
How much does beef heart cost?
Another reason I love to cook beef heart stew? It is very budget friendly!
Despite only being able to harvest one heart per cow, beef heart is relatively inexpensive compared to other cuts of meat. This is due to the low level of demand for cow hearts, because many people will not eat them.
It's a win win for heart lovers who know the value of this delicious superfood!
What is the most tender beef for cooking a stew?
According to Serious Eats, there are several cuts of beef that will be extremely tender for your family's next stew. These meats include:
Chuck

Bone-in short rib

Bohemian (bottom sirloin flap)

Oxtail

Fatty Brisket (point or second cut)

Cross-cut shanks
For this recipe, I love the fatty meat and the taste that goes along with it. As you continue on your GAPS journey, you will find your body craving the fat from meat, so this recipe is perfect to add to your GAPS meal plan.
Beef heart stew video
More nutrient dense dinners
Have you ever cooked beef heart before?
If you already did, how did you cook it? What ingredients did you use? Share them in the comments!
Join our traditional wisdom community, and grab a free DIY home remedy recipes eBook when you subscribe!
Shop this post
Want to shop for organic handmade skincare products?
Check out the Bumblebee Apothecary Shop here.
Follow along with Bumblebee Apothecary
Thanks for stopping by! Be well! ?
If you make this recipe and love it, please give it 5 stars! Also, tag me on Instagram @bumblebeeapothecary
GAPS™ and Gut and Psychology Syndrome™ are the trademark and copyright of Dr. Natasha Campbell-McBride.
The information in this blog post is my personal experience and opinion. It is for general information purposes only, that may not apply to you as an individual, and is not a substitute for your own physician's medical care or advice. Always seek advice from your physician or another qualified health provider with any questions you may have regarding nutrition, medical conditions, and advice. Never disregard medical advice or delay seeking medical care because of something you have read on this blog.
Yield: 6 servings
Beef Heart Stew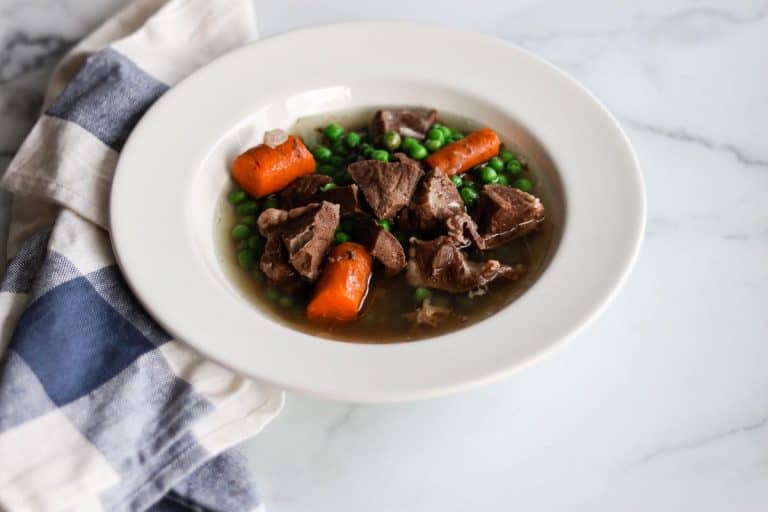 This beef heart stew recipe is the perfect way to start enjoying nutrient dense organ meats in a delicious, easy dinner.

Prep Time 15 minutes

Cook Time 6 hours

Total Time 15 minutes
Ingredients
Vegetables (my kids love carrots, peas, and onions)
Beef heart
Marrow and knuckle bones
Mineral salt
Pepper
3 bay leaves
Filtered water
Instructions
If frozen, thaw beef heart in the fridge

Once thawed, preheat oven to 300 degrees

Cut beef heart into one inch chunks, removing the aorta if not done already by the butcher

Place beef heart in your cast iron dutch oven with marrow bones

Coarsely chop onion and carrot and add to pot

Sprinkle mineral salt, pepper, and bay leaves to taste

Add lid and cook in oven for 4-6 hours (If adding peas, add those about an hour before stew is done)

For the marrow bones, remove and bang or scoop the marrow out. I prefer to eat it straight from the bone, but it is also common to add it back into the stew

Serve in a bowl as you would traditional stew