If you're a fan of tallow, you'll want to know how to make tallow candles with essential oils.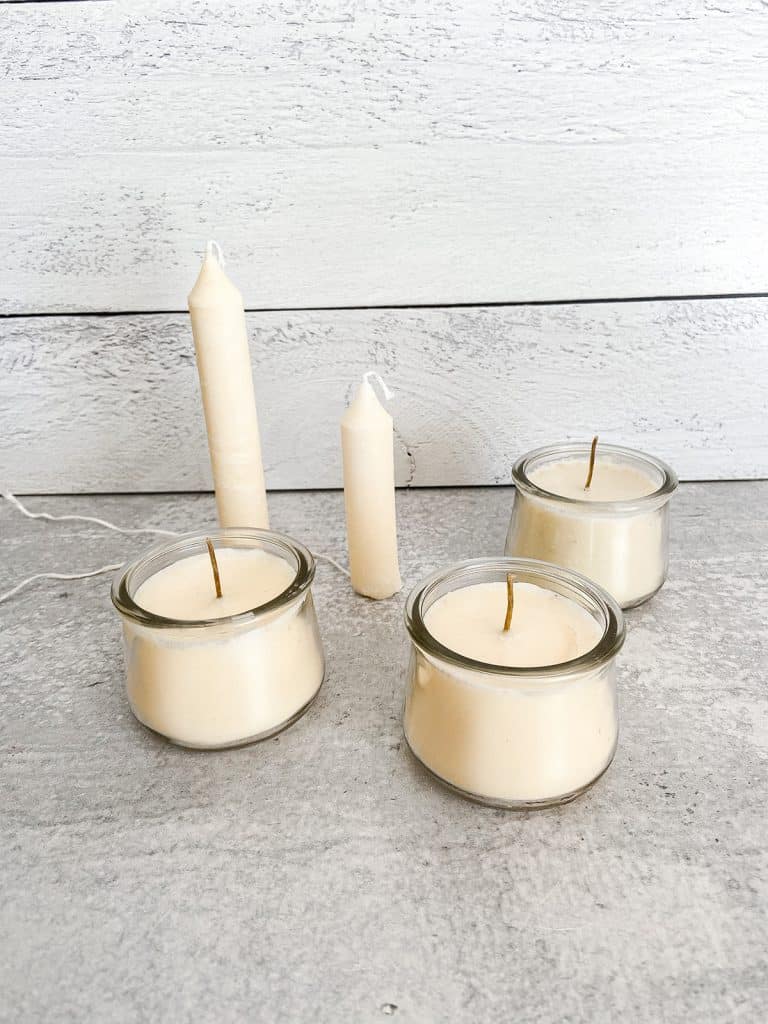 How to make tallow candles with essential oils
Candles have a special way of making an entire room more relaxing. I love to light one when I am preparing a meal, working on my computer or when I am having an at home spa day in my bathroom.
What can I say? Candles are just so relaxing – I love to have them in my home.
Even in seasons where I don't light them as much, they are great to have in case of emergency power outages.
Naturally living can mean giving up your favorite commercial candles – until now. Making your own toxin-free candles with a few ingredients is easier than ever with this tallow candle with essential oils recipe.
Ready to make your own chemical free candles? Keep reading to learn how…
This post contains affiliate links, which means I make a small commission at no extra cost to you. Get my full disclosure here.
What are tallow candles?
Tallow candles are candles made out of tallow, which is the traditional way candles have been made for thousands of years.
Most people don't know this, but commercial candles can be extremely harmful to your health. Lighting one can send thousands of toxic chemicals into the air that you and your family are breathing (source).
Since I try to keep my home as chemical free as possible, that means I only use pure, quality candles made from one of my favorite ingredients, tallow.
Tips in making tallow candles with essential oils
Making candles doesn't have to be a huge, labor intensive project. With this recipe, you can have dozens of candles made in a few minutes.
Here are a few tips to help you make the best tallow candles:
Now that you know my top tips, keep scrolling for the instructions to make your own tallow candles…
How to make tallow candles with essential oils
One of my favorite activities is to make tallow candles with essential oils. Not only does having a lit candle help create a peaceful environment, but it's a fun, simple craft that can get done in an afternoon.
Ingredients:
Glass Jar Instructions:
Melt down pure tallow into a liquid

Let tallow cool down

Add drops into liquid tallow and stir

Set up wicks with a clothespin on the top to hold in place

Pour mixture into the jar and let cool at room temperature

Once fully solidified, trim wick, light, and enjoy
Pillar Jar Candle Instructions:
Lubricate the candle mold with oil (either coconut oil or olive oil)

String the thread through the candle mold

Use clothespin to hold up the wick

With this mold, leave some space at the tip

Once solidified, trim wick and slowly work the candle out of the mold

Trim wick, light, and enjoy
What supplies do you need for candle making?
Surprisingly enough, these candles do not require a lot of equipment to make your very own. When you are using something like tallow, it is easy enough to melt on your stove and start creating right away.
The supplies that will help you make your tallow candles are:
Glass jars (make sure they are thick like a mason jar. That way the heat won't shatter the jar).

Natural wick

Essential oils

Clothes pin to hold wick

Candle mold (

here

is a great one for pillar candles)
The most time consuming part of the entire candle making process is when the tallow is melted. Keep reading to learn all about melting tallow and just how long it takes…
How long does it take to melt tallow?
Tallow is the hard fat in animals that surrounds the organs. It has countless uses and it is one of my favorite ingredients for a natural living lifestyle.
You can cook with it, bake pie crust with tallow, and make your own crafts (like the candles in this article).
You can even render your own tallow using just a crock pot! It will take a few hours, depending on the amount of tallow that you are melting. Typically it takes us between 5-6 hours to fully melt around 4 quarts of tallow.
How much tallow should you melt?
When it comes to rendering tallow, I like to melt as much as possible – or as much tallow that my crock pot will hold. This is because I will make my candles in batches (you can always have a few for gifts if you don't need them all) as well as use the tallow for other things.
Some ways to use up your tallow is:
There are so many reasons to use tallow. If I had to choose one thing to take with me to a deserted island, tallow would be on the list!
What are the best essential oils to add in a tallow candle?
Something I love about candles is how the scent can really impact the smell of a room. Here are a few smells that I love for my own candles:
It is also important to mention the value of using pure essential oils. Personally, that means that I only use Plant Therapy essential oils in my home. I have found that they are the best quality and only source with the best plants when making their oils.
Many essential oils are found to have toxic chemicals in them so you want to make sure that you can find a company that you can trust. You want to make sure that you only add the purest oil to your candles. This will give you the best smell and prevent chemicals from coming into your home when it's lit.
How many drops should you add?
For each cup of tallow, I like to add 60 drops of essential oils. Depending on the amount of rendered tallow that will fit in your container, you will need to add less or more drops.
For example, with a jar that holds half a cup of tallow, then add 30 drops of oil.
Tallow candles vs normal candles
Whether you always have a candle lit or keep them stored in the cabinet for when the power goes out, there are countless reasons to try making these candles.
Tallow wax is an excellent alternative to paraffin wax. This is because of the slow burn, lack of scent, and is toxin-free.

Once the tallow is rendered and melted, these candles only take a few minutes to make.

Homemade tallow wax can be personalized to fit whatever needs your home has. Need something to aid in congestion? Add eucalyptus. Want to add more energy to your mornings? Try citrus tallow candles.

Normal candles can be expensive! This recipe is just two items that most natural living homes already have.

Tallow candles have a much 'cleaner burn'. This means that the wax will melt evenly and won't leave behind any dark ash-like residue on the walls from the smoke.
How long do tallow candles last?
Depending on how much tallow you use as well as the wick type and candle size, your homemade tallow candle can last for many months.
To get a longer lasting candle, make sure that the candle is large enough so that it takes time for the tallow to completely melt.
How to store tallow candles properly?
It is a good idea to store your tallow candles at a cool room temperature. If you have one, storing in the basement is preferred or a low shelf in your closet will work.
If stored properly, these candles will last several years.
More DIY tallow recipes
Have you ever made candles?
What ingredients did you use? How did they turn out? Share in the comments!
Join our traditional wisdom community, and grab a free DIY home remedy recipes eBook when you subscribe!
Shop this post
Want to shop for organic handmade skincare products?
Check out the Bumblebee Apothecary Shop here.
Follow along with Bumblebee Apothecary
Thanks for stopping by! Be well! ?
If you make this recipe and love it, please give it 5 stars! Also, tag me on Instagram @bumblebeeapothecary
Yield: 6 candles
How to Make Tallow Candles with Essential Oils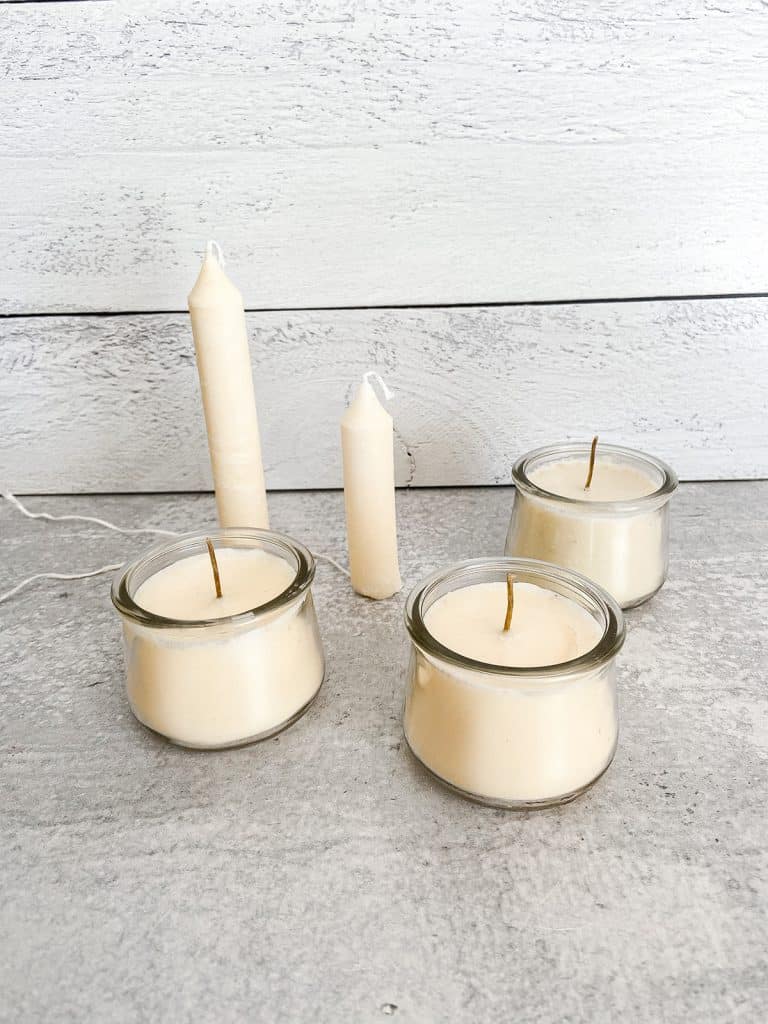 If you're a fan of tallow, you'll want to know how to make tallow candles with essential oils.

Prep Time 15 minutes

Additional Time 3 hours

Total Time 3 hours 15 minutes
Ingredients
Grass fed beef tallow from leaf fat that is hard (soft tallow from trim fat won't be hard enough)
60 drops essential oils per cup of tallow
Coconut oil or olive oil
Wicks
Glass jar or candle mold
Instructions
Melt down pure tallow into a liquid

Let tallow cool down

Add drops into liquid tallow and stir

Set up wicks with a clothespin on the top to hold in place

Pour mixture into the jar and let cool at room temperature

Once fully solidified, trim wick, light, and enjoy
The information in this blog post is my personal experience and opinion. It is for general information purposes only, that may not apply to you as an individual, and is not a substitute for your own physician's medical care or advice. Always seek advice from your physician or another qualified health provider with any questions you may have regarding nutrition, medical conditions, and advice. Never disregard medical advice or delay seeking medical care because of something you have read on this blog.