For those days when you need just a little more time between washings, dry shampoo saves the day. But commercial options have so many dangerous toxins! Skip the chemicals and whip up this dry shampoo recipe instead.
Homemade healthy dry shampoo powder
There was a time in my life when dry shampoo was something that was nice to have, but not a necessity. Those were the days when I could spend pretty much as much time as I wanted on any project or activity, without interruption. I even had time to take a leisurely shower and wash my hair, whenever I felt like it.
Then I had two three four kids. Boy does that change things! My days now revolve around diaper changes, naps, constant toy and mess cleanup, as well as endless requests and questions. Everything is so much busier, and my former life seems like a distant memory.
I definitely would not trade my life now with my four gorgeous children for anything. One other thing is also for certain: now I consider dry shampoo to be an absolutely necessity.
Even if you're not a parent of small children, this dry shampoo recipe comes in really handy for busy days, traveling, and camping.
Ready to make your own dry shampoo recipe for light or dark hair? Keep reading…
Pin it for later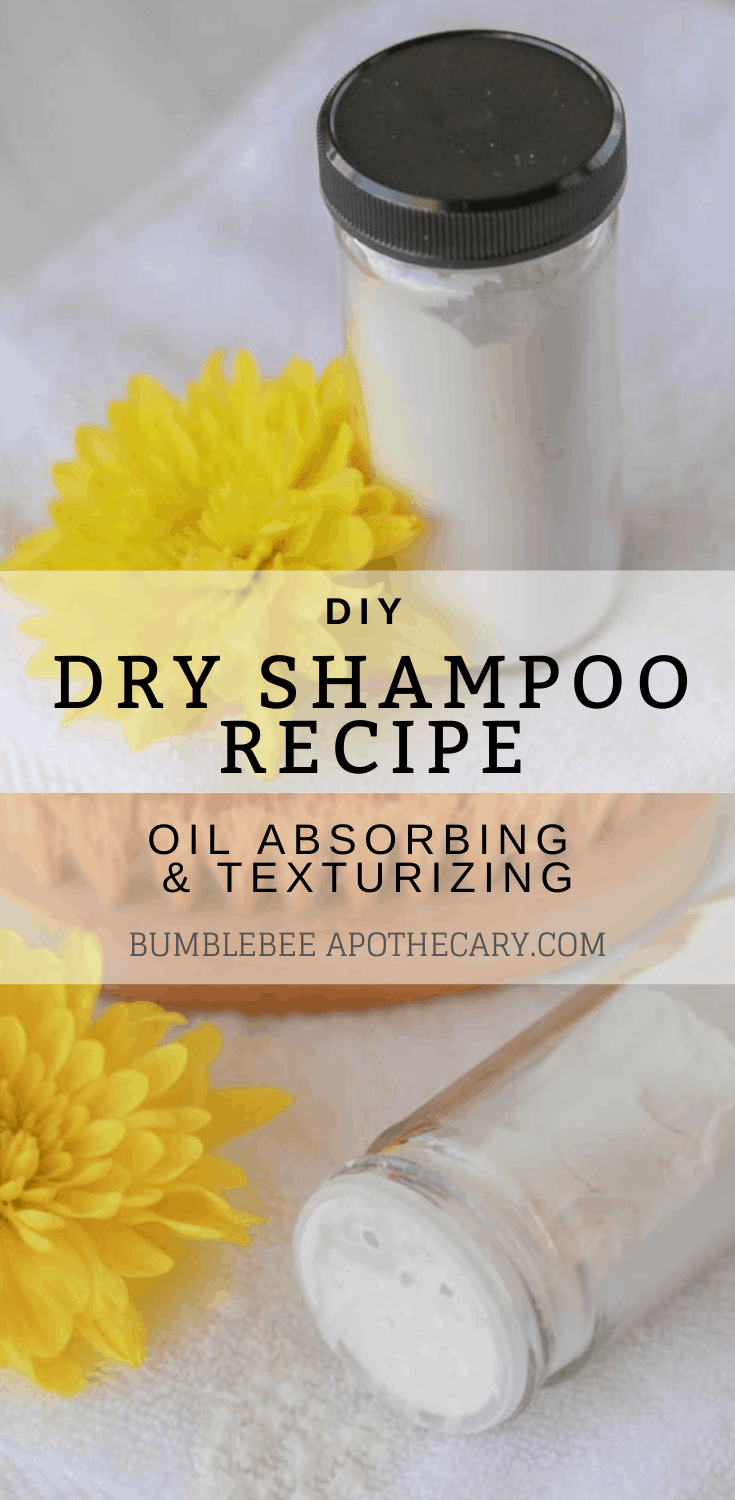 This post contains affiliate links, which means I make a small commission at no extra cost to you. Get my full disclosure here.
What is dry shampoo?
Dry shampoo is a product that reduces oil, grease and dirt in hair. Once applied, it will absorb anything that makes your hair look dirty.
It is different from other shampoos because it can be applied to dry hair (hence the name) and gives you a clean look much faster. In addition to that, this recipe is perfect for a toxin free dry shampoo in your life – something that I strive for in every area of my life.
How do you make homemade dry shampoo?
Arrowroot powder is great for absorbing sweat and oil. Kaolin clay is very oil absorbing, and adds texture. Sometimes, if I'm going to put my hair up, I'll add a little of this dry shampoo recipe to add some extra texture and improve hold.
It's completely optional, but I always enjoy adding some hair friendly essential oils whenever I make this dry shampoo recipe. My favorite is peppermint, since it has great hair benefits, and goes right along with my shampoo bars, which I show how to make here.
Another good option would be bergamot, which is also beneficial for hair.
Tips for making homemade dry shampoo
Making your own dry shampoo is a quick, simple beauty product that can help keep your hair looking cleaner for longer. There are many ways to take this recipe and make it your own.
If you want to make your own dry shampoo, here are a few tips:
Store your dry shampoo in a dry area, such as a drawer in your bathroom vanity. If the dry shampoo gets wet, the ingredients will clump together and will be ineffective.

Play around with the amount of cocoa powder you add to the recipe to help you find the perfect shade.

This dry shampoo is the best for adding texture and volume to an already great hair style. I like to wash my hair on Sunday and take the time to style it with the intention of using my dry shampoo for the next couple of days.

When choosing essential oils for this recipe, choose something that you love! Since it will be going on in your head, you will be smelling it all day long.
Curious about how to make dry shampoo based on how light or dark your hair is? Keep reading…
DIY dry shampoo for dark or light hair
If your hair is lighter, those ingredients I talked about above work wonderfully on their own. If your hair is darker, like mine is, adding some cocoa powder in place of part of the arrowroot powder is a good idea. It helps the dry shampoo not make your hair lighter. I'll include recipes for both options below.
As a side note, the cocoa powder option for dark hair smells absolutely delicious when you add peppermint essential oil to it. It smells just like a peppermint patty!
You can also experiment with other essential oils that have hair benefits. Bergamot, lemon, and rosemary are all great essential oils for hair.
Ready to make your own toxin-free hair product? Keep scrolling for my favorite DIY dry shampoo recipe…
Dry shampoo recipe directions
Ingredients:
Instructions:
Add dry ingredients to mixing container and combine well.
Add essential oils and mix thoroughly.
Use a funnel to put mixture in a glass shaker jar.

How to apply dry shampoo to hair
I like storing my dry shampoo in a glass shaker jar, like this one. It makes it really easy to shake the right amount out and use it.
My method for using this dry shampoo is to shake a little into my hands, rub my hands together, bend over, and use my hands to work it through the roots of my hair.
You can also separate your hair into sections and sprinkle a little dry shampoo straight on your hair, and then brush in. A little goes a long way.
After that I brush it a bit to continue to work it in, and then style my hair. Usually in a messy bun. Because, mom life.
Does homemade dry shampoo work?
Yes it does! I've been using this simple, natural recipe for years.
It effectively absorbs oils and adds texture. Whether you shake it on or use your hands to apply, it really blends right in.
I think you'll be surprised and really happy at how well it works!
How to customize DIY dry shampoo
When it comes to customizing your dry shampoo, don't be afraid to experiment a little bit until you find the perfect shade! Especially since your hair color tends to change based on the time of the year because of sun exposure, make a small batch until you find your dream shade.
I know it seems like a lot of extra effort, but I promise you it will be worth it in the end.
I also love how you can customize the smell based on what essential oils you use! Some of my favorite scents are:
Peppermint during the holidays

Lavender on stressful weeks

Citrus scents during the summer
Why make natural dry shampoo? The problem with commercial dry shampoo
Why not just pick up some dry shampoo from the drugstore? How safe is dry shampoo? Well, conventional dry shampoo is one of the worst offenders when it comes to dangerous chemicals in personal care products (source).
These include heavy metals, talc, and other toxins that disrupt hormones and can cause cancer.
Traditional dry shampoo from the store can cause a lot of problems including:
Drying out hair to the point of breakage

Harm the scalp, causing more oil to be released

Full of harmful chemicals that can hurt you and your family
Thankfully, it's really easy to make this dry shampoo recipe at home. It works great, and is completely safe and natural.
Dry shampoo recipe video
More DIY organic personal care
What are your best no wash day tricks?
Let me know in the comments!
Join our traditional wisdom community, and grab a free DIY home remedy recipes eBook when you subscribe!
Shop this post
Plant Therapy organic peppermint essential oil
Want to shop for organic handmade skincare products?
Check out the Bumblebee Apothecary Shop here.
Want to grab some labels for your homemade dry shampoo and other DIY skincare products?
I've done all the hard work for you with this set of 30 printable skincare product labels. All the recipes are included on the back labels, too! Get your set of printable skincare product labels here.
Follow along with Bumblebee Apothecary
Thanks for stopping by! Be well!
If you make this recipe and love it, please give it 5 stars! Also, tag me on Instagram @bumblebeeapothecary
Yield: 4 fl. oz.
Homemade Healthy Dry Shampoo Powder
For those days when you need just a little more time between washings, dry shampoo saves the day. Skip the chemicals and whip up this dry shampoo recipe.
Ingredients
8 tbsp arrowroot powder, for dark hair, do 5 tbsp arrowroot powder and 3 tbsp cocoa powder
4 tsp white kaolin clay
24 drops essential oil
Instructions
Add dry ingredients to mixing container and combine well.
Add essential oils and mix thoroughly.
Use a funnel to put mixture in a glass shaker jar.