In my Berkey water filter review, I'm going to share why we love our Berkey water filter.
What is a Berkey water filter?
I've you've been on my blog before, you might remember me mentioning the water filter system we use in our home. Having safe, pure, high quality drinking water is one of the most important things we can do to improve our health. It's also important to have properly filtered water for making broth, stock, and sourdough.
We've been really happy with our Berkey water filter. We use it to filter our drinking water, and all of the water we cook with. I'd like to share the benefits with you in this Berkey water filter review.
The Berkey water filter is a gravity fed water filter that removes contaminants for clean, pure drinking water. This particular water filter is easy to use, and is a very economical choice when it comes to water filters.
This post contains affiliate links, which means I make a small commission at no extra cost to you. Get my full disclosure here.
Buy a Berkey water filter here.
Pin it for later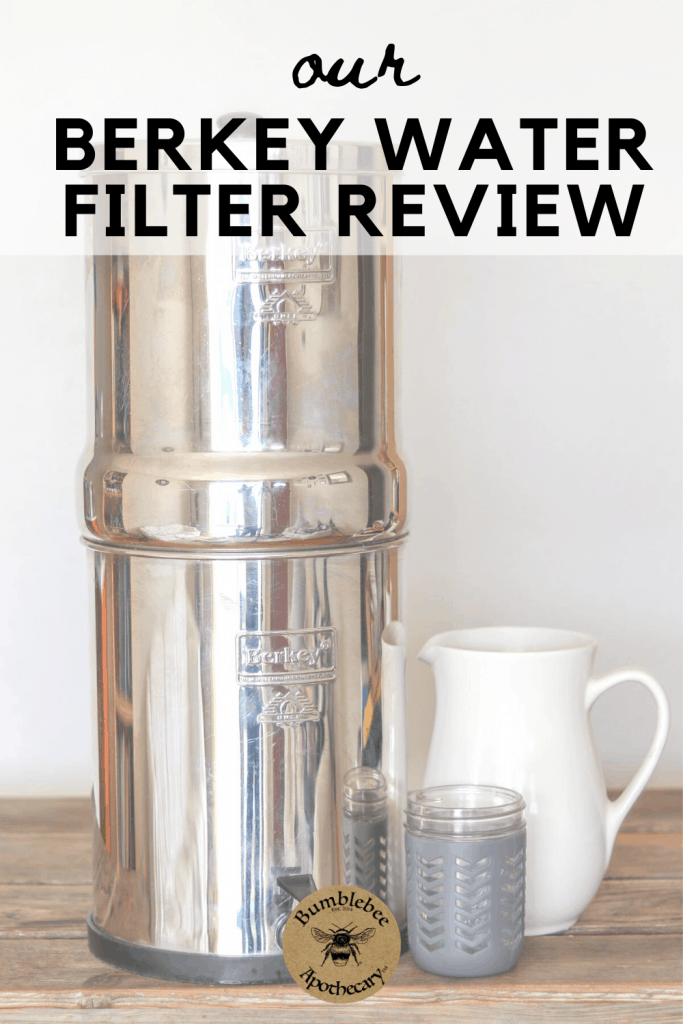 How does the Berkey filter work?
The Berkey water filter is two containers that hold water, one on top of another. You pour water into the top container, and the water goes through the black elements (and the optional white elements) into the bottom container.
As the water passes through the filter elements, the filters remove 99.999% of bacteria and viruses. The filers also remove similar levels of other contaminants, like chlorine, heavy metals, pesticides, and pharmaceutical drugs.
There are two different filters for the Berkey. The black filter elements remove all of the contaminants except fluoride. If your water doesn't have fluoride added to it, the black elements are all you need.
If your water does have fluoride and you want to remove it, you can also get the white filter elements.
The Black Berkey Purification Elements far surpass other water filters in filtration capability as evidenced by their extensive filtration specifications. These elements have a specialized purification process that is due to their unique structure. The element's filtration media is a combination of micro-pores, which trap harmful contaminants like bacteria, and revolutionary material with adsorption and ion exchange properties that essentially attract molecules and viruses to the media, preventing them from passing into your drinking water. BerkeyFilters.com
Are Berkey water filters worth it?
The inexpensive cost of the Berkey water filter is one of the things that really attracted me to it. When you do some quick calculations, and research what other water filters remove, you can easily see how the Berkey water filter is the best water filter.
In this comparison of the top 6 home water filter systems, Berkey is rated both the filter with the lowest cost, and the filter that removes the most contaminants.
The upfront cost is very affordable, and the replacement filters are also extremely reasonable. We tend to be a frugal family, and we can easily fit replacement filters in our budget.
How long does a Berkey water filter last?
The outside container of the Berkey water filter will last a very long time. With proper cleaning and care, this part of the water filter should last at least a lifetime or more.
The filters do have to be replaced on a regular basis. The black filter elements are good for about 3 years, and the white filter elements have to be replaced every year. Berkey water filter replacement is inexpensive and easy to do.
What does the Berkey water filter remove?
This is another thing I love about Berkey water filters. They remove far more contaminants than most other home water filter systems.
Many water filters on the market may claim to be a purifier but do not meet the performance specifications required for this classification. In order to be classified as a water purifier, a water treatment device must remove at least 99.9999% of pathogenic bacteria (known as a log 6 reduction in the water treatment industry) and reduce viruses by 99.99% (log 4 reduction). Our Berkey water filter systems can be classified as a water purifier because the elements actually remove 99.9999999% of pathogenic bacteria (log 9 reductions) and 99.999% of viruses which greatly exceeds the standards. BerkeyFilters.com
What contaminants does the Berkey water filter remove?
The Berkey removes chlorine, chloramine, and so much more. With the white filters, you can remove fluoride from your drinking water also.
Here is the list of what contaminants are removed:
Viruses: Removed to >99.999%

MS2 Coliphage – FR Coliphage

Pathogenic Bacteria (And Surrogates): Removed to >99.9999%

Raoultella terrigena (Pathogenic Bacteria Surrogate); Bacillus atrophaues (Anthrax Surrogate); Salmonella Enterica

Trihalomethanes: Removed to >99.8%
Bromodichloromethane; Bromoform; Chloroform: Dibromochloromethane
*Below Lab Detectable Limits

Inorganic Minerals
Chloramines; Chlorine Residual (Total Residual Chlorine); & Free Chlorine >99.9%
Chloride >99.6%
*Removed to Below Lab Detectable Limits

Heavy Metals (High & Low pH Levels)
Aluminum (>99%); Antimony (>99.9%); Barium (>80%); Beryllium (>99.9%); Bismuth (>99.9%); Cadmium (>99.7%); Cobalt (>95%); Chromium (>99.9%); Chromium 6 (>99.85%); Copper (>99.9%); Iron (>99.9%); Lead (>99.9%); Mercury (>99.9%); Molybdenum (>90%); Nickel (>99.9%); Vanadium (>87.5%); Zinc (>99.9%)

Micro-Organisms: Removed to >99.9%
Including: Total Coliform, Fecal Coliform, e.Coli

Pharmaceutical Drug Contaminants: Removed to >99.9%
Acetaminophen; Caffeine; Carbamazepine; Ciprofloxacin HCl; Erythromycin USP; Sulfamethoxazole; Trimethoprim; Bisphenol A; Diclofenac Sodium; 4-para-Nonylphenol; 4-tert-Octylphenol; Primidone; Progestrone; Gemfibrozil; Ibuprofen; Naproxen Sodium; Triclosan.

Pesticides & Volatile Organic Compounds: Removed to Below Lab Detectable Limits

Also removes or reduces:

Arsenic (>99.9%); Escherichia coli (E. Coli) (>99.999%); Fluorene (>99.9%); Manganese (>99.9%); MBAS (>96.67%); Nitrites (>95%); PCB s (>99.9%); Petroleum Products (Gasoline, Diesel, Crude Oil, Kerosene, Mineral Spirits, Refined Oil- All >99.9%); Selenium (>99.9%); Thallium (>99.5%); Rust; Silt; Sediment; Turbidity; Foul Tastes and Odors. BerkeyFilters.com
Having clean, pure drinking water without all of these toxins and contaminants has so many health benefits!
Does the Berkey leave in healthy minerals?
The black Berkey filters remove sedimentary minerals, but they leave beneficial or ionic minerals in the water. Calcium, sodium, potassium and magnesium all pass through the filter.
How many gallons does the Berkey hold?
You can get Berkey water filters in 5 different sizes. The different capacities hold from 1.5 to 6 gallons.
How many people does the Berkey provide water for? The most popular Berkey filter is the Big Berkey, which holds 2.5 gallons of water. This size filter is good for 1-4 people.
Is Berkey better than Brita?
Yes! Brita filters don't remove as many contaminants as Berkey filters do.
Also, Brita filters have to be replaced quite often. This makes the Berkey filter a far more affordable option per gallon of water filtered.
How long does it take for a Berkey to filter water?
When the filters are clean and working properly, they filter pretty quickly. We can fill the top of our Berkey water filter and have the bottom container full of freshly filtered water in about 20 minutes.
How do you prime Berkey filters?
When you get a new set of Berkey water filters, you have to pure the filters, or force water through them before they will work properly. I've done this many times and it is really no big deal.
New black filters come with a rubber ring that you place on top of one end of the filter. You press the rubber ring against the underside of a kitchen faucet, and turn on the water. Keep the filter here for about 10 seconds. You'll see water start to bubble on the outside of the filter.
To prime the white fluoride filters, you follow the same steps, except you let the water flow for about 30 seconds.
How do you assemble a Berkey water filter?
Again, this is pretty easy. New Berkey filters come with instructions and a diagram. I had no problem putting ours together when we first bought it years ago.
The black filters fit into openings inside the upper container, and there are nuts that screw to hold them in place. If you're using white filters as well, those screw to the other end of the black filters, and hang down inside the bottom container.
The spigot fits right into the opening made for it, and you can screw the nut to hold it tightly in place.
You place the top container on top of the bottom container, and you're good to go!
Why is my Berkey water filter so slow?
Over time, the filters can start to work more slowly. This is because the contaminants eventually build up. You can quickly and easy clean the Black Berkey filters and get them filtering quickly again.
With clean hands, take empty the water from the top container of the filter, and unscrew the black filters. Using a brand new Scotch scouring pad, scrub the black filters and then rinse them. Don't use any soap or cleaning agents.
Rinse the black filters and screw them back into place. That's it!
Why is my Berkey leaking?
We've only had our Berkey water filter leak one time, and that was because someone in our family was using the spigot the wrong way.
The spigot is designed to be lifted up to work. If you press down instead, the nut holding the spigot in place can become loose, causing a leak.
If this happens, use clean hands and tighten the nut back up. As long as everyone uses the spigot correctly by lifting and not pressing down, the leak shouldn't happen again.
How often should I clean my Berkey?
The manufacturer recommends cleaning the stainless steel containers every month, and scouring the black filters every 6 months, or whenever they start to filter slowly.
How do you clean a Berkey system? Again, this is really easy. Just take everything apart, and use clean hands while you do so. Wash the stainless steel containers with dish soap and water, and let them air dry. Put everything back together (again, with clean hands) and continue filtering water.
Can you overfill a Berkey?
Yes, it is possible! If you fill the top of the container completely full while there is still water in the bottom container, the filter can overflow.
To avoid overfilling our Berkey, we only fill our it once we know that the water in the lower container is almost gone.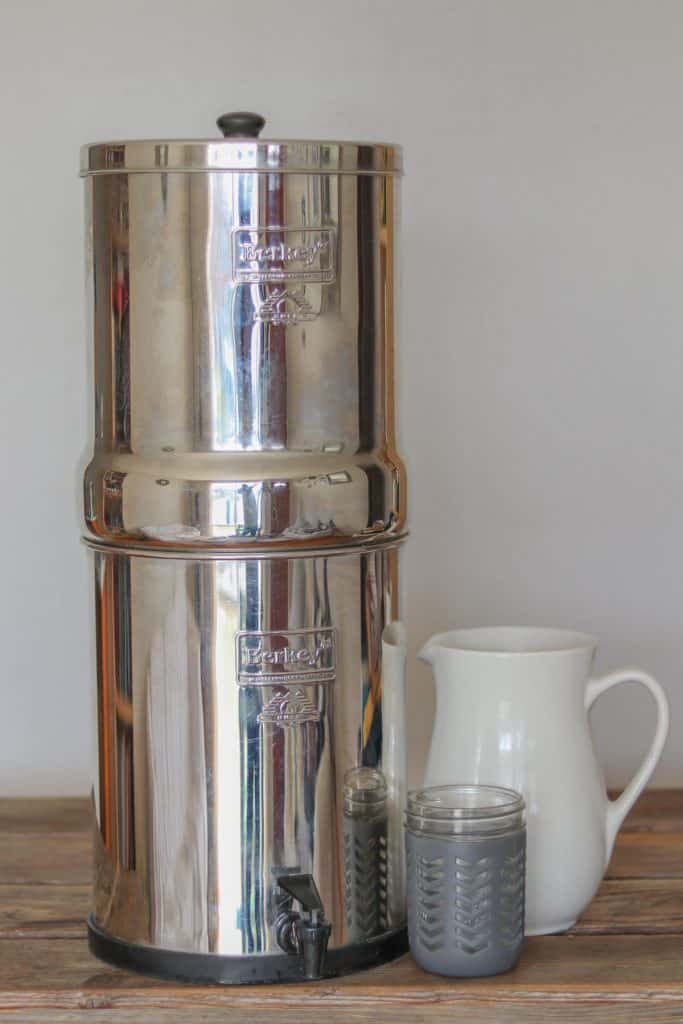 More natural living resources
The best non toxic cleaning products
Do you use a water filter system?
What water filter system do you use in your home? Share your experience in the comments!
Join our traditional wisdom community, and grab a free DIY organic personal care recipes eBook when you subscribe!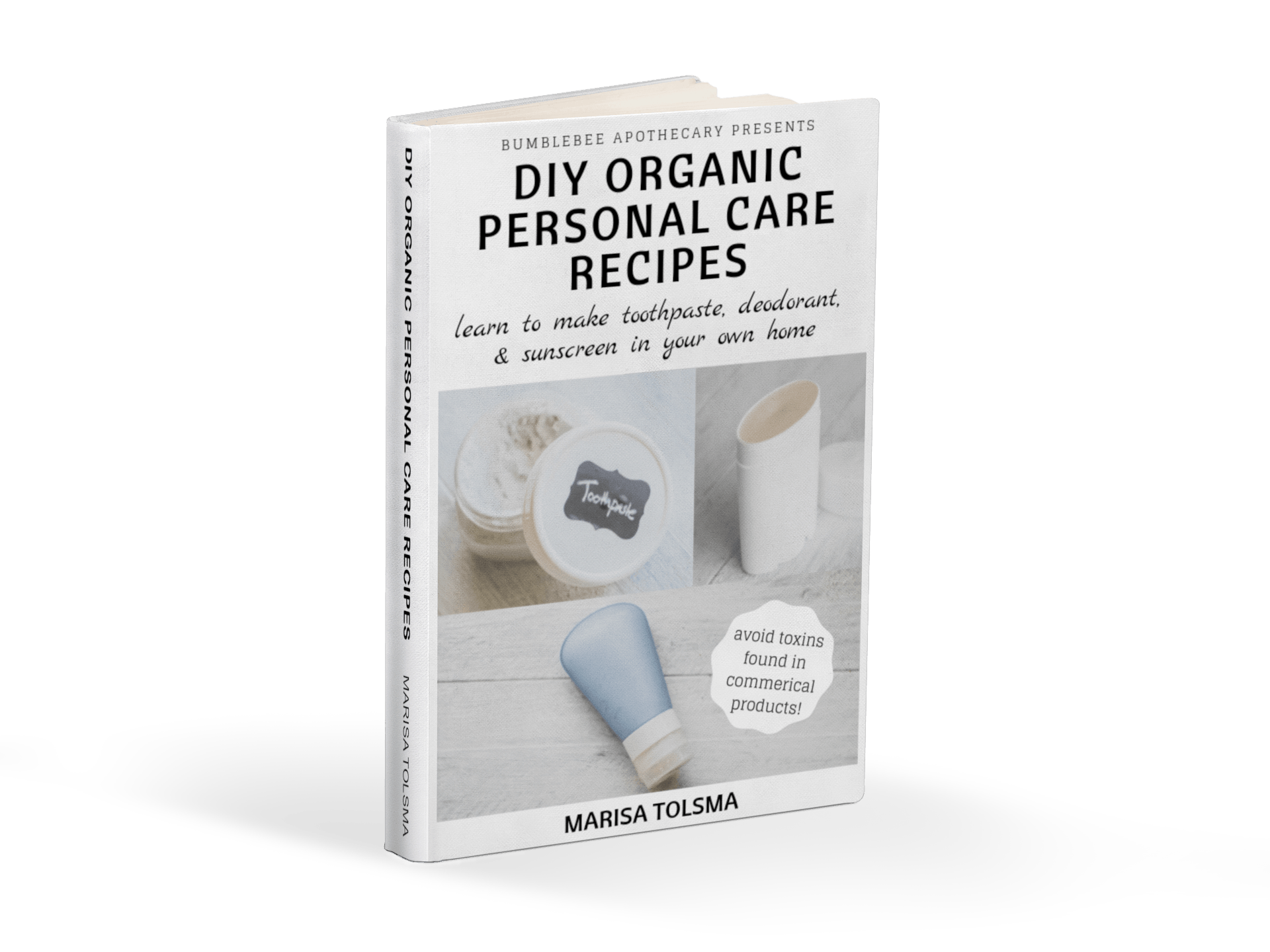 Shop this post
Want to shop for organic handmade skincare products?
Check out the Bumblebee Apothecary Shop here.
Follow along with Bumblebee Apothecary
Thanks for stopping by! Be well! ?