Avoiding toxins is super important. We definitely don't want to add to our growing toxic burden! There are great options for natural household products, both DIY and purchased. In my opinion and experience, these are the best non toxic cleaning products.
The best non toxic cleaning products: Why it matters
Our bodies do have detoxification systems, but the more time goes on, the more toxic the world seems to get. It's a good idea to avoid toxic exposure as much as possible.
One way to do this is to take a look at the products we use in our homes, and choose safer, more natural options. This includes personal care and skincare products, makeup, hand sanitizer, and the products we use to clean.
Whether you like to make your own cleaning products or buy them, I'm going to list the best options out there for the best non toxic cleaning products. These are the all natural cleaning products I've used and love.
Pin it for later
This post contains affiliate links, which means I make a small commission at no extra cost to you. Get my full disclosure here.
Homemade cleaning products
Often, the best green cleaning products are ones you make yourself! All you really need is some baking soda, vinegar, and a little lemon essential oil to clean pretty much anything.
If you also have some dish soap and rubbing alcohol, you can make all the cleaning products you'll need, right at home. Here are my favorite homemade cleaning products: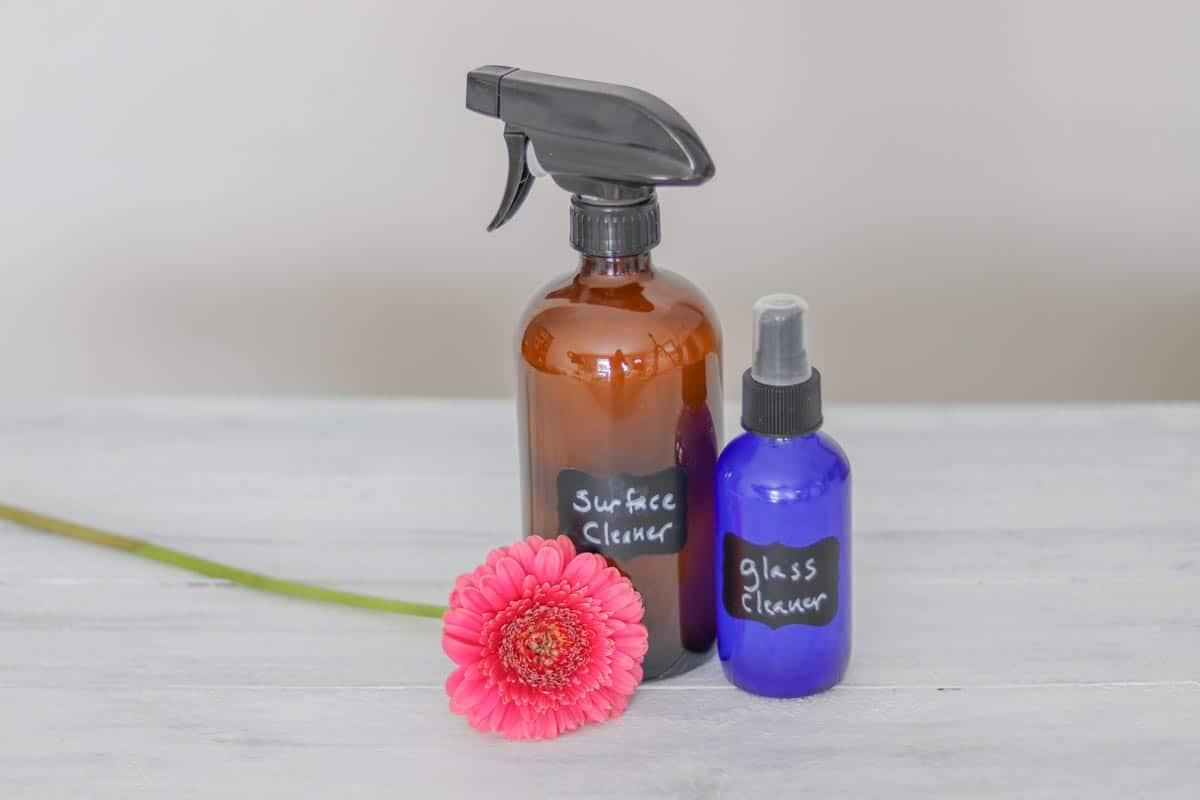 The best non toxic cleaning essentials you can buy
Sometimes, DIY isn't an option. Thankfully, there are getting to be some great options for buying non toxic cleaning products. I'm going to share my favorite options based on products I've used and really like.
Best natural cleaning products for bathroom
This is great, economical option. Grove Collaborative offers different cleaning concentrates that are really easy to use. You just squeeze the contents of the little tube into a glass spray bottle, and fill the bottle the rest of the way with water. That's it! You're ready to clean.
If you're interested in trying Grove Collaborative, they are offering this cleaning tote, a 16 oz. glass spray bottle with silicone sleeve, three different cleaning concentrate tubes, and two walnut scrubbers, all for free for new subscribers. Sign up here to try Grove Collaborative and get this free cleaning set.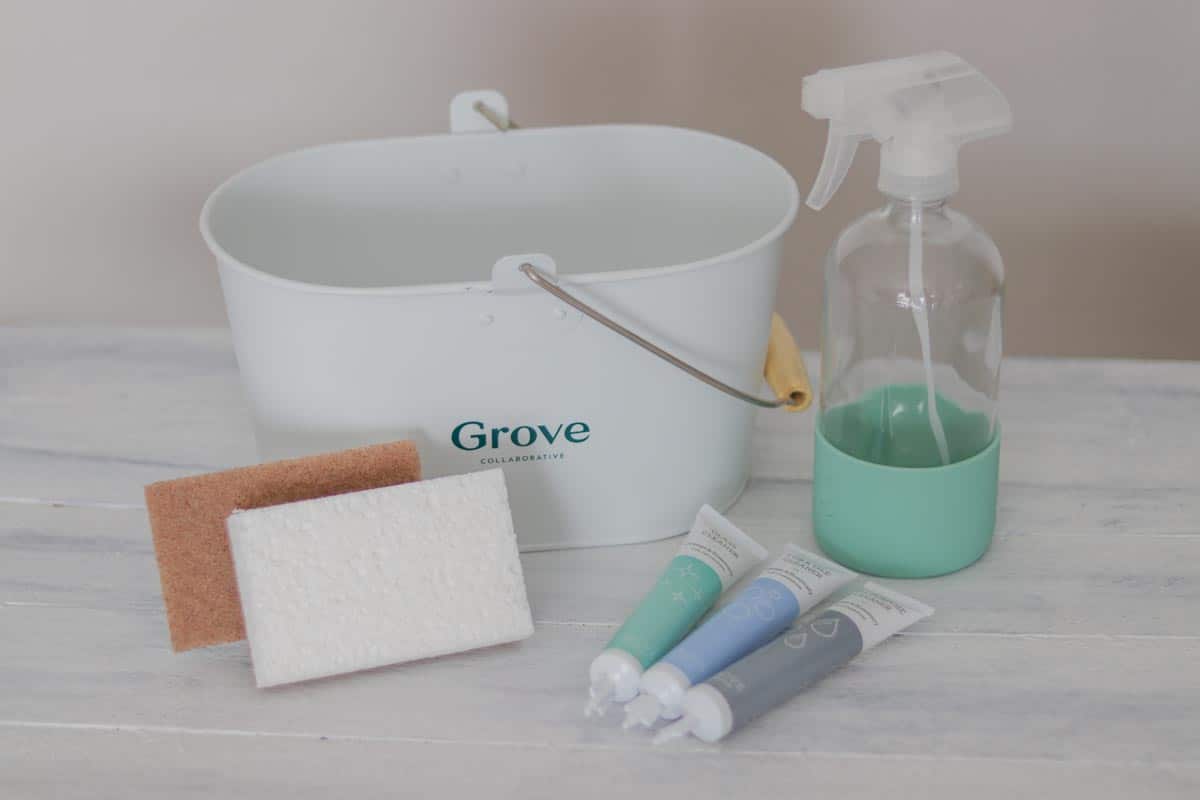 I've used this one a lot, and it works great. There is no blue dye and weird scents, just effective, natural cleaning power.
The best non toxic glass cleaner: Method
This one gives a nice, streak free shine to glass and any other hard surface you need to clean.

I was really impressed by how well this one works. Regular tub, tile, and shower cleaners have such strong fragrances, I can hardly bare to use them! This one isn't like that, and it works great.
The best non toxic kitchen cleaning essentials
This non toxic kitchen cleaner works like a charm to clean the top of the stove, and anywhere else in the kitchen that gets really nasty and dirty. It cuts right through grease and grime, leaving everything shiny and clean.
This is another one that can be really toxic when it comes to conventional products. It's also another one where I've tried so many natural ones that don't work. My favorite has been this powdered dishwasher detergent from Azure Standard. It is perfectly natural and works really well.
This is my favorite all natural dish soap as well. It doesn't contain any dyes or fragrances, and has powerful grease cutting power. I like to add some lemon essential oil for enhanced cleaning effectiveness, antibacterial properties, and a nice scent.
The best natural floor cleaner
I have been using this Shark steam mop for years now, and I really love it. It is so easy to use, and I love that it cleans so well with just steam! I find myself cleaning my floors more often with this mop, because it's so much easier than any other mop I've tried. For a nice scent, I sometimes add a few drops of essential oils to the bottom of the pad.
Natural laundry products
The best non toxic laundry detergent: Boulder Clean
I have tried so many different natural laundry detergents, and this one really works. It works better than any other detergent I've tried. We have pretty hard water here in Colorado, so I add a dash of Borax to soften the water, which helps the detergent wash more effectively.
For more on my all natural laundry routine, check out this post on how to wash cloth diapers.
Instead of dryer sheets, I love using my wool dryer balls whenever I run a load of laundry in the dryer. They help to naturally soften the fabric, reduce static, and decrease drying time. Sometimes I will add a few drops of essential oils to the dryer balls to make the clean laundry smell even nicer.
How to switch to non toxic cleaning products
It's easier than you might think! With all of the options I've listed, you an either make or buy any cleaning product you need, without nasty toxins.
Whenever you need a cleaning product, either make it yourself instead, or look for one of the natural products I've tried and really like. I think you'll be surprised at how well they work!
I also have more essential oil spray recipes, like air freshener and linen spray, in this post here, along with a cloth baby wipes solution recipe here. I also have a recipe for an essential oil stain remover that uses lemon essential oil to remove laundry stains.
Having pure, healthy water is also very important. This is my Berkey water filter review for the water filter system we use in our home.
More natural living posts
Why organic skincare? Is commercial skincare toxic?
What's your favorite non toxic cleaning product?
Share the natural cleaning products you've used in the comments below!
Join our traditional wisdom community, and grab a free DIY home remedy recipes eBook when you subscribe!
Shop this post
Get the free cleaning set with spray bottle, 3 concentrates, tote, and walnut scrubbers when you try Grove Collaborative for free
Seventh Generation toilet bowl cleaner
Seventh Generation tub and tile cleaner
Azure Clean dishwasher detergent
Boulder Clean laundry detergent
Want to shop for organic handmade skincare products?
Check out the Bumblebee Apothecary Shop here.
Follow along with Bumblebee Apothecary
Thanks for stopping by! Be well! ?
If you make this recipe and love it, please give it 5 stars! Also, tag me on Instagram @bumblebeeapothecary
Yield: 16 fl. oz.
All Purpose Surface Spray
Avoiding toxins is super important. We definitely don't want to add to our growing toxic burden! This is a great natural option for a DIY all purpose surface spray.
Ingredients
24 drops lemon essential oil
24 drops tea tree essential oil
1 drop liquid dish soap
2 cups white vinegar
Instructions
Add all ingreidnets to glass spray bottle.
Shake well to combine and before each use.