This is the home stretch! In the GAPS diet introduction phase stage 5, we get to add fruit, as well as some other tasty, fresh foods.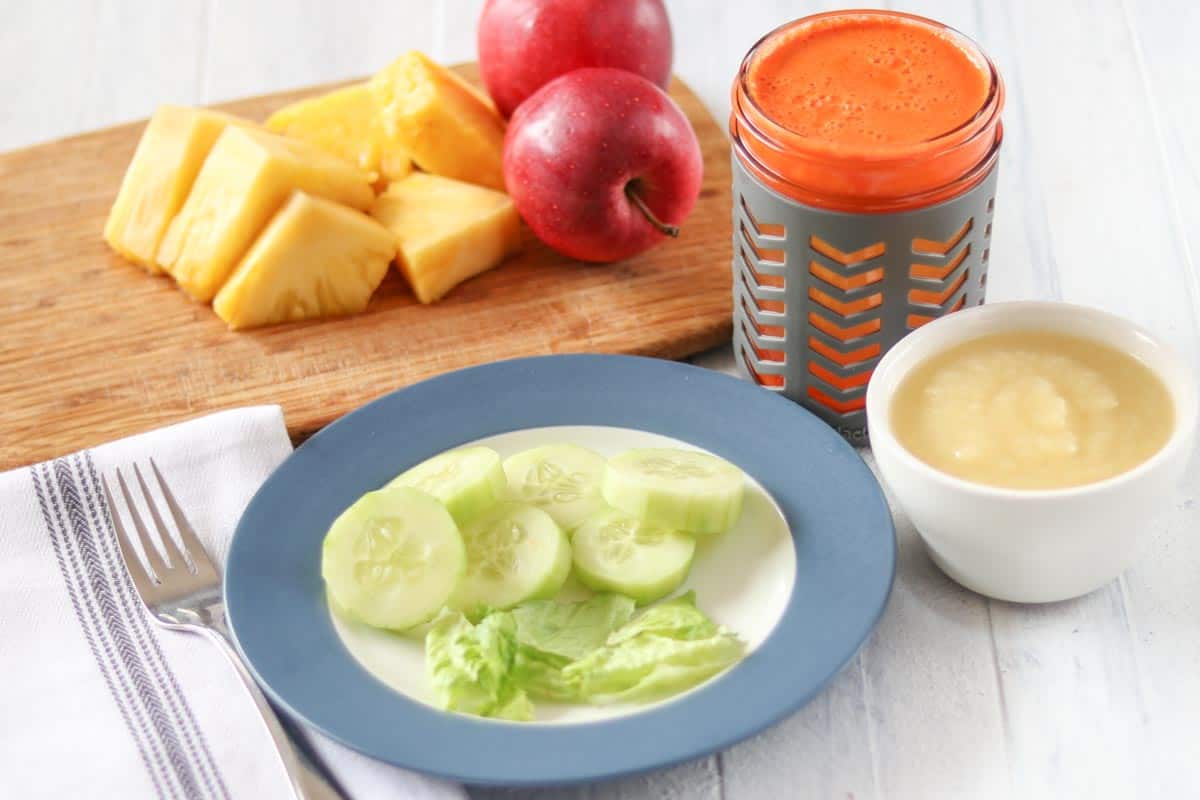 GAPS diet introduction phase stage 5
Getting this far in the GAPS introduction diet is a huge accomplishment. I felt like giving myself a high five when I reached this point!
In stage 5, Dr. Natasha recommends adding some foods that were avoided for a while. Cooked apple and raw vegetables are such a welcome change at this point! Let's take a look at all the foods to add this stage.
Pin it for later

This post contains affiliate links, which means I make a small commission at no extra cost to you. Get my full disclosure here.
Cooked apple for the GAPS diet
After going without fruit for a while, it's time to add it back! Go ahead and have a mini celebration. The fruit to start with is cooked apple.
I like to make the cooked apple as applesauce, or cooked apple chunks. I have a recipe for GAPS diet applesauce, which you can check out here. That recipe is perfect for this stage.
Dr. Natasha says to start with just a few spoonfuls of the cooked apple for the first day. Make sure to add ghee or another animal fat to the warm cooked apples or applesauce. She says the fat is important because it helps to balance blood sugar, and helps your body to assimilate and use the nutrients better.
Dr. Natasha recommends watching carefully for any reactions after you add the apples. It's especially important to go slowly with this stage. Before this, only savory foods were allowed.
If the body isn't ready, the addition of something sweet could bring back some old symptoms. Remembering to include that animal fat can help lessen the chance of this, though, in my experience.
If everything seems to be okay, great! Dr. Natasha says to very, very slowly, gradually increase. In general, though she says to not go crazy with fruit. The entire time on the GAPS diet, I try to have the majority of my diet to be savory foods. I keep fruit to a lesser amount and save it for treats and desserts.
GAPS diet raw vegetables
After eating so many cooked foods, raw vegetables are really nice and refreshing to add. Dr. Natasha says to start with very soft lettuce, and peeled cucumber. She says to start with a small amount, and watch carefully for any digestive upset.
If everything seems okay, she says to gradually increase. After this it's okay to add other raw vegetables from the GAPS diet allowed foods list. Now we can have fresh salads with meals!
I try to chew everything really well. If digestive symptoms return, I know it means I'm going too fast with the raw vegetables.
Juicing for the GAPS diet
In the last stage, we could add fresh pressed raw vegetable juices. Now Dr. Natasha says to add some fruits to the fresh juices. I think this makes them really tasty.
Dr. Natasha recommends apple, pineapple, and mango. She says to avoid juicing citrus fruits for now.
Again, I find it important to go slowly. I try to keep most of the juicing ingredients to vegetables, and add some fruit. As with adding the cooked apple, I watch my body carefully make sure it's ready for this step.
GAPS introduction diet food list
Dr. Natasha says to make sure you're continuing with all of the previous foods. She says to especially make sure you're including lots of meat stock. I try to have meat stock with every meal, and drink it in between meals.
Remember, Dr. Natasha says that having lots of meat stock and plenty of animal fats will ensure that you're making progress the most quickly.
Also, she says to remember to have fermented foods with every meal. I always think of it as replenishing that friendly bacteria!
Check out my guide to stage 6 of the GAPS introduction diet here. I talk about how to transition to the full GAPS diet here.
If you want to read ahead on how to transition off of the GAPS diet, check out my post on coming off of the GAPS diet here. I go over supplements for the GAPS diet here.
GAPS diet introduction phase stage 5 video
GAPS introduction diet recipes
24 Hour Raw Milk Yogurt Recipe without Heating
How to Make Sour Cream from Raw Milk
How to Make Kefir with Raw Milk
Where are you currently at in the GAPS introduction diet?
What symptoms have your seen relief from so far? Do you have any questions about anything? Leave me a comment and let me know how it's going!
Join our traditional wisdom community, and grab a free GAPS diet essential recipes eBook when you subscribe!
This free eBook includes recipes for everything you'll need to know how to make for the GAPS introduction diet: meat stock, soup, sauerkraut, yogurt, sour cream, kefir, herbal teas, ghee, pancakes, and apple sauce. Grab your copy below!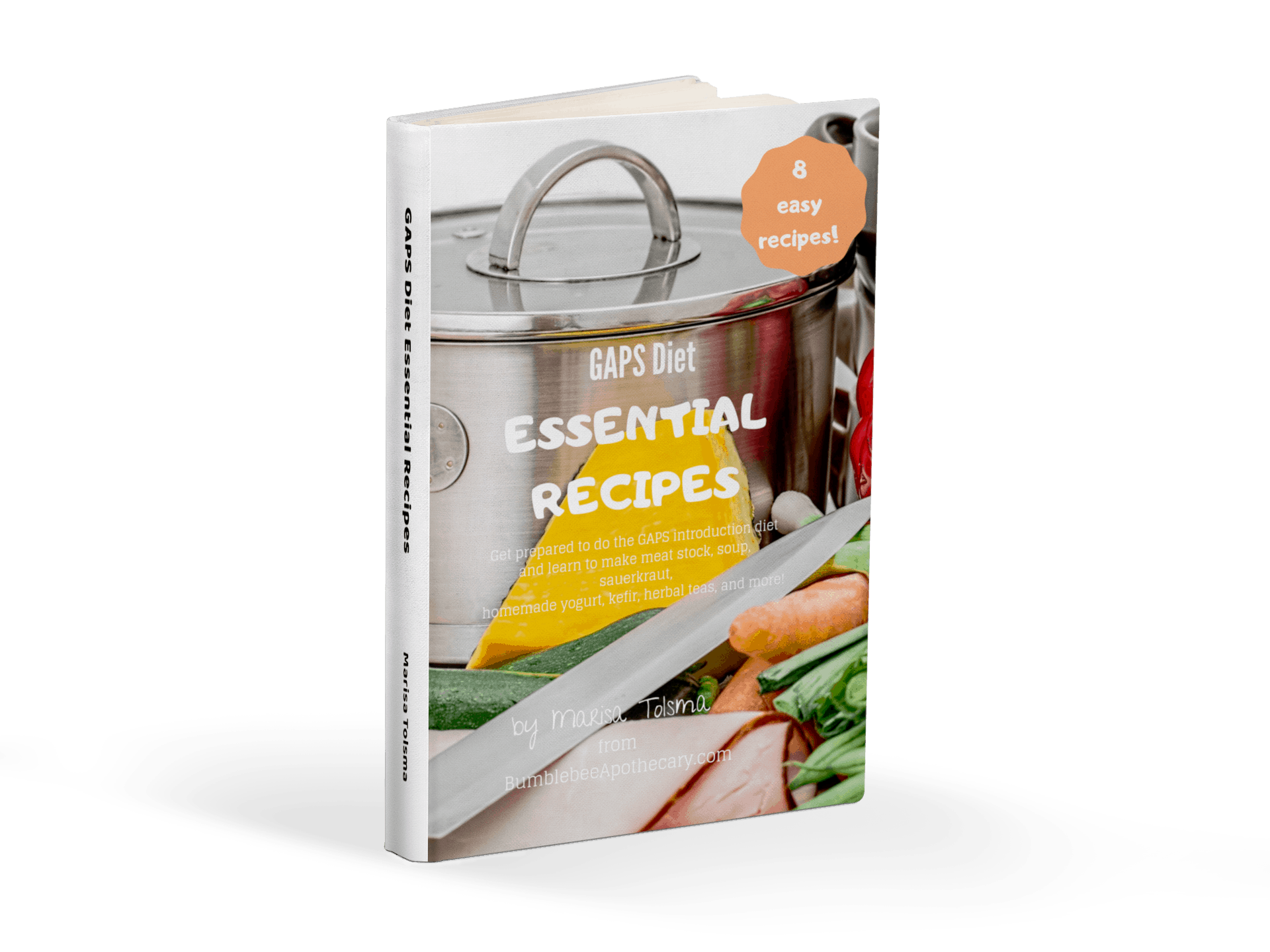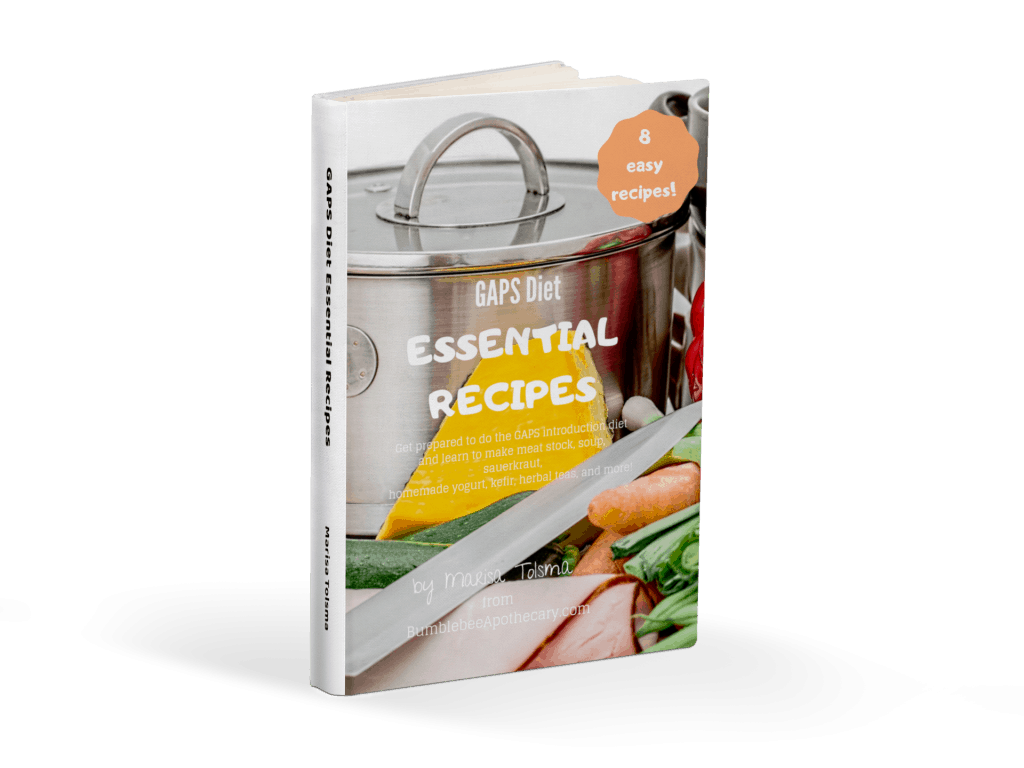 Shop this post
"Gut and Psychology Syndrome" by Dr. Natasha Campbell McBride
Organic produce, staples, meats, and more
Looking for a GAPS intro meal plan?
GAPS to Go is a 30 day meal plan for the GAPS introduction diet that tells you what to eat each day, with complete cooking instructions, and guidance on when to move to each intro diet stage. Check out GAPS to Go here.
Follow along with Bumblebee Apothecary
Thanks for stopping by! Be well! ?
GAPS™ and Gut and Psychology Syndrome™ are the trademark and copyright of Dr. Natasha Campbell-McBride.