You've probably heard the term dysbiosis, and you might be wondering what exactly it means. Today I'm going to share what I've learned about gut dysbiosis, and what I did about it when I experienced it.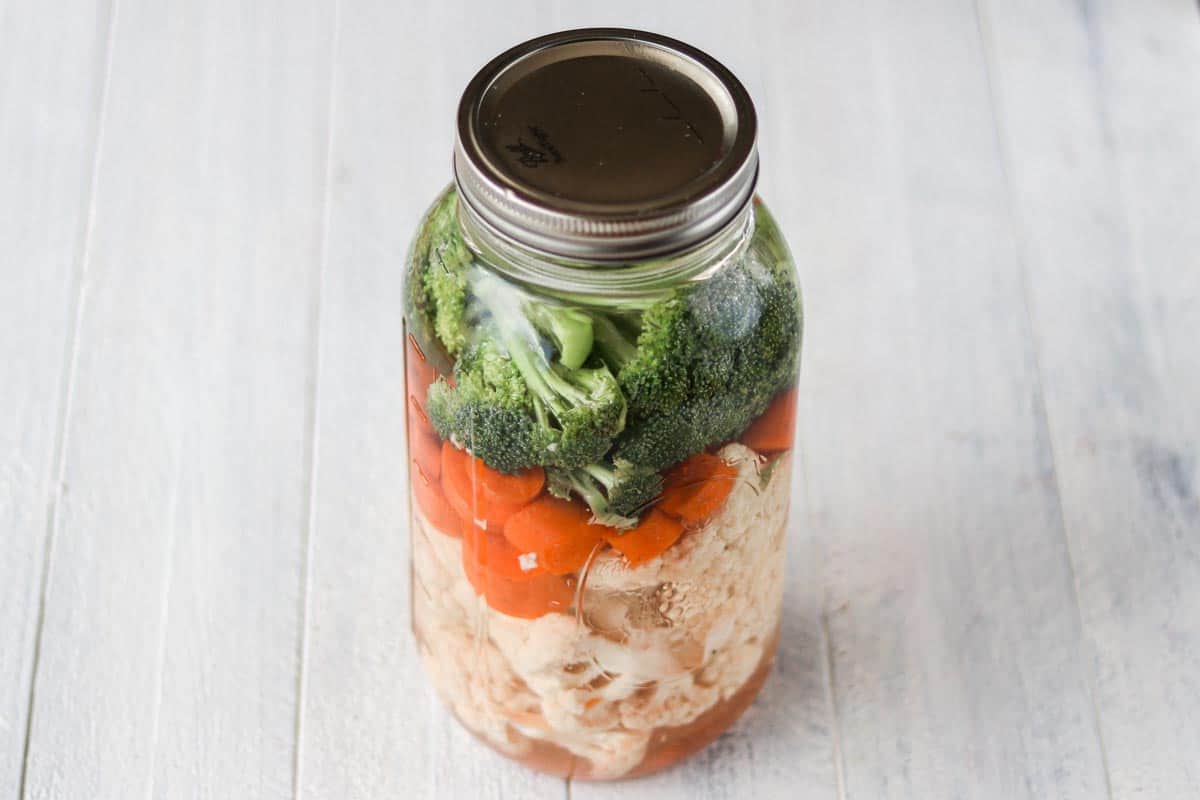 What is dysbiosis?
Our bodies are full of microbes, both inside of us and on us. These microbes are necessary, and do lots of important things. Without them, we couldn't live! But, imbalances can develop (source).
The name for an imbalance in our body's flora is dysbiosis. There can be a microbial imbalance in our gut flora, skin flora, and other areas of the body.
I talk about gut dysbiosis in connection with the GAPS diet in this post, where I cover the GAPS diet for dummies, part 2: our personal ecosystem.
Pin it for later
This post contains affiliate links, which means I make a small commission at no extra cost to you. Get my full disclosure here.
What are some symptoms of dysbiosis?
Usually when people talk about dsybiosis, they are referring to gut dsybiosis. It is important to know that the microbes that populate our gut actually influence the balance of microbes in the rest of our bodies, too.
When dysbiosis happens, various illnesses can result (source). Here are some symptoms of gut dsybiosis:
Bad breath
Constipation
Cramping
Diarrhea
Gas
Bloating
Itching
Rashes
Fatigue
Trouble concentrating
Brain fog
Anxiety
Depression
Food sensitivities and in tolerances
My experience with gut dysbiosis
In my late teens and early twenties, my health started to deteriorate. I experienced fatigue, frequent headaches, horrible cystic acne, and I was underweight.
It took a while for me to figure out what was going on, but eventually I discovered the root cause: gut dysbiosis. After discovering the GAPS diet, I started on it and have never looked back.
It was exactly what I needed! I used the GAPS diet to rebuild my gut, and to restore the balance of beneficial bacteria in my digestive tract. Doing this enabled me to get rid of all of my chronic health issues, and gain vibrant good health.
In this post I talk more about how the GAPS diet helped myself, my husband, and my son and how the GAPS diet changed our lives. One of the most important parts of the GAPS diet is fermented foods. Read all about sauerkraut benefits here. If you want lots of ideas for what to eat with sauerkraut, get 38 ideas here.
Have you experienced dysbiosis?
What are some things you've tried to help overcome it?
More on the GAPS diet
The GAPS diet explained in a nutshell
The GAPS diet for dummies, part 1
How the GAPS diet changed our lives: GAPS diet before and after
Join our traditional wisdom community, and grab a free GAPS diet essential recipes eBook when you subscribe!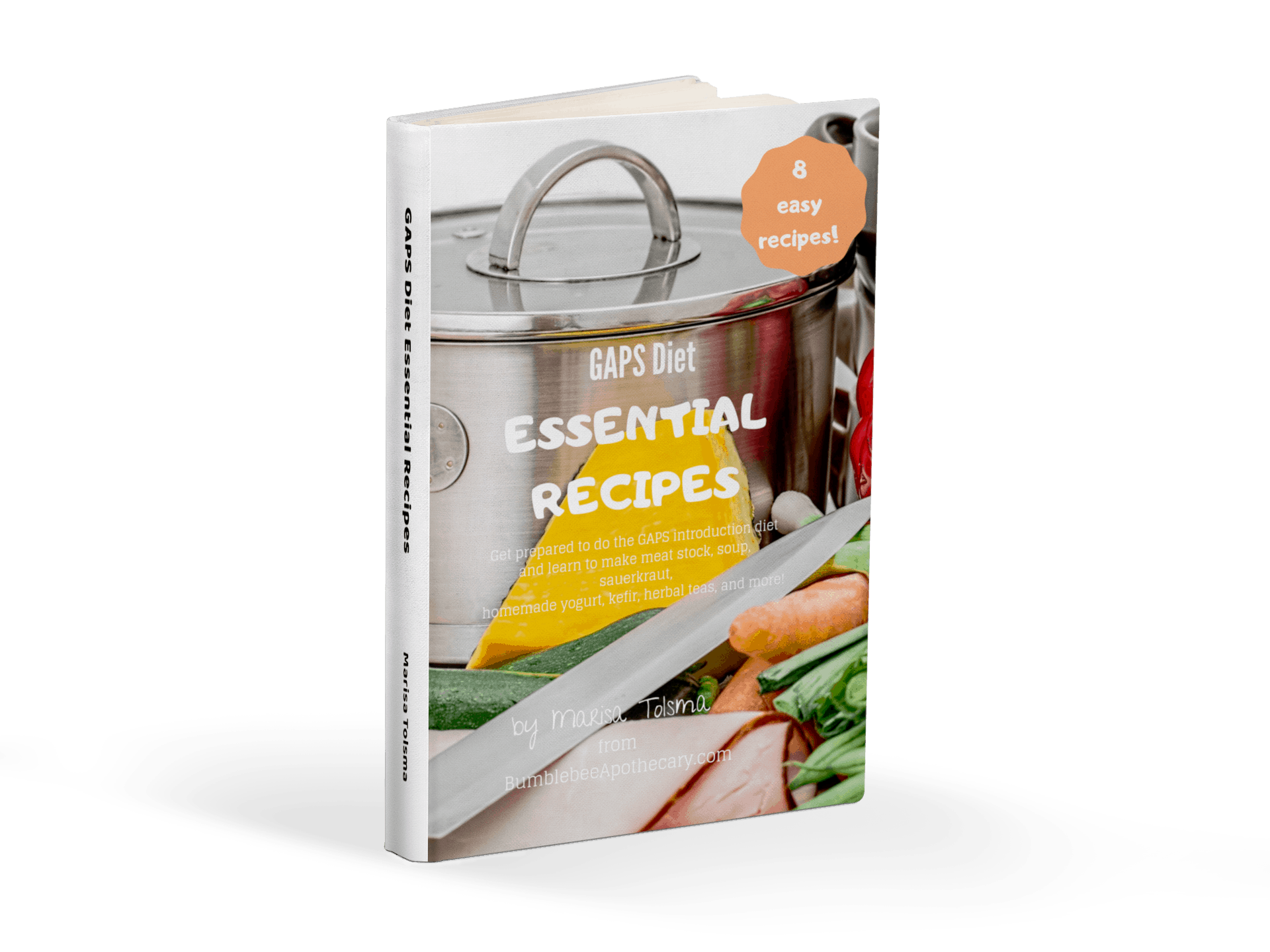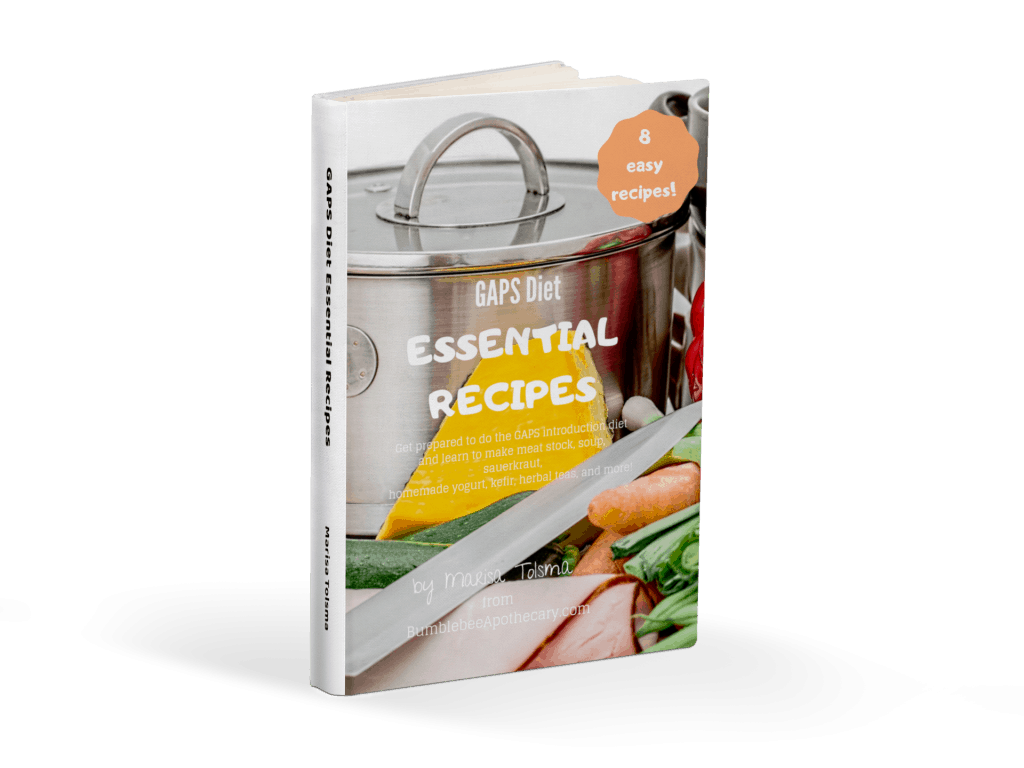 Shop this post
The GAPS Diet Book: Gut and Psychology Syndrome by Dr. Natasha Campbell-McBride
Looking for a GAPS intro meal plan?
GAPS to Go is a 30 day meal plan for the GAPS introduction diet that tells you what to eat each day, with complete cooking instructions, and guidance on when to move to each intro diet stage. Check out GAPS to Go here.
Follow along with Bumblebee Apothecary
Thanks for stopping by! Be well! ?
GAPS™ and Gut and Psychology Syndrome™ are the trademark and copyright of Dr. Natasha Campbell-McBride.
The information in this blog post is my personal experience and opinion. It is for general information purposes only, that may not apply to you as an individual, and is not a substitute for your own physician's medical care or advice. Always seek advice from your physician or another qualified health provider with any questions you may have regarding nutrition, medical conditions, and advice. Never disregard medical advice or delay seeking medical care because of something you have read on this blog.