Do you have a growing collection of essential oils? You won't want to miss these must have tips on how to label essential oils.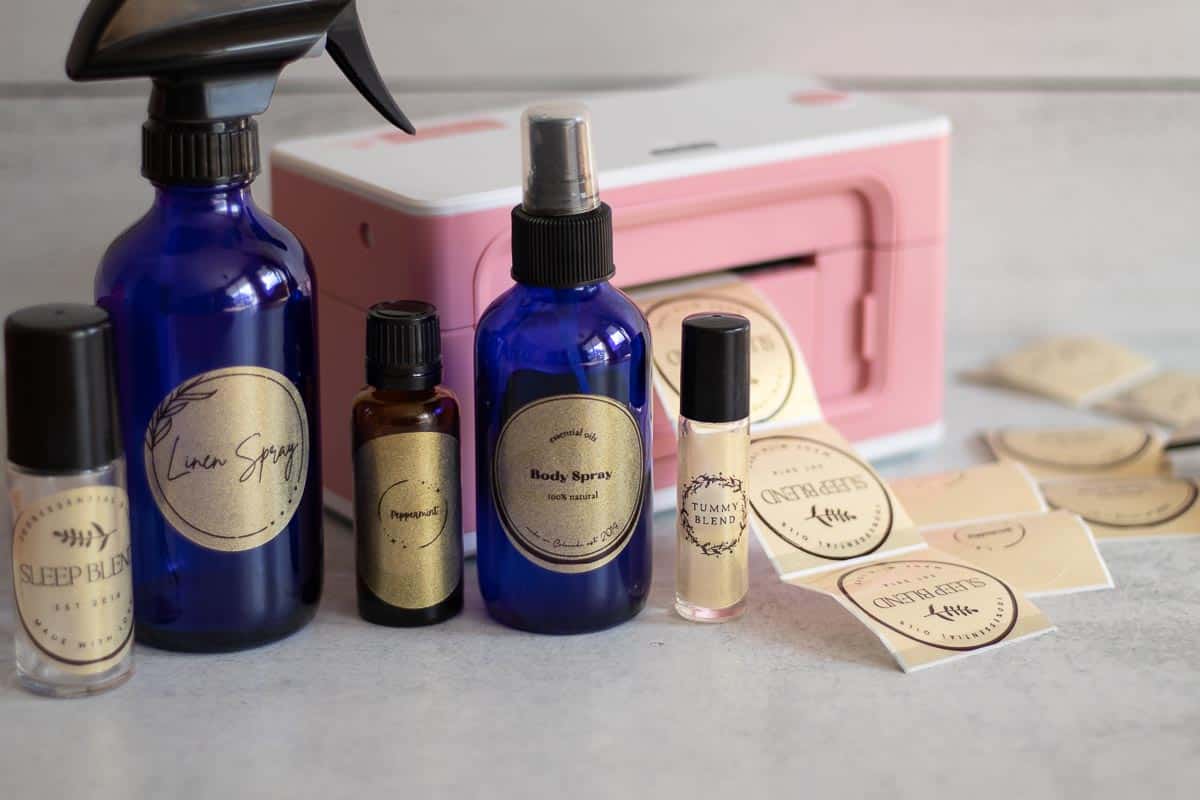 How to label essential oils
Whether you're just getting started with essential oils or you have a nice collection, organization is important. You want to easily see at a glance which oils are which.
If you make and gift or sell products using essential oils, such as roller bottles or skincare products, you need to know the best ways for how to label essentials oils. Having durable and professional looking labels is important!
Some of my favorite essential recipes are sprays for the home, perfume, and cleaning products. I also show how to print product labels here.
Pin it for later
This post contains affiliate links, which means I make a small commission at no extra cost to you. Get my full disclosure here.
How to label essential oil bottles like a pro at home
Whether you are making your own blends of essential oils or looking for a way to organize the essential oils that you already own, getting the right label printer is the first step. For me and my family, that means using the MUNBYN Bluetooth thermal printer.
Not only will it upgrade your essential oil collection to be more functional and appealing, but it make labeling your essential oil bottles a breeze.
Why essential oil labels matter
Living a life that focuses on less chemicals and more natural living is a big priority for me and my family. One of the things that we chose to focus on in the beginning of a cleaner lifestyle was adding more essential oils to our daily use.
Fast forward to today and now we have essential oils in almost every room of our home! It's great and what makes it even easier is the homemade labels we made with our Munbyn Bluetooth label printer.
Here's why we choose to personally label our essential oil bottles:
Pure essential oils are extremely powerful. A label letting everyone know what is inside can help keep everyone safe.
Something that I love about essential oils is how they can be used for so many things. Peppermint oil, for example, is sometimes used to reduce fevers, increase energy, aid in digestion, and even help stop milk flow if needed when finished with nursing (source). That's a lot! I know how hard of a time I have to remember all those uses, so I label them for when I need a quick solution.
Since I am so passionate about essential oils, I love to give them as gifts. A homemade label makes the gift even more personal.
I whip up cleaning products with my essential oils fairly often, so having them nicely marked in my cleaning closet makes my cleaning supplies look more put together and easier to use.
How to make your essential oil labels
I have been making my essential oil blends for years and I have learned this lesson many, many times. Labeling your DIY essential oil mixtures at home is the easiest way to customize your favorite mixtures while never forgetting your recipes.
Trust me, when you are already running your household, the last thing you want is to try and keep track of all your essential oils!
Typically, I receive an order of new essential oils every few months. As soon as I start making things with the new oils, I prefer to pull out my Munbyn Bluetooth label printer immediately and get everything labeled. It just makes things so much easier!
Check out this handy guide where I show you step by step how I design and print labels with my Munbyn Bluetooth thermal printer.
It seriously is that easy. You will be labeling everything that doesn't move once you have this wonderful printer- you've been warned!
The best waterproof labels for essential oils
Since I use many of my essential oils in the kitchen or the bathroom, I always label the bottles with a waterproof label from MUNBYN. Not only do they work best with my printer, but they stay nice and easy to read even after getting splashed in the sink.
Between the printer and their awesome labels, I know from personal experience that MUNBYN can help you get and stay organized with their products. I love and trust this company so much, that they gave me some codes to pass out to you!
Code: MBFPR30 (Spend $160, save $30)
Code: MBFPR50 (Spend $260, save $50)
Code: MBFPR80 (Spend $320, save $80)
Note about these codes: they are only valid from November 11th to November 27th 2023, eastern time so make sure you use and share with your friends before they disappear!
How to make DIY essential oil rollerball label
One of my favorite ways to use essential oils is in a glass roll-on bottle. Not only does it make applying oils directly onto your skin even easier, but I love how convenient it is to dilute oils and apply them to busy little ones.
The only issue is when I forget to label my bottles. I always say that I will do it later, but later rarely comes.
When that happens, I usually end up tossing the entire blend because I forget what is in it. Since I hate throwing away money, I knew I needed to start labeling my essential oil rollerballs.
That's why I love the MUNBYN Thermal Printer. It is so easy to connect with Bluetooth, design a quick label on Canva (or Photoshop), and print off all the labels I need. It takes a few minutes and then I have my blend ready for the upcoming months.
Essential oil label guidelines
My family and I have been users of essential oils for a little over a decade now. I love how they provide so many natural ways to keep our family healthy without a lot of nasty chemicals. Since I started making my blends with roller bottles, I have had so much fun making natural and safe solutions for my family.
If you're looking to sell products, you'll want to research the local guidelines for what information your label should include. A community college business department is a good place to get guidance that fits your area.
A few tips that I have picked up to make the best rollerball label with your MUNBYN printer:
Print on a MUNBYN circle label. I found that it sticks to the glass tube and won't peel off.
Add every oil that is in the roll-on bottle to the blend onto the label.
Give each roll-on bottle a specific name so that you know exactly how it can be used. For example, A digestive blend for kids could be called 'Tummy Fixer'.
Have fun with it! When I give them as gifts, I love to add a cute border or a fun font to make it more personalized.
Here are some of my favorite DIY recipes to use your new MUNBYN Label Maker
DIY Hand Sanitizer with Aloe Vera Gel
Do you make your own essential oil recipes at home?
I am always looking for new exciting ways to use my essential oils from mixing up a healing potion to trying out a new mixture for perfume or cologne.
I would love to connect in the comments, please share your favorite essential oil recipes with me below!
Join our traditional wisdom community, and grab a free DIY personal care recipes eBook when you subscribe!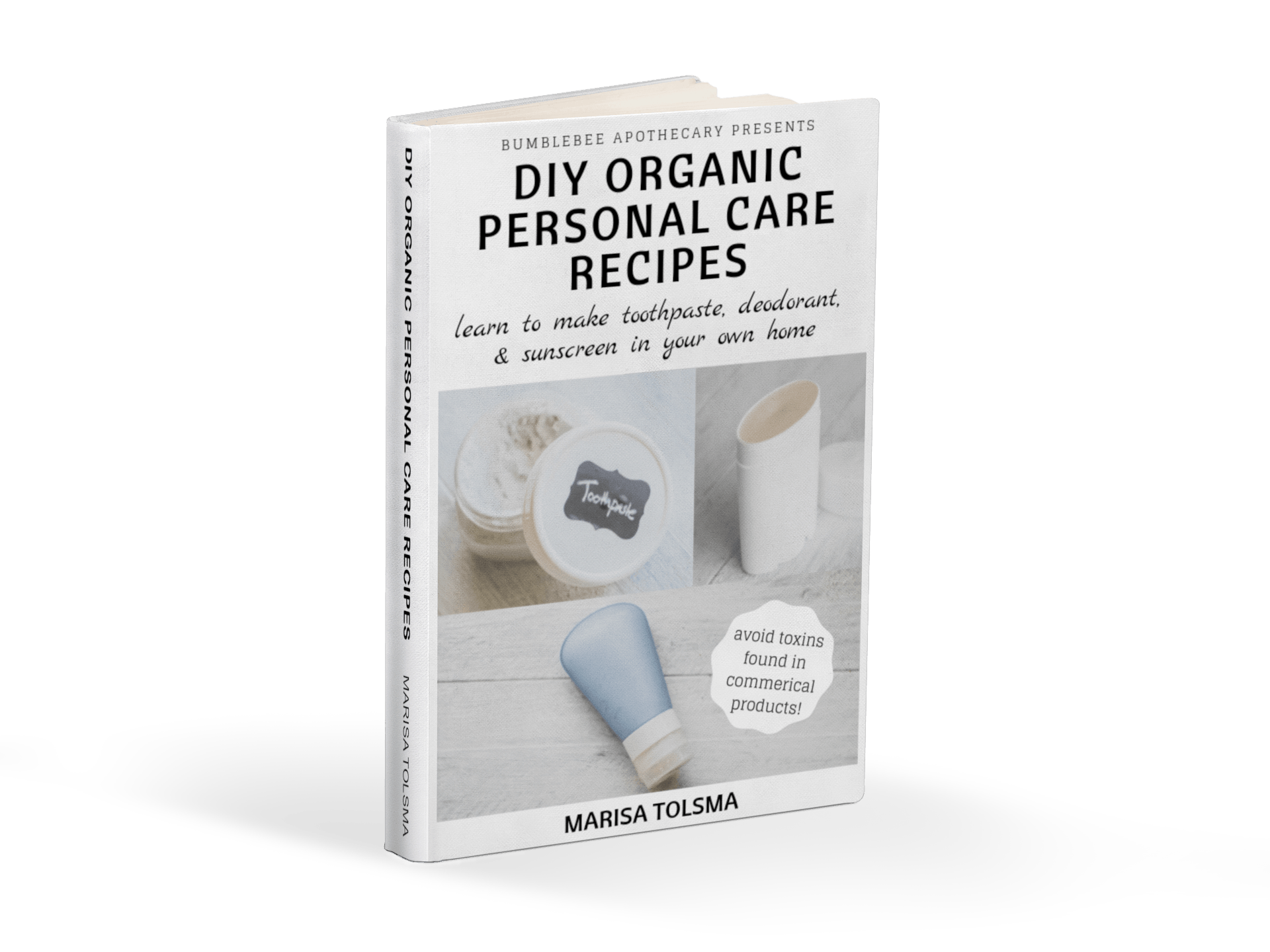 Want to shop for more grocery and natural living essentials?
Check out the Bumblebee Apothecary Shop here.
Want to shop for organic handmade skincare products?
Check out the Bumblebee Apothecary Body Care Shop here.
Follow along with Bumblebee Apothecary
Thanks for stopping by! Be well!
The information in this blog post is my personal experience and opinion. It is for general information purposes only, may not apply to you as an individual, and is not a substitute for your own physician's medical care or advice. Always seek advice from your physician or another qualified health provider with any questions you may have regarding nutrition, medical conditions, and advice. Never disregard medical advice or delay seeking medical care because of something you have read on this blog.