I've tried a lot of nontoxic makeup over the years, and I finally found a natural makeup brand I really love! I'm going to share with you my 100% Pure makeup review.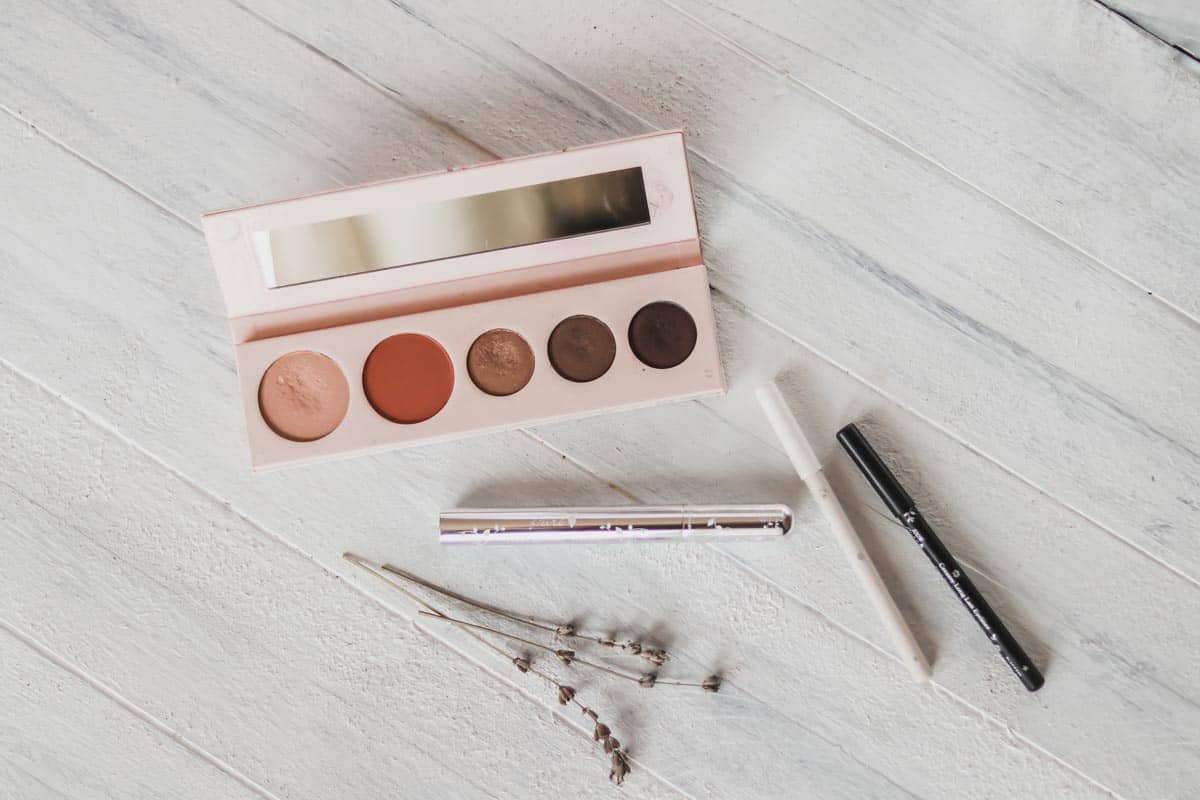 Makeup with natural ingredients
Makeup is something I buy. I have tried lots of natural makeup brands over the years, and I'm going to share my 100% Pure makeup review, and why I love 100% Pure makeup the best.
You know that I'm a huge fan of my organic skincare routine that uses all DIY products. But, when it comes to makeup, I really think that is something that is best left to the professionals.
I have tried making some of my own makeup. Unlike homemade skincare and body care that can easily turn out great, makeup needs a lot more fine tuning than I have patience or time for.
Pin it for later
This post contains affiliate links, which means I make a small commission at no extra cost to you. Get my full disclosure here.
What is the best nontoxic makeup?
Our skin is our body's largest organ, and whatever we put on our skin is absorbed right into our bloodstream. Makeup can contain lots of harmful ingredients that we don't want on or in our body. That's why we can't run into the drugstore and buy just any makeup brand if we want to avoid toxic chemicals.
Like I said before, I've tried lots of different natural makeup brands. Often these are cosmetics from local health food stores, or natural makeup I've purchased online.
When it comes to making natural makeup, the ingredients have to be carefully and thoughtfully sourced. Sometimes, this means less than the best results when it comes to actually wearing and using the makeup. I've tried plenty of natural makeup that didn't hold up: eyeshadows that fall off, eyeliners that wear away, and mascara that ends up on your face instead of your eyelashes.
100% Pure makeup is definitely my favorite nontoxic makeup, by far. It goes on and stays on the same or better than conventional makeup that I've tried.
Natural makeup for pregnancy
For me, these things become even more important when I'm pregnant or nursing. I especially don't want to add to my body's toxic load when I'm responsible for the health of another tiny person! Chemical free makeup is a must.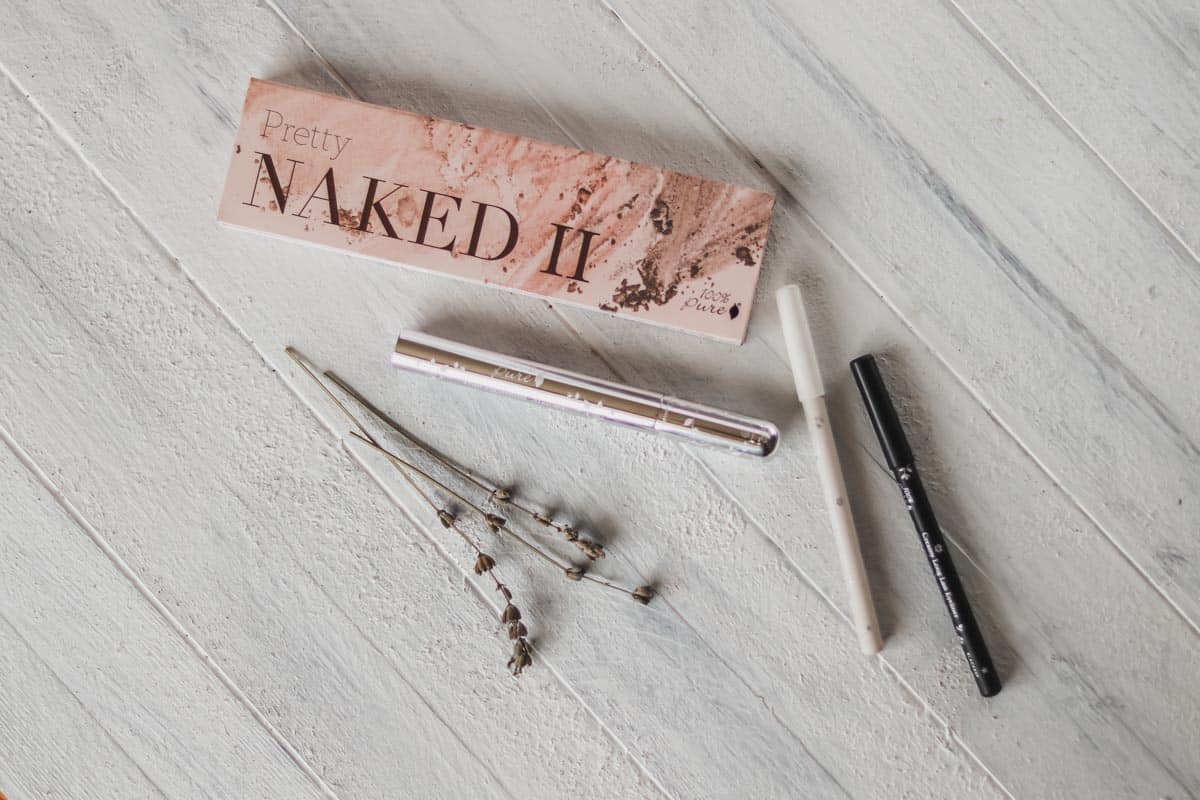 Makeup brand that uses natural ingredients
100% Pure has some really excellent standards that it abides by as a company, and it is a cruelty free natural makeup brand. 100% Pure makeup:
Formulations adhere to strict purity standards and will never contain harsh or toxic ingredients
Sources their pigments from fruit, vegetables, tea, and cocoa to avoid commonly used FD&C colorants and heavy metal dyes
Has a commitment to animal welfare, meaning that they will never, EVER test on animals – and that their products will always be certified cruelty-free
Natural healthy makeup
Most days around here are no makeup days. But when I do wear makeup, I either wear only mascara and lip balm, or if I feel like getting really fancy, like to wear some eyeshadow, eyeliner, mascara, and tinted lip balm.
Check out my entire homemade anti aging skincare routine here.
Natural eye makeup brand
The eyeshadow palette from 100% Pure that I have is called Pretty Naked II. I love the warm, natural colors in this palette, and I have been so happy with how the eyeshadow goes on, and stays put. I don't use a primer or anything, and the eyeshadow still stays right where I put it, all day.
100% pure eyeliners are creamy and go on super smoothly. I have the black eyeliner and the shimmery white eyeliner, which I like to use for highlighting the inner corners and waterline of my eyes. Theses eyeliners last a really long time, too!
I also have the fruit pigmented mascara from 100% Pure. It smells really good, and goes on so nicely! It really works to lengthen and fill out my eyelashes, and the applicator brush works really well. This is another product that stays on right where I put it, all day.
What is the healthiest foundation?
Some makeup items I don't personally use are foundation or blush. I prefer to nourish my body with nutrient dense, traditional foods, and promote healthy skin from the inside out.
If you are looking for a healthy foundation, though, I have a friend who has used 100% Pure foundation, and in her 100% pure makeup review, she said she loves it. I'm sure it would work as beautifully as all of the other products I've tried from them.
Natural chemical free makeup
For tinted lip balm, I love my tinted lip balm recipe with honey and tallow, which you can check out here. I have tried any lip balms or lipsticks from 100% Pure, but I am certain they would as well as their eye makeup does.
For my favorite non toxic cleaning products, check out this post here.
More natural and organic skincare
Tinted lip balm recipe with honey and tallow
How to make lotion with shea butter
Best organic magnesium lotion recipe
Have you tried any natural makeup brands?
Would you like me to share my getting ready routine, and how I use the makeup from my 100% Pure makeup review? Let me know in the comments?
Join our traditional wisdom community, and grab a free natural beauty recipes eBook when you subscribe!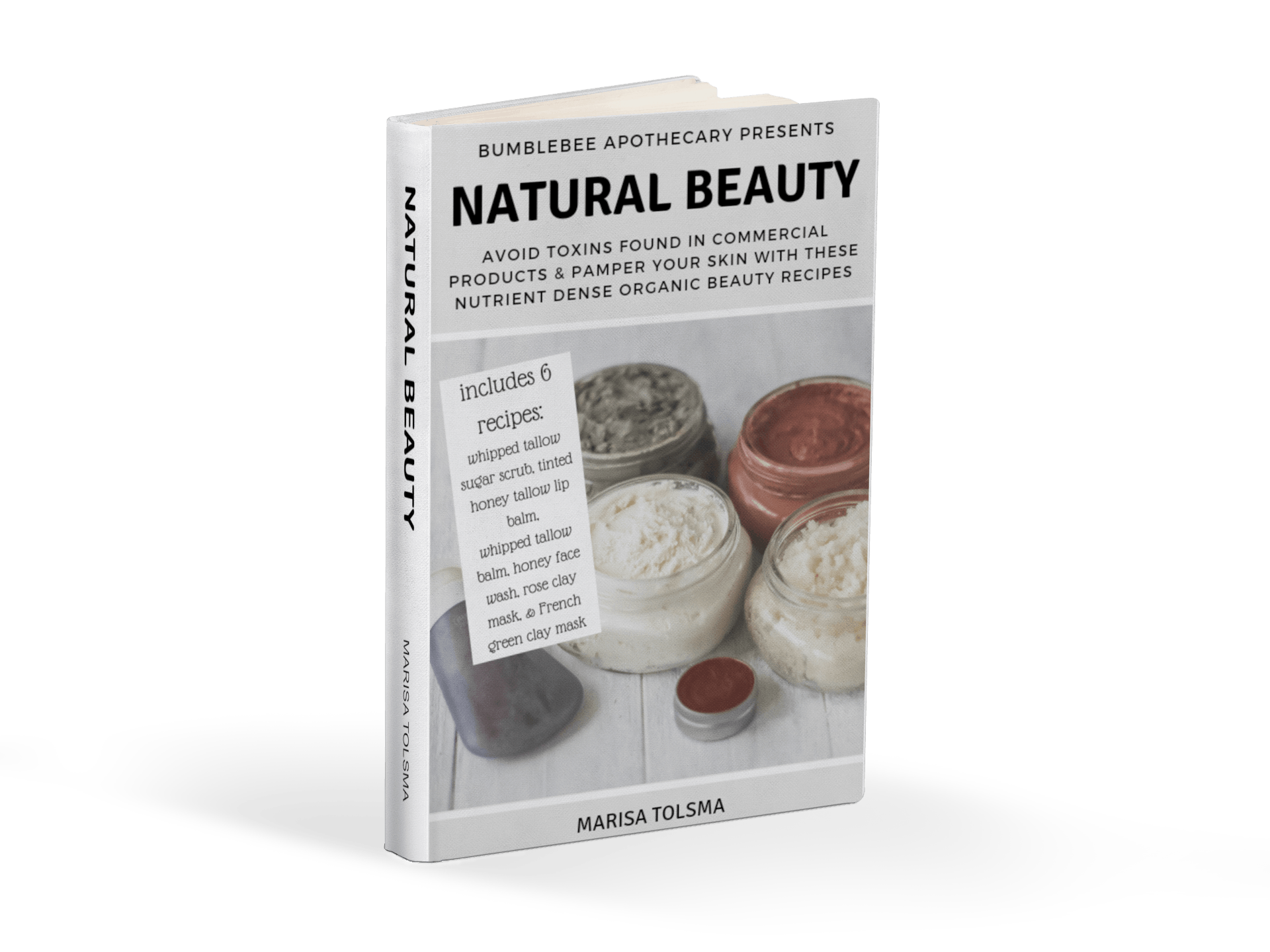 Shop this post
Want to shop for organic handmade skincare products?
Check out the Bumblebee Apothecary Shop here.
Follow along with Bumblebee Apothecary
Thanks for stopping by! Be well! ?